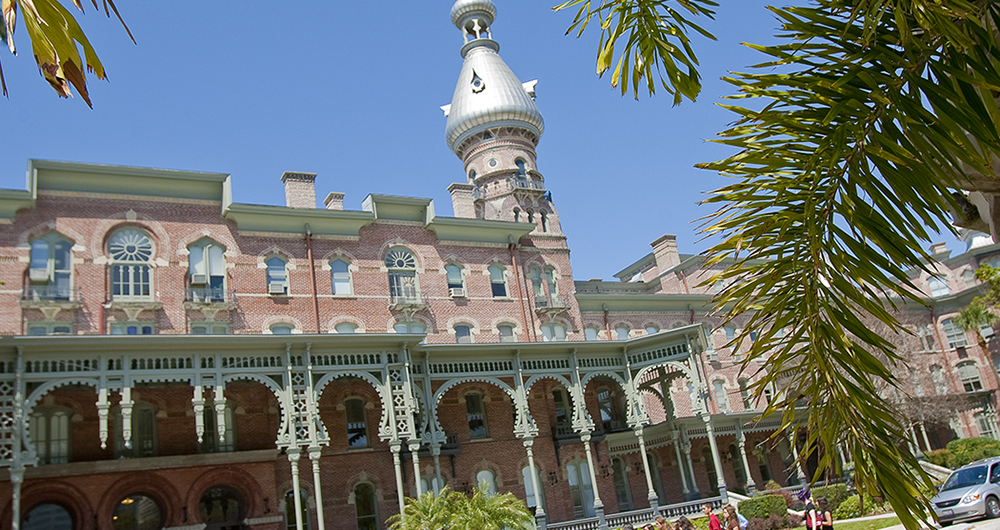 The University of Tampa greatly appreciates every donation, regardless of size, because your gifts provide the funding necessary to keep the institution at the forefront of educational preeminence.
We accept many types of gifts that are consistent with the missions and priorities of the University, including:current gifts, such as cash or stock transfers, and deferred gifts, such as will bequests.
For more information on how a gift can be made, contact the Office of Development and University Relations at (813) 253-6220.
---
Credit Card
You can make a gift today through your Visa, Discover or MasterCard. By using The University of Tampa's secure site, your donation will post immediately or be divided into recurring installments.
---
Cash/Check
We welcome your check, made payable to The University of Tampa. Please mail your gift to:
Development and University Relations
The University of Tampa
401 W. Kennedy Blvd., Box H
Tampa, FL 33606
---
Wire Transfer
Donors can make a cash gift to The University of Tampa via wire transfer upon the request of the donor to their bank, investment firm or other funding source.
Donors can utilize the following information in order to initiate a wire transfer by providing the information to their financial institution:
Bank Name and Address:
Bank of America
101 E. Kennedy Blvd.
Tampa, FL 33602
Routing Number: #ABA-026009593
Checking account: #3601199394
Financial institutions provide minimal information on wire transfers. To ensure proper disposition of the gift, donors should alert the University Development Office that a wire transfer has been made.
The Development Office can be reached at (813) 253-6220.
---
Estate and Other Planned Gifts
Planned gifts enable you to preserve your assets during your lifetime and leave a valuable legacy at The University of Tampa. Donors who make estate and other planned gifts are recognized as members of the Legacy Society.
For more information, please visit Planned Giving or contact the Office of Development and University Relations at (813) 253-6220.
---
In Memory/In Honor
Scholarships, faculty chairs and professorships, campus facilities and other gift options may be named after special individuals. Gifts may be made by a donor or by a group of people the honored individual inspired.
Families of those honored will be notified. Make a gift online now.
---
Employer Matching
You could double or triple your annual gift to The University of Tampa, if you or your spouse works for or has retired from a company with a matching gift program. Complete a matching gift form from your human resources office and send it in with your gift.
---
Gifts of Stocks, Bonds or Other Securities
Gifts of appreciated stocks, bonds or other securities allow you to make a substantial gift to UT at minimal cost. You will receive a tax deduction based on the value of the security on the date of the gift. With long-term appreciated securities (those held longer than 12 months), you will receive a charitable income tax deduction for the full fair-market value of your gift and avoid paying capital gains tax on the appreciation.
For more information, please contact Keith Todd at ktodd@ut.edu.
---
Payroll Deduction
UT employees can make their gifts to the University through electronic payroll deduction. Existing payroll deductions automatically roll over at the end of each fiscal year for the donor's convenience unless the donor specifies otherwise. Download paper-based payroll deduction.
---
Recognizing Donors
The University of Tampa has a variety of giving societies that recognize donors for their annual, planned and cumulative gifts to the University. Learn more about our societies.
---
Ready to make an investment in UT?
---
---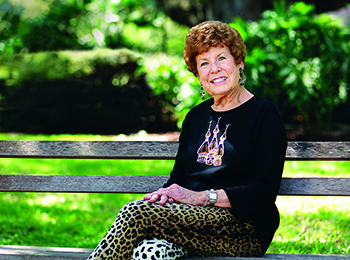 "Al and I are extremely grateful for our years at UT and for the wonderful educational opportunities." - Rosemary Leathers '58