The University of Tampa is proud to partner with our community beyond the campus to make our city and our world a better place in which to live and work.
UT's commitment to the social, cultural and economic advancement of the communities it serves close to home and around the world runs deep. Building strong partnerships with community organizations and actively engaging citizens from all walks of life is fundamental to the UT mindset.
Our community networks take several forms, including:
Board of Counselors
Established in 1962, the Board of Counselors' mission is to aid The University of Tampa in its student retention program and to assist in creating public recognition of, understanding of and confidence in The University of Tampa.


Board of Fellows
Made up of approximately 150 business leaders and professionals, the Fellows increase the University's visibility through special events and outreach, and raise funds for scholarships. Through their activities, members of the Board of Fellows also find rewarding opportunities to network with peers who share their belief in the value of higher education.


Giving Societies
One of many ways we recognize the invaluable support donors provide to The University of Tampa is by honoring them as members of one or more prestigious giving societies.

Learn more about Giving Societies.
College Advisory Councils
Each college at The University of Tampa builds an advisory council. The purpose of this is to assure effective communication between faculty who work in preparing students and the Tampa Bay community. The councils create opportunities for members to provide input and engage in discussion about critical issues and program implementation and improvement.

Interested in joining College Advisory Councils?
Alumni Association
Keep in touch with the Spartan community, support UT's mission and learn about legacy scholarships.

Learn about the UT Alumni Association.
---
---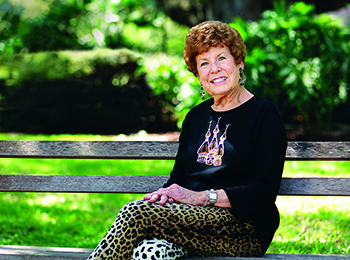 "Al and I are extremely grateful for our years at UT and for the wonderful educational opportunities." - Rosemary Leathers '58