The Board of Fellows, established in 1972, sees its mission to serve as "goodwill ambassadors" within the community, as well as to provide financial and other support to the University.

Made up of over 150 business leaders and professionals, the Fellows increase the University's visibility through special events and outreach, and raise funds for scholarships. Through their activities, members of the Board of Fellows also find rewarding opportunities to network with peers who share their belief in the value of higher education.
The Board of Fellows leadership for 2018-2019 is as follows: 
Eric Sidor, Chair 
Jimmy Clark, Immediate Past Chair (2017-2018)
Erica Shea, Vice Chair
Penny Parks, Treasurer
Stephen Segundo, Development Chair
Jackie Buckler, Membership Co-Chair
Casey Ellison, Membership Co-chair
Su Lee, Membership Co-Chair
Jami Gold, Business Network Symposium Co-Chair
Brian Hanrahan, Business Network Symposium Co-Chair
Eric Sidor, TopShot Co-Chair  
J. Hunter Swearingen, TopShot Co-Chair
Misha Hart, Fellows Forum Chair
Liza Mizel, Social Co-Chair
Chris Reyes, Social Co-Chair
Brian Smith, Communications Chair
Natalie Sidor, College Liaison
Teresa Stinson, College Liaison 
The Board of Fellows asks members to:
Serve on a Fellows or Trustee committee
Support and attend scheduled Fellows events
Support UT as goodwill ambassador
Nominate potential members
Financially support the Board of Fellows and the University by fulfilling annual financial requirements of one of the following:

Standard Level: $2,000 ($500 membership dues plus $1,500 Annual Fund contribution) 
Named Scholarship Level: $3,000 ($500 membership dues plus $2,500 contribution; Also includes an invitation to the Minaret Dinner)
See The Board of Fellows Membership Overview (PDF) for giving level details.

For more information, please contact the Board of Fellows at fellows@ut.edu, (813) 253-6220.
Opportunities with the Board of Fellows include:
The Board of Fellows hosts three Business Network Symposia each year. Each event traditionally features three Tampa Bay CEOs discussing issues of local economic importance. A complimentary breakfast is provided.

The Fellows Forum is the Board of Fellows' flagship event and features nationally recognized business leaders discussing and debating a topic of relevance. Proceeds from the Forum fund the Board of Fellows Endowed Scholarship, which is awarded to a business major.

The Minaret Dinner in November is a formal dinner celebration in honor of University donors for their gifts of at least $2,500 to the Annual Fund within a fiscal year.

Throughout the year, Fellows are also invited to networking socials on campus and in the surrounding area, such as the Kickoff Social, Member Socials and annual Holiday Party, to interact with other board members and the University community.
Events
Dec. 11, 2018 - BOT/BOF/BOC Holiday Party
Jan. 15, 2019 - Business Network Symposium
Feb. 19, 2018 - Fellows Forum
Sign Up
Photos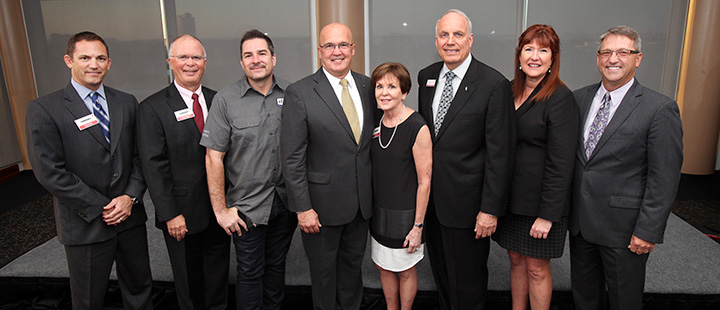 View a photo gallery of Board of Fellows' events.
Browse Photos