Held three times per year (October, January and April), the Business Network Symposium (BNS) is a complimentary and informative morning for the Tampa Bay business community and The University of Tampa students. Each BNS program will present three CEOs of local businesses. These businesses are well known, but changing; new and emerging; or new to the Tampa Bay area. The CEOs of these firms will be given the opportunity to share their business story – accomplishments, lessons learned and future plans – with the local community. Each speaker will have 10-15 minutes, and the event will conclude with a Q-and-A session. Watch videos of past symposiums.
When:
Jan. 14, 2020
Location:
Crescent Club, 9th Floor of the Vaughn Center
The University of Tampa
401 W. Kennedy Blvd., Tampa, FL 33606
Speakers:

Edward J. Buckley, III, Peerfit
Bill McNulty, Seminole Hard Rock Hotel & Casino
Laura Sherman, BKS Partners

Time:
7:15–7:45 a.m. – Networking Breakfast
7:45–9 a.m. – Program
Parking:
Parking is available in the Rick Thomas and West parking garages; Map

Board of Fellows Business Network Symposium Committee Members
Chair:
Jami Gold, LCG Advisors
Jimmy Clark, Harden
Committee Members:
John Holton, Rita Technology Services
Kyle Parks, B2 Communications
Renée Vaughn, Williams Consulting Group
Underwritten By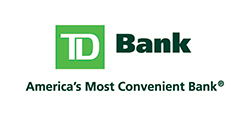 About TD Bank, America's Most Convenient Bank®
TD Bank, America's Most Convenient Bank, is one of the 10 largest banks in the U.S., providing more than 9 million customers with a full range of retail, small business and commercial banking products and services at more than 1,200 convenient locations throughout the Northeast, Mid-Atlantic, Metro D.C., the Carolinas and Florida. In addition, TD Bank and its subsidiaries offer customized private banking and wealth management services through TD Wealth®, and vehicle financing and dealer commercial services through TD Auto Finance. TD Bank is headquartered in Cherry Hill, NJ. To learn more, visit www.tdbank.com. Find TD Bank on Facebook at www.facebook.com/TDBank and on Twitter at www.twitter.com/TDBank_US.
TD Bank, America's Most Convenient Bank, is a member of TD Bank Group and a subsidiary of The Toronto-Dominion Bank of Toronto, Canada, a top 10 financial services company in North America. The Toronto-Dominion Bank trades on the New York and Toronto stock exchanges under the ticker symbol "TD". To learn more, visit www.td.com.
---
The Board of Fellows sees its mission as one of strengthening the ties between the University and the local business community, serving as goodwill ambassadors within the community, and supporting the University financially through the Annual Fund and the Board of Fellows Endowed Scholarship. The organization has become an integral part of the Tampa Bay area's image.
For more information, visit the Board of Fellows.
---
---

Listen as CEOs of local businesses share their stories at The University of Tampa.
Listen to Talks
---