Internships give students the opportunity to gain valuable applied experience and make connections in professional fields they are considering for career paths.
How do internships benefit UT students?
Internships...
Give students a competitive edge for the job market
Expand awareness beyond the classroom/campus
Provide invaluable hands-on experience in the professional world
Expose students to new ideas, perspectives and people
Can be completed for academic credit
Expose students to mentors and life skills through projects
Allow students to reality test a career path or major
Afford networking opportunities
Encourage skill development as an active contributor
Serve as a resume-builder
Employers recruit UT talent for nearly 1,000 internships annually. In fact, some majors ( sociology, sport management, education, nursing and public health) require an internship, practicum or clinical experience.
The following UT departments have high internship participation rates each semester: business, biology, communication, criminology, political science and international studies and psychology. Many of the internships are paid, and students can complete multiple internships during their time at UT. Most students earn academic credit for their internship or practicum experiences, but non-credit experiences are also available.
The variety of opportunities available through UT ensures students can find an internship to match their specific academic focus and professional aspirations.
A few of the companies and organizations where students have completed internships include: The White House, ESPN Radio, FBI, Merrill Lynch, H. Lee Moffitt Cancer Center, SeaWorld, Fox Channel 13, Orlando Magic, the Florida Aquarium, the American Red Cross, Tampa General Hospital, Metropolitan Ministries, the Tampa Bay Lightning and the Florida Fish and Wildlife Research Institute.
Career Services
If you wish to complete an internship for academic credit, come to the Office of Career Services to meet with a career coach. Additional services include internship search strategies, resume, cover letter and LinkedIn profile review, company and employer research, networking tips and more.
Submit an appointment request to meet with a career coach.
---
---
---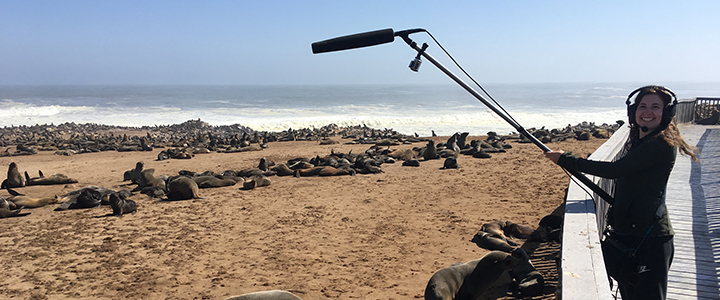 Emma Stange '21 used a microphone and a boom system to record mom and seal pup calls as a research intern with the Namibian Dolphin Project. Stange, who wants to be a veterinarian, spent the summer studying dolphins, whales and cape fur seals.
---