The Department of Psychology believes in giving its students experiences beyond the classroom, to apply what they've learned and put it into practice. Many opportunities exist for students to explore psychology in an active, applied way, including internships, student research and being involved in psychology-focused campus organizations.
Student Research
Students can work with faculty on research projects or a senior thesis in preparation for graduate school. Examples of recent projects include research on:
false memories
energy drinks and links with anxiety
therapeutic teleconferencing for social anxiety
analysis of the causes and consequences of sexual harassment
evolution of the brain's dopamine system
The annual CSSME Undergraduate Research Conference allows students to present original, empirical research within any of the disciplines represented by the college.
Internships
Psychology students can benefit greatly from working in their specific areas of interest. For qualified students, internships are available with local organizations and businesses. These have included the following:
Florida Institute of Mental Health
Price-Waterhouse-Coopers
Hillsborough Crisis Center
Glazer Children's Museum
Project Return
Children's Crisis Center
Pepin Academy
The Pyramid (art therapy)
MetLife
Straz Center for the Performing Arts
TECO Energy
Service Learning
The UT Psychology Department has several opportunities for students to engage in service-learning, which involves students in community service activities and applies the experience to personal and academic development. Service-learning balances learning goals with meeting real community needs, and deepens the educational experience of our students.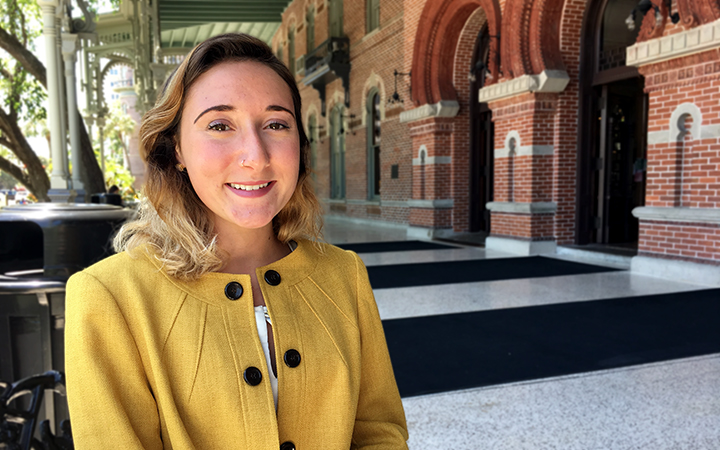 Victoria Sunseri was an honors student, who received a double degree in public health and psychology, with a concentration in behavioral health. In 2017 she traveled to Sri Lanka to volunteer with a nonprofit social service organization as the recipient of the Timothy M. Smith Inspiration Through Exploration Award, an annual grant given to stimulate international travel and writing among UT Honors program students.
Campus Organizations
Psychology majors are encouraged to become members of Psi Chi, the international honor society for psychology, as well as the Psychology Club. The campus Psi Chi chapter and the Psychology club are student-led organizations.
Psi Chi hosts educational and social events throughout the year, including guest speakers, tours of community health facilities and social outings. The Psychology Club is dedicated to bringing together students interested in the field of psychology (regardless of their major); the club serves to educate and enrich fellow students' knowledge about psychology, as well as assist with their academic development and participate in community service and other outreach opportunities. Both organizations allow for a friendly, informal sharing of experiences among students, faculty and professionals.
---