Published: August 29, 2022
UT Senior Spends Summer with the NFL
Following two knee surgeries that led to the end of her collegiate swimming career, Shannon Lindsey '23 took the energy she had put into being a student-athlete and focused it on her career.
Lindsey, an advertising and public relations major, began work as a freelance production runner during the 2021 football season for all four major sports networks: NBC Sports, ESPN, Fox Sports and CBS Sports.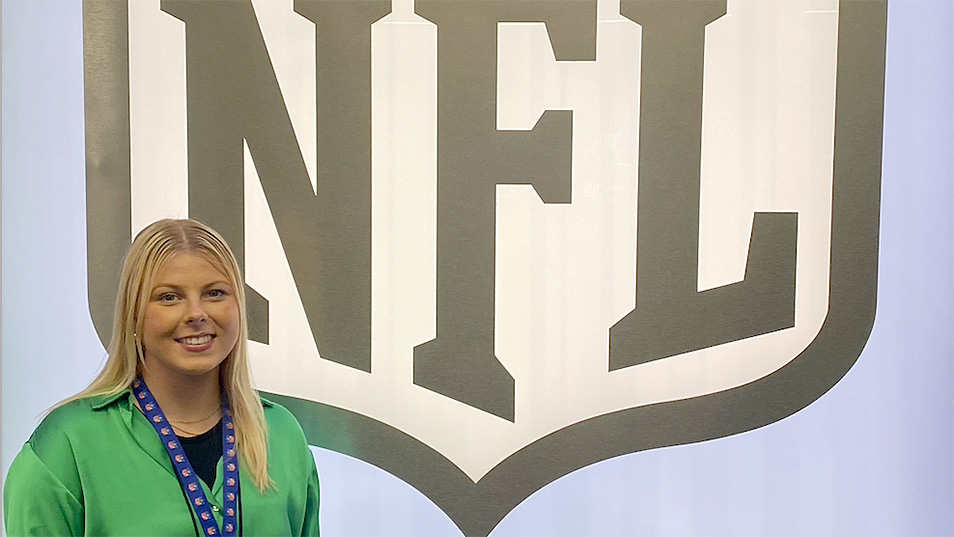 Working as a freelance production runner solidified Lindsey's love for the NFL. Photo courtesy of Shannon Lindsey
She got the opportunity because she took the initiative as soon as she got to campus to reach out to people in the production and operations groups at these various networks. Lindsey started landing opportunities and continued networking, which led to her working at almost every home game during the season.
"This led to an opportunity to be a freelance production runner with the NHL as well," she said. "It goes to show how many great opportunities there are here in Tampa, especially in sports."
As a production runner, Lindsey supported the production and operations teams on-site, helping on air talent such as Erin Andrews, Tony Romo, Mike Tirico and Al Michaels during games. For example, she would run errands and help set up the crew before the game and sit in on rehearsals.
The experience as a whole and working with the talents solidified her love of the NFL organization, Lindsey said. Because of her success in that role, she was asked to work at the NHL games, too.
This summer, Lindsey was chosen amongst thousands of applicants to be one of a few dozen interns in the NFL's Los Angeles office. As a studio operations and production management intern, her primary role includes supporting the production management department for NFL network shows such as "Total Access" and "Inside Training Camp."
"No day is ever the same for me, which I find to be so exciting," Lindsey said. "I have the opportunity to meet so many different people, take on diverse projects and learn new things every day."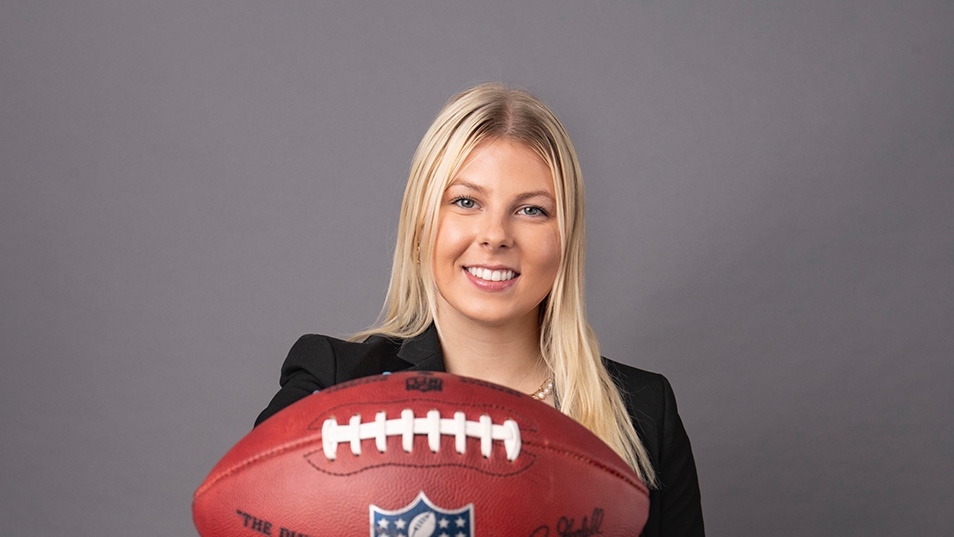 Lindsey was chosen amongst thousands of applicants to be one of a few dozen interns in the NFL's Los Angeles office this summer.
One project she had the opportunity to work on was the 2022 "In Memoriam" project with the Original Content Group. This piece honors NFL players, referees, coaches and employees who have passed away in the past year. Lindsey was tasked with gathering assets including footage, video and audio for each person, which included working with club teams to gather additional assets and obtain approvals. She then co-produced the piece alongside the editors and assisted in the creative execution. The piece aired on ESPN and the NFL network.
"It was amazing to see something on live national television that I put so much time into helping produce and create," Lindsey said.
It's surreal for Lindsey when she walks around the office and sees some of the biggest names in the sport.
On her first day she said she passed Super Bowl champion and LA Rams quarterback Matthew Stafford while walking to her desk. Another highlight of her internship experience was a question-and-answer session with NFL commissioner, Roger Goodell.
Originally from Connecticut, Lindsey said moving 3,000 miles from her home to Los Angeles was quite an adjustment.
"I've only ever been to the West Coast once before, so navigating this change and learning how to be independent in a brand new place was a challenge," she said, though she is glad she took the chance.
The experience has provided her many networking opportunities. During the course of her internship, Lindsey has met with people in different departments: from coordinators to managers, directors, vice presidents and executives.
"Everyone has been always willing to meet with me to talk about their role, experience and give advice," she said.
After her graduation in May, Lindsey's career plans are still undecided, but she hopes to stay in the sports industry. The internship showed her that it's okay if she is still figuring out what she wants to do, she said. The role taught her a variety of things about herself, including her strengths, likes and dislikes.
Now, Lindsey said her focus is on her academics and enjoying her final year of college.
There is not any one piece of advice she could give to students who wanted to follow her path, Lindsey said, because she learned so many things from different people during her career thus far. Lindsey recommends having a natural eagerness to learn more, which is important because you want to ask as many questions as you can and soak in as much as possible, in order to figure out what career path interests you.
To learn more about internship opportunities at UT, visit Career Services.
Have a story idea? Contact Brianna Kwasnik, Digital Content Editor/Writer
Read more UT Life stories.
Subscribe to News and UT Life.
---