Published: July 31, 2023
Undergraduate Research Inspired by Student's Hispanic Roots
For Jennifer Rodriguez '24, her research is personal, as it is inspired by her Hispanic roots.
Rodriguez researches social media use in planning immigration to the United States. Apart from immigration, she aims to analyze social media usage in the context of their home countries versus the U.S. when it comes to the person's daily life.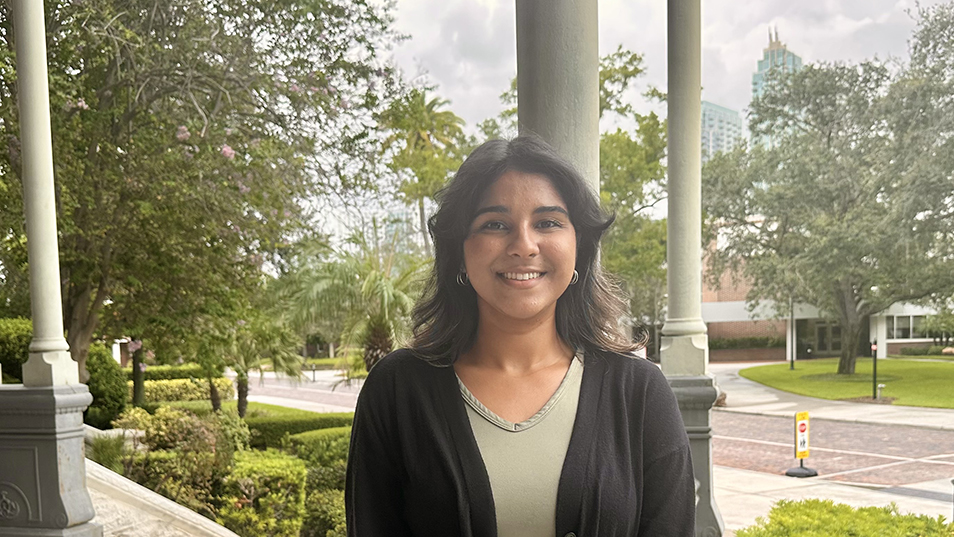 Rodriguez's research was inspired by her Hispanic roots, she said.
The advertising and public relations major said she came across the Student Undergraduate Research Fellowship (SURF) after transferring to The University of Tampa.
"I had always had a fascination with research, especially since the public relations field requires an individual to have strong research skills," she said. "Part of the reason for applying to SURF was to also get into the more academic-focused area of the field."
Rodriguez said immigration holds a strong significance in her life because of her Hispanic roots, though neither she nor her family has experienced such movement.
Rodriguez is working under the guidance of assistant professor of communication Sarah Smith-Frigerio.
Currently, they are in the process of interviewing their respondents. The respondents go through a semi-structured interview about their experience using social media during the immigration process, Rodriguez explained. With this information, they hope to develop a nuanced understanding of their usage and see if they can make out how they plan their settlement before and once on U.S. soil.
Due to the current political climate, particularly in the state of Florida, she said data collecting has taken more time than they originally anticipated. Interviews will continue into the fall, so they can gather as many respondents as possible, to gain the most perspective in order to make concrete conclusions, Rodriguez said.
Through her research, she hopes to bring more knowledge of the immigrant experience into the communications scholarship, she said.
"Most accounts have been derived from general surveys, American-born children of immigrants or by those who study the group anthropologically," she said. "Their voices need to be heard more than ever, as they are of vital importance in America, most prevalently in the workforce and our communities."
Rodriguez and Smith-Frigerio hope to submit and present their project this academic year.
They will first present their project during the SURF symposium held in the Grand Salon in Plant Hall on Sept. 1. Afterward, they are planning to submit to a communications conference and journal for publication.
The pair hopes to find how immigrants perceive social media tools, and whether they succumb to the same usage habits as Americans, once they have integrated.
"This information can also work as a resource for nonprofit organizations to understand their processes," Rodriguez said. "Though they may have hefty information as they work with immigrants regularly, this might be new to them."
"This would also bring into account the misinformation spreading and how these demographics could combat it, who's being targeted and where is it coming from."
After graduation, Rodriguez plans to obtain a master's degree and hopes to work in a public relations firm or agency.
"The SURF program is just the beginning [of] my scholarly journey," Rodriguez said.
Have a story idea? Contact Brianna Kwasnik, Digital Content Editor/Writer
Read more UT Life stories.
Subscribe to News and UT Life.
---