Published: July 17, 2023
Student-Athletes Sticking Around
Being a varsity student-athlete is normally an undergraduate pursuit. The NCAA has rules, after all, that historically have restricted competition mostly to those completing a traditional, four-year course of study.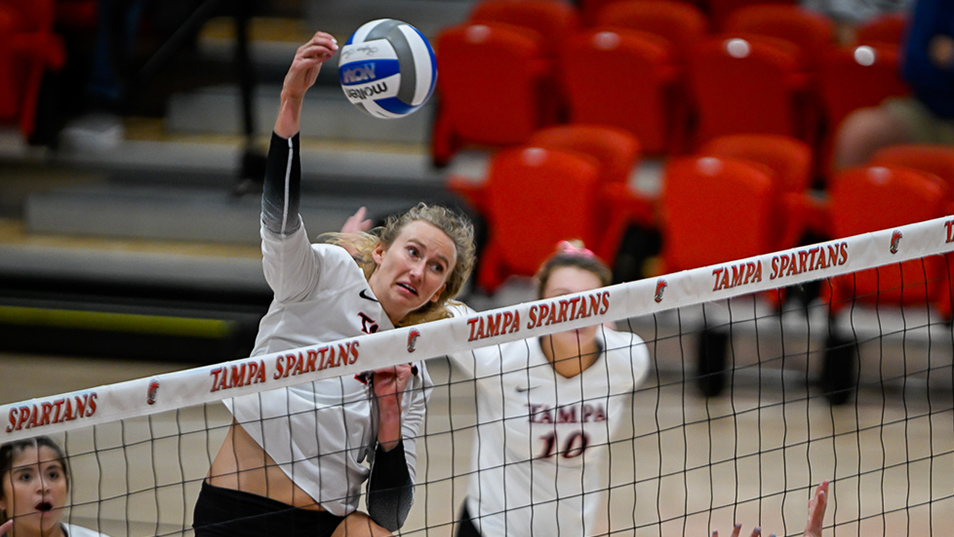 It's a pandemic consequence of opportunity – both lost and gained – that some call a "silver lining" after some very tough years. Photo by Avianna Moses
Exceptions exist, and UT normally has a handful of graduate students among its teams' ranks. Today, though, thanks to a generous loosening of NCAA statutes due to COVID, that smattering has grown into a cohort of dozens donning Spartan red and black as they juggle post-baccalaureate demands.
It's a pandemic consequence of opportunity – both lost and gained – that some call a "silver lining" after some very tough years.
Nearly every Spartan team suffered losses in the disruption caused by COVID. Some seasons were halted just as championship play began, and others never got fully underway. There were months of mandatory COVID testing, social isolation and practices that never led to meaningful competition.
Yet the clock was ticking. Under regular circumstances, once an athlete begins their collegiate career, they have four seasons to complete it. So when COVID shut things down, student-athletes watched desperately as their chances at championships and playing time slipped away. Then, the NCAA granted an extra year of eligibility to student-athletes who had lost a year of competition, a move that seemed to hit the proper sympathetic chord — and that has proved life-changing and career-altering for many.
In some cases, that extra time has been parlayed into the pursuit of graduate degrees. At UT, 78 student-athletes are enrolled in graduate programs this school year (out of about 600 student-athletes total). Before the extra eligibility boost, five-to-10 UT grad students were sprinkled across Spartan rosters a year.
Some UT student-athletes have taken an unexpected path.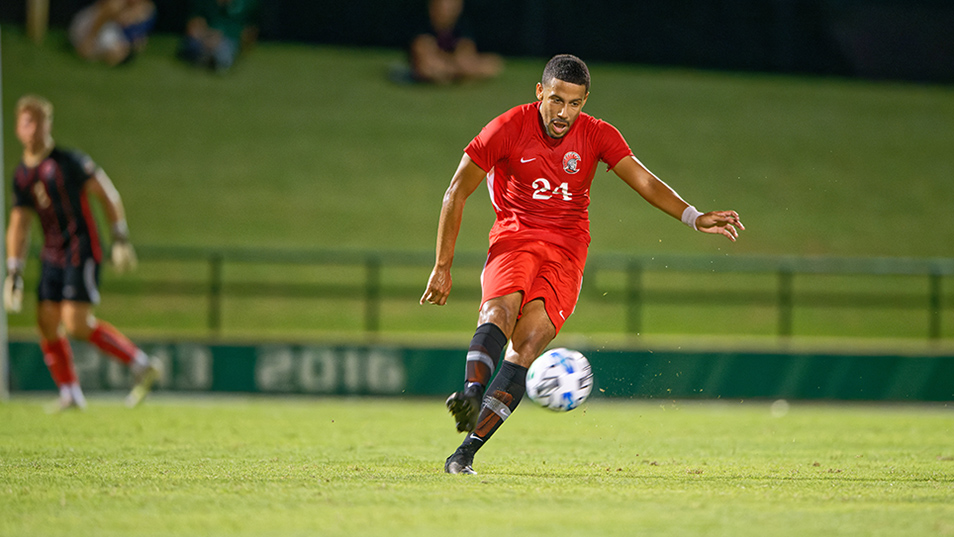 Men's soccer player Ezrick Nicholls never planned on graduate school. Photo by Todd Montgomery
Men's soccer player Ezrick Nicholls '22 never planned on graduate school. By now, he figured he'd be in the workforce, armed with a bachelor's degree in business management. Instead, he's wrapping up a master's in professional communication. Volleyball player MacKenzie Dufresne '22 anticipated graduate school later in life, but she's immediately completing her master's degree in criminal justice.
Women's basketball player Audrey Ramsey is getting an MBA and a master's degree in cybersecurity. Because she took a redshirt season, Ramsey will be on scholarship for six academic years. Counting her accelerated high-school credits, she will leave UT with three master's degrees.
"I'm definitely getting my educational money's worth,'' Ramsey says. "Nobody wanted COVID to happen, of course, but a few positives came out of it for some of us.''
Art Goon, UT's assistant vice president/director of graduate and continuing studies, said he's happy that so many student-athletes are utilizing the additional benefit.
"The financial advantages are obvious,'' Goon says.
Indeed, according to the U.S. Bureau of Labor Statistics, workers with a master's degree earn an average of $250 more per week than those with a bachelor's degree.
"We know that a master's degree can expand your knowledge, maybe help you get hired and definitely help you get promoted,'' Goon says.
"When you consider that less than 2% of NCAA student-athletes go pro in sports, that means it's important for the more than 98% of the other student-athletes to do whatever they can to compete effectively (in the job market). COVID had some heartbreaking results, but I wouldn't call this a trade-off. It's more like a silver lining.''
Fewer Freshman Opportunities
UT Athletic Director Larry Marfise would characterize the extra eligibility more like a double-edged sword.
"I initially thought the extra year was good, but as it has played out, I think it has caused some harm as well,'' he says.
"I love that many kids are getting a shot at graduate school when they hadn't considered that as an option. But I really feel for the young people who were (high school) juniors and seniors during the COVID year. Coaches don't have spots on their rosters because we're returning so many kids with the extra year.''
The extra-year implications don't figure to fully cycle out until 2025 when the youngest athletes will complete their full eligibility.
In the interim, some UT coaches must make difficult choices in recruiting.
"There are plenty of good (high school) kids, but sometimes you just don't have a roster spot to make room for them," Spartans volleyball coach Chris Catanach '10 says. "Some of their opportunities are delayed. Some of the high-school kids are getting creative to get your attention. They send cards in the mail. One of them sent me microwave popcorn. It will get back to normal one day, but right now, they just want you to notice them.'
UT's women's basketball coach Tom Jessee thought the Spartans could win a national championship in 2020. But just hours before UT took the court in the NCAA South Regional in Cleveland, TN, the COVID news came down, and the tournament was canceled.
It was back on the bus for a 15-hour return to Tampa.
"Then we went through a crazy year, something out of a sci-fi movie, where we continually marched down the hall in our masks for (COVID) testing,'' Jessee said. "Our league went back and forth on whether to play. We finally played a mini-season, but it didn't seem like a season at all.
"When we finally got back (for the 2021-2022 season), we had six kids who would've graduated, and five of them were still with us on the roster because they wanted to play and get closure. So theoretically those five spots could've been taken by new players, but they weren't.''
To cap the 2021-2022 season — and a three-year odyssey — UT women's basketball captured a full-year regular-season Sunshine State Conference championship and tournament title for only the second time in the program's 47-year history.
"It was a great reward for the kids who took the extra year,'' Jessee said.
Taking Full Advantage
For the 78 UT student-athletes in graduate school, there's hope that the extra academic work will provide a great career reward.
Goon, a former college soccer head coach, said no admission standards were changed to accommodate the increase in graduate students, but UT already had instituted programs to ease the transition from undergraduate work. UT's "4-plus-1'' plan allows students to take graduate courses as part of their early schooling, so only one year is needed to complete a master's degree.
"That has become a very attractive option,'' Goon says. "With the communication in the brotherhood and sisterhood of athletics, we think kids had been encouraging their friends anyway (to attend graduate school), and it's great to see so many taking full advantage.''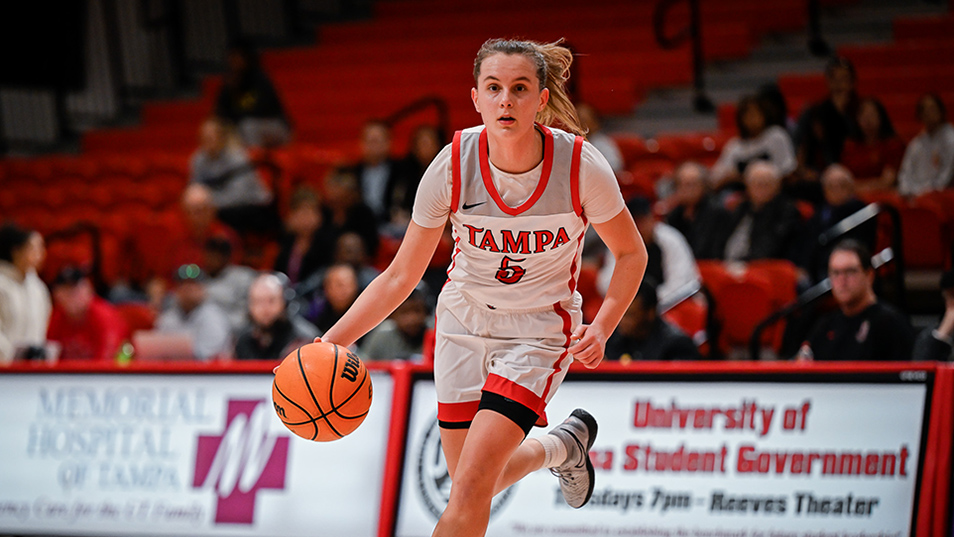 Audrey Ramsey '21 M.S., MBA '24 is finishing her basketball career while also earning an MBA and a master's in cybersecurity. Photo by Avianna Moses
Volleyball's Dufresne says she's grateful for the opportunity.
"I truly did not think I'd still be at UT,'' Dufresne says. "Now I'm getting the chance to further my education, and I'm excited to have that to offer for potential upper-level jobs and maybe getting an edge over other candidates.
"It's hard to say things were gained from COVID because some of my college experience was taken away. But it feels like, in the long run, I'll somehow come out ahead.''
Nicholls and Ramsey also see the benefits.
"Graduate school is a lot more reading, a lot more critical thinking,'' Nicholls says. "The subject matter comes together in meaningful ways.''
"Because so many of us are in graduate school, it's like the reputation of UT's student-athletes is being put on display,'' Ramsey says. "I think we're putting our best foot forward and creating major positives after a crazy couple of years. It shows you that some good can come out of the bad.''
Story by Joey Johnston
This story first appeared in the Spring 2023 UT Journal.


---