Published: May 16, 2023
New Media Grad Gets His Start in the Studio
Joe Cannatelli '23 credits his new career to being in the right place at the right time.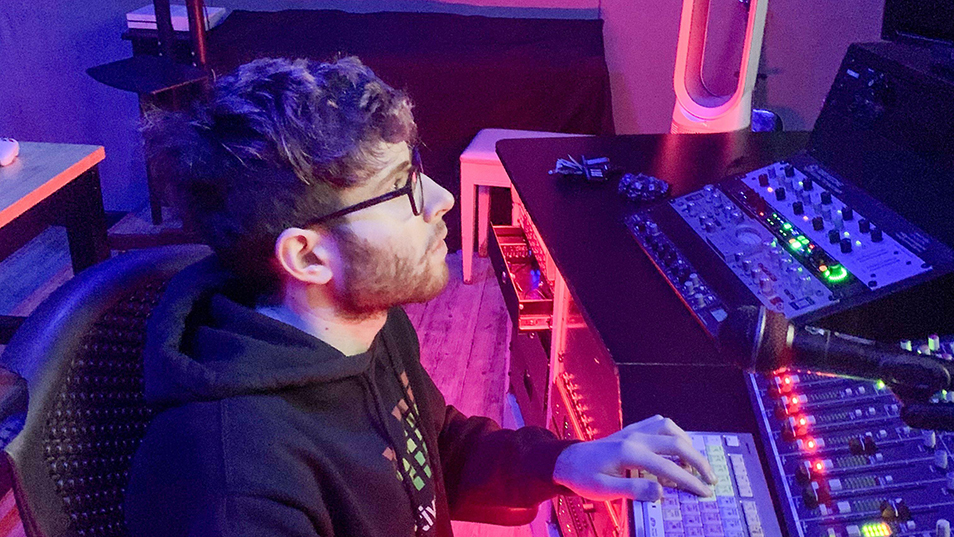 Since graduating, Joe Cannatelli '23 is focused on building his freelance audio engineer business, building a client base and getting his name out there. Photo courtesy of Joe Cannatelli
In November, the new media major from Wallingford, CT, was invited to a recording session at Executive Studios in Clearwater. He had heard about the studio through a friend, who knew someone recording at the studio. Cannatelli has a home studio and was used to writing songs and recording in his apartment, so he had never looked for a studio in the area.
"It was a meant-to-be kind of thing," he said.
The week after his visit to the studio, he searched job openings and found a listing for an intern there, and he decided to apply.
He got the job and got to work wrapping cables, organizing, completing front office tasks and taking care of customer service, he said.
If a session allowed it, he would have the opportunity to shadow. Once his tasks were complete, he also was able to record with the in-house songwriter and produce audio.
Cannatelli typically worked three days a week from 3 to 10 p.m., but he always took extra days when given the chance.
"Sometimes we'd be in there until 5 a.m. — you get caught up in a session," he said.
Since graduating, Cannatelli is focused on building his freelance audio engineering business, building a client base and getting his name out there.
"If I get a big record, that would be great, but I don't want to pressure it," he said. While at the studio, he shoots and edits content for clients and his own use, including vertical video for reels and TikToks.
"It's kind of like a family vibe. We're all trying to help each other get to the next step," he said.
Cannatelli started his education at the University of South Florida, but decided to transfer to UT, because he wanted to be in a more creative field than computer science.
"The new media program [at UT], that was the only program I found that took the computer, coding and software side in a creative direction," he said.
Gregg Perkins, associate professor of film, animation and new media, said Cannatelli has been one of the leading new media students in the program.
"He's tremendous in terms of his ability," Perkins said. "He's really lined himself up for a career I think will be quite stellar."
Have a story idea? Contact Brianna Kwasnik, Digital Content Editor/Writer
Read more UT Life stories.
Subscribe to News and UT Life.
---