Published: November 06, 2020
Defying the Odds
Stuff that feels ordinary to most people can be super stressful for Zoe Jarvis '21: making small talk and knowing when someone is telling a joke, taking a standardized test in a timed environment or driving a car while loads of overwhelming stimuli are coming at her at once.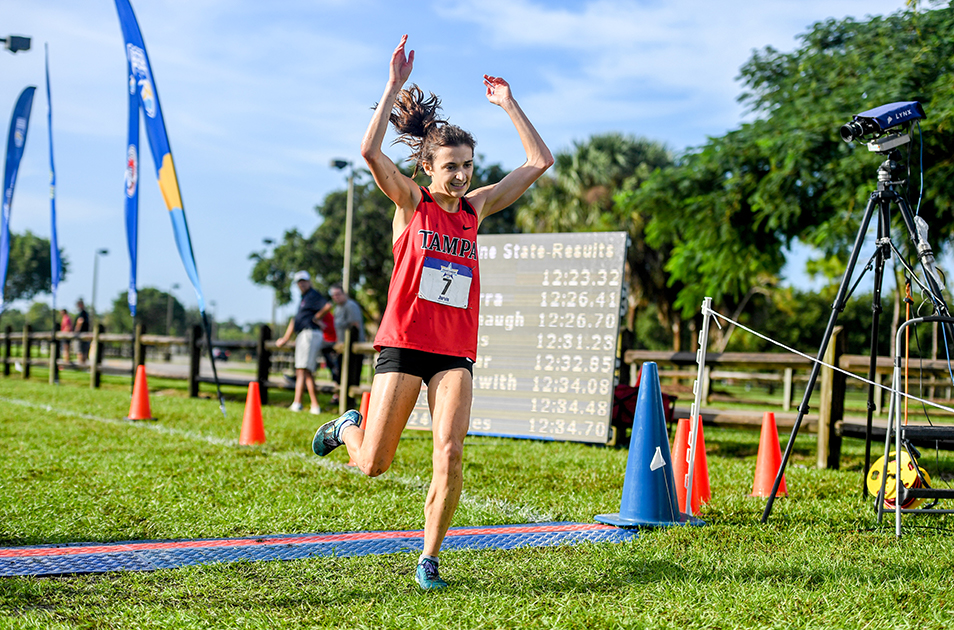 Zoe Jarvis '21 crossed the finish line in first place at the 2019 Sunshine State Conference Women's Cross Country Championship last fall.
Growing up, making friends was also difficult. Born in North Carolina, Jarvis moved around a lot (Japan, South Carolina, California) because her father is a U.S. Marine who has been on active duty for 22 years. And young kids weren't always nice to her. They saw her as quiet or quirky, she says. One negative comment (like "I'm better at this than you are") could send her into a shame spiral. She'd perseverate — repeat something from memory that made her feel uncomfortable — for years.
But during her first year of high school, something changed. After joining the cross country team at the suggestion of her speech pathologist, she realized that she wasn't just enjoying running long distances — she was soaring past people in races. Her confidence in herself grew.
By the end of her first season, she was the top runner on her team. Suddenly, classmates didn't see Jarvis as an odd girl who didn't say much. They saw her for who she was all along: a strong, capable young woman who happens to have high-functioning autism.
"Running has helped me find my place, and I feel as though I fit in," Jarvis says. "When I run, I only focus on running. It clears my mind, removes stress and puts me in a good mood."
FAST FEET
Several universities offered scholarships to Jarvis, but she was drawn to UT because she wanted to remain close to her family (her dad was heading to MacDill Air Force Base in Tampa), and she had a great conversation with Jarrett Slaven, UT's women's cross country and track coach.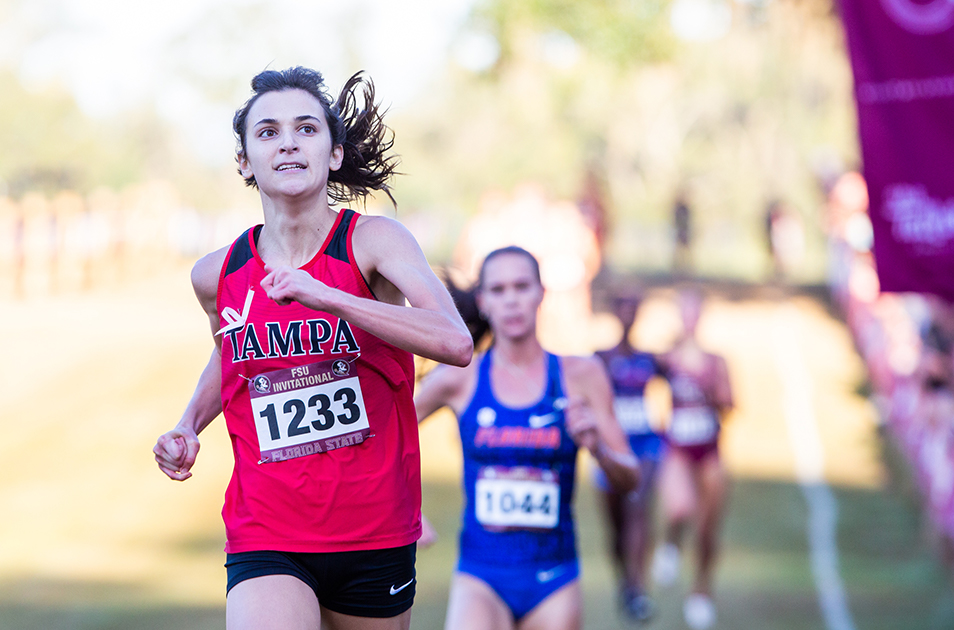 Several universities offered scholarships to Jarvis, but she was drawn to UT because she wanted to remain close to her family and she had a great conversation with Jarrett Slaven, UT's women's cross country and track coach.
"Coach Slaven is incredibly supportive, and the program feels like a family. Coach is patient and cares so much about our team and the running program," says Jarvis, who continues to sprint toward success. Some memorable athletic moments to date include being invited to compete individually in the National Collegiate Athletic Association's Division II Women's Cross Country Championship (also known as "nationals") as a sophomore and being named "All-American" and "All-Conference" in cross country — as well as the Sunshine State Conference (SSC) Runner of the Year — as a junior.
This past year was particularly spectacular for her. As a junior, she earned a first-place finish at the SSC Women's Cross Country Championship with a 6-kilometer time of 22:18.02, and in track, she broke UT's 5-kilometer record at one of only two meets in 2020 with a blistering time of 17:07 (that's roughly 5:31 per mile).
Though distance running can be grueling, Jarvis is no stranger to pushing through discomfort and overcoming obstacles. "It's 90% mental," she says. Her grit and determination have certainly impressed her coach. "Zoe is a joy to coach. She is hardworking and motivated and has set high goals as an athlete and as a student," Slaven says.
A CREATIVE SPIRIT
Jarvis doesn't just shine while wearing sneakers. In the classroom, her academic accomplishments are equally noteworthy. The animation major has a cumulative GPA of 3.6 and has been on the SSC Commissioner's Honor Roll all three years, which is no small feat. Before college, she had a one-on-one aide at school who helped her take notes and understand assignments. At UT, she feels comfortable texting classmates or emailing faculty members if she has questions, and she takes untimed tests in a quiet environment at UT's Academic Success Center.
Her degree — which is essentially a combination of art and computer science — focuses on creative coding projects that include 2D and 3D computer animation, motion effects, CGI, and visual and advanced software applications (like Dreamweaver, Cinema 4D and After Effects). As with running, Jarvis loves tasks that she can do on her own, without having to communicate with others. She can funnel her energy into one thing and get into a zone.
In classes taught by Santiago Echeverry, associate professor of film, animation and new media, she has earned a perfect score on five different projects, which has landed her in what Echeverry dubs UT's Digital Media Arts Hall of Fame. This means that some of her projects are now used as models for inspiring other students.
She's excited about her senior year and what her post-UT life will look like. Maybe a career in animation? Maybe some marathon running? Whatever she decides to pursue in the future, she's sure to accomplish it all — in record time.
This story initially appeared in the Fall 2020 UT Journal.
Story by Emily Stoops
Photos by Jeff Romance
---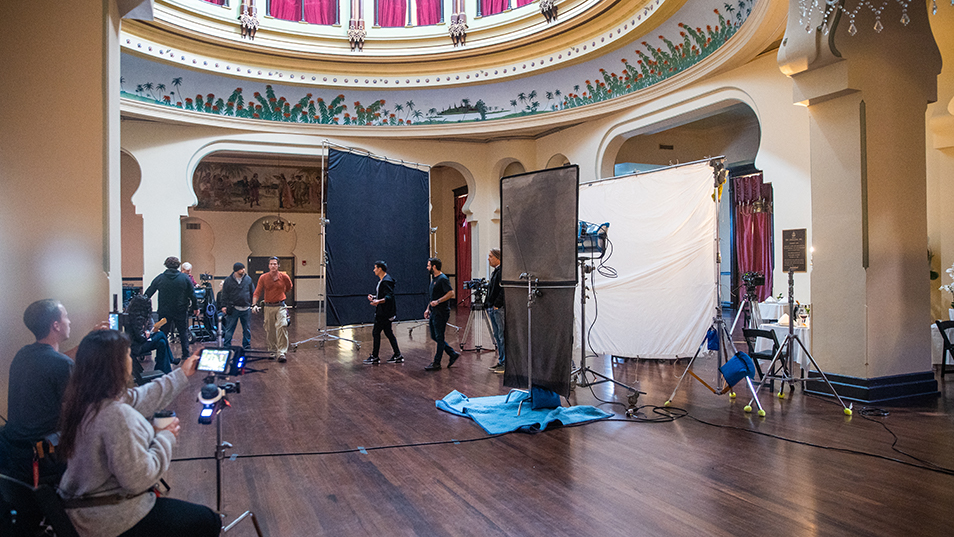 The two-part event will take place in the Charlene A. Gordon Theater in the Ferman Center for the Arts on Thursday, Dec. 2.
A growing number of television series and films use LED volumes of various sizes to perfect their graphic landscapes.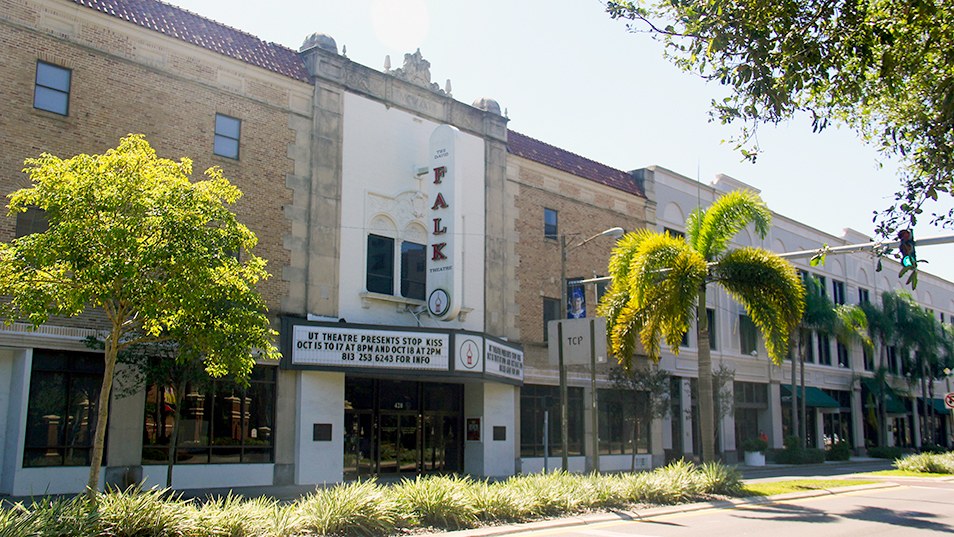 Based on the 1980 hit movie, 9 to 5: The Musical follows three women comically working together to exact revenge on their evil, sexist boss.