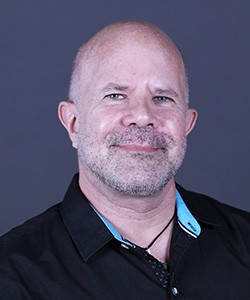 Santiago Echeverry
---
Phone
Email
Address
401 W. Kennedy Blvd.
Tampa, FL 33606
Building Location
Meet Santiago Echeverry
Associate Professor, Film, Animation and New Media
Education:
1992 Universidad Nacional de Colombia, School of Film and Television, B.A.
1998 New York University, Interactive Telecommunications Program, MPS
Courses Taught:
Digital Arts
Online Production
Art and Technology
Digital Multimedia
Career Specialties:
Santiago Echeverry specializes in interactive media, non-linear narration, interactive marketing, Web production, interface design, wireless applications, video art, performance art and Web art. His work can be found at www.santiago.cn and www.santiago.bz. 
Professional and Community Activities: Member of Siggraph
Faculty Senator representing the College of Arts and Letters and the Digital Arts Major
Senate Liaison for the Sustainability Committee