Published: July 08, 2020
Breaking Out of the Zoom Box: Bodies in Motion
The park at the tip of Davis Islands in Tampa will become an outdoor theater on July 11.
From 11 a.m. to noon, the community is asked to join Volution, a meditative dance work performed by a cast of 20 dancers including UT students, alumni and faculty, along Davis Islands' Seaplane Basin Park and Bike Path, 864 Severn Ave., by walking, biking, rollerblading and the like at safe distances from one another on the sidewalk through the moving installation. In addition, the event will be live-streamed on Facebook.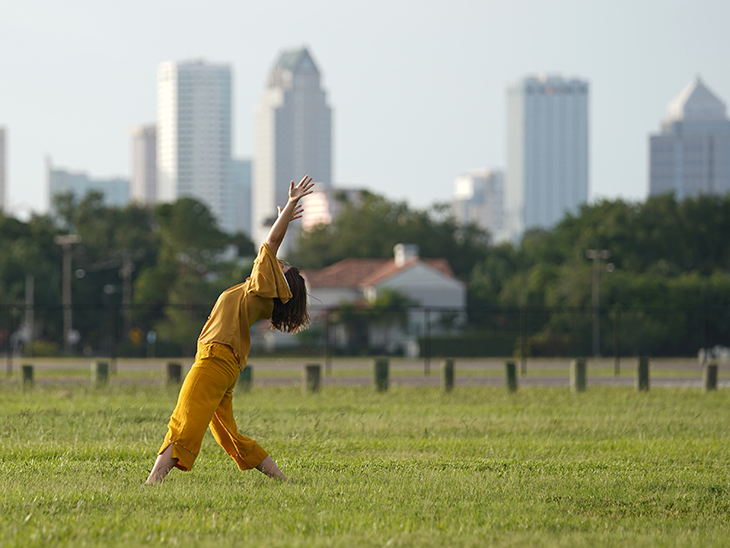 Amanda Sieradzki '13, choreographer and UT adjunct dance professor, is co-producing and co-directing Dance in the Time of Coronavirus, a meditative dance experience where the audience continuously moves through the performance. Photo by Alvaro G. Gabaldon
Volution is the third in a series of summer performances called Dance in the Time of Coronavirus, which is co-produced and co-directed by Amanda Sieradzki '13, Volution choreographer and UT adjunct dance professor, and Andee Scott, choreographer and University of South Florida associate professor of dance.
In many ways, Sieradzki, who owns the dance company Poetica, has been preparing for the obstacles of social distancing with her graduate research on site-specific dance and how to make dance accessible to the larger community in alternative spaces and venues. Early this summer she connected with Scott, who has a similar interest in thinking outside the confines of a theater, and the two brainstormed what dance could look like in the time of coronavirus.
"As faculty, we are figuring out how to teach in our kitchens and backyards, and our students are doing the same," said Sieradzki of the move of in-person classes to online-only this spring and summer. UT is planning to open with in-person classes this fall. Her choreography for Volution aims to open the mind beyond the confines of what people are experiencing regularly now on Zoom screens (head and shoulders) through explosive movements that will have the audience reconnecting with other whole bodies through space.
Based on community dance pioneer Anna Halprin's Planetary Dance and Earth Run — dance ceremonies with roots in the belief that collective intention can inspire and promote peace through creative movement — Sieradzki's performance will ask dancers to declare a positive intention for their performance before unraveling into a slingshot of movement from the trees to the meadow in the Seaplane Basin Park and back again.
"My intention will be to let the movement bring me peace and serve as a reminder of the reason that I choose to dance every single day," said Angelina Graves '21, a double major in dance and human performance with a concentration in exercise physiology.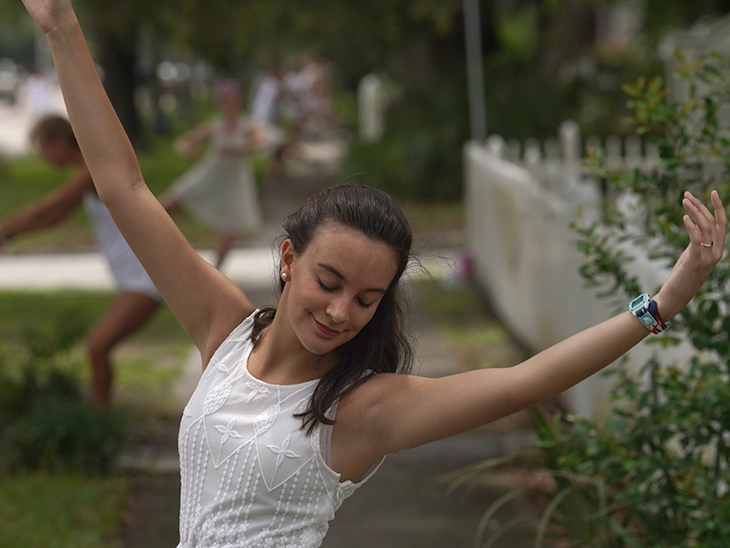 Angelina Graves '21 said that "dancing feels like the clouds and the ground touching by simply just being in harmony with each other." Here she is pictured performing in the first in the Dance in the Time of Coronavirus series, Reverberation. Photo by Alvaro G. Gabaldon
Graves has used the disappointment of the spring semester performances and club activities being cut short ("I felt as though I had eaten half of a candy bar and simply thrown the rest away") to change her frame of mind. She realized that dancing doesn't depend on the organizations she was a part of; it just depends on whether she chooses to dance or not.
"I learned that even though there were restrictions on where I could go, there were no restrictions on what I could perform. Realizing this, I felt a new jolt of energy related to my dancing," said Graves, who wants to be an active dancer, choreographer and educator for dancers of all ages. "My dancing has come from my surroundings and my feelings more now than ever before. I notice that I am paying attention to details I had overlooked in the past. I dance from my heart more now than I can ever remember."
Collaboration, unity and positivity seem to drive the series, which includes co-producers and co-directors from two Tampa universities, performance sites in both St. Petersburg and Tampa, and dancers who are faculty, students, UT and USF alumni, and professionals. The UT alumnae include Janel Wirley '20, Dakota Kuharich '19, Corinne Hidar '18 and Victoria Kanya '19.
Volution is a "durational" dance, meaning it has no official "beginning" or "end" other than the hour-long timeframe. The performance will loop every 10 minutes, and while there is no music, there will be a percussive element provided by the dancers.
"Dance is a visceral experience," Sieradzki said. "When you attend a performance in a theater you have certain expectations about what you are going to experience. However, when you see dance in a different space, it strips away the expectations and allows you to appreciate dance in a whole new way."
Dance in the Time of Coronavirus experiments with time and space where the audience continuously moves through the performance, keeping it safe for the dancers and the community. The dancers will be wearing masks, and they ask the audience to keep a distance from the dancers and to wear masks as well.
Additional upcoming events in the series include the following:
July 25: Episode 4: (re)Volution, choreographed by Amanda Sieradzki (Tampa)
Aug. 8: Episode 5: Constellation, choreographed by Andee Scott (St. Petersburg and beyond)
Aug. 22: Episode 6: Dance on Film Drive-In, curated by Amanda Sieradzki (Tampa)
Aug. 29: Episode 7: In Flight, choreographed by Andee Scott (St. Petersburg)
These are free events and no tickets or registration are required. A GoFundMe has been set up to support the dancers involved in the performances. More information on location and times for the events can be found on the group's Facebook page.
Have a story idea? Contact Jamie Pilarczyk, Web Writer
Read more UT Life stories.
Subscribe to News and UT Life.
---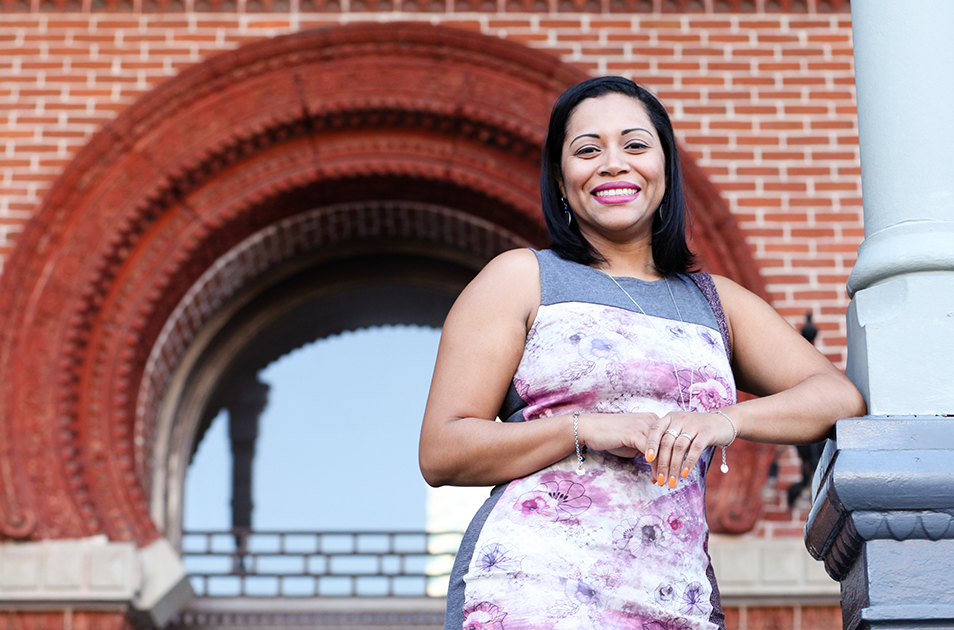 The research team looked at how undergraduates use social media and their preferences, and on their lurking behaviors.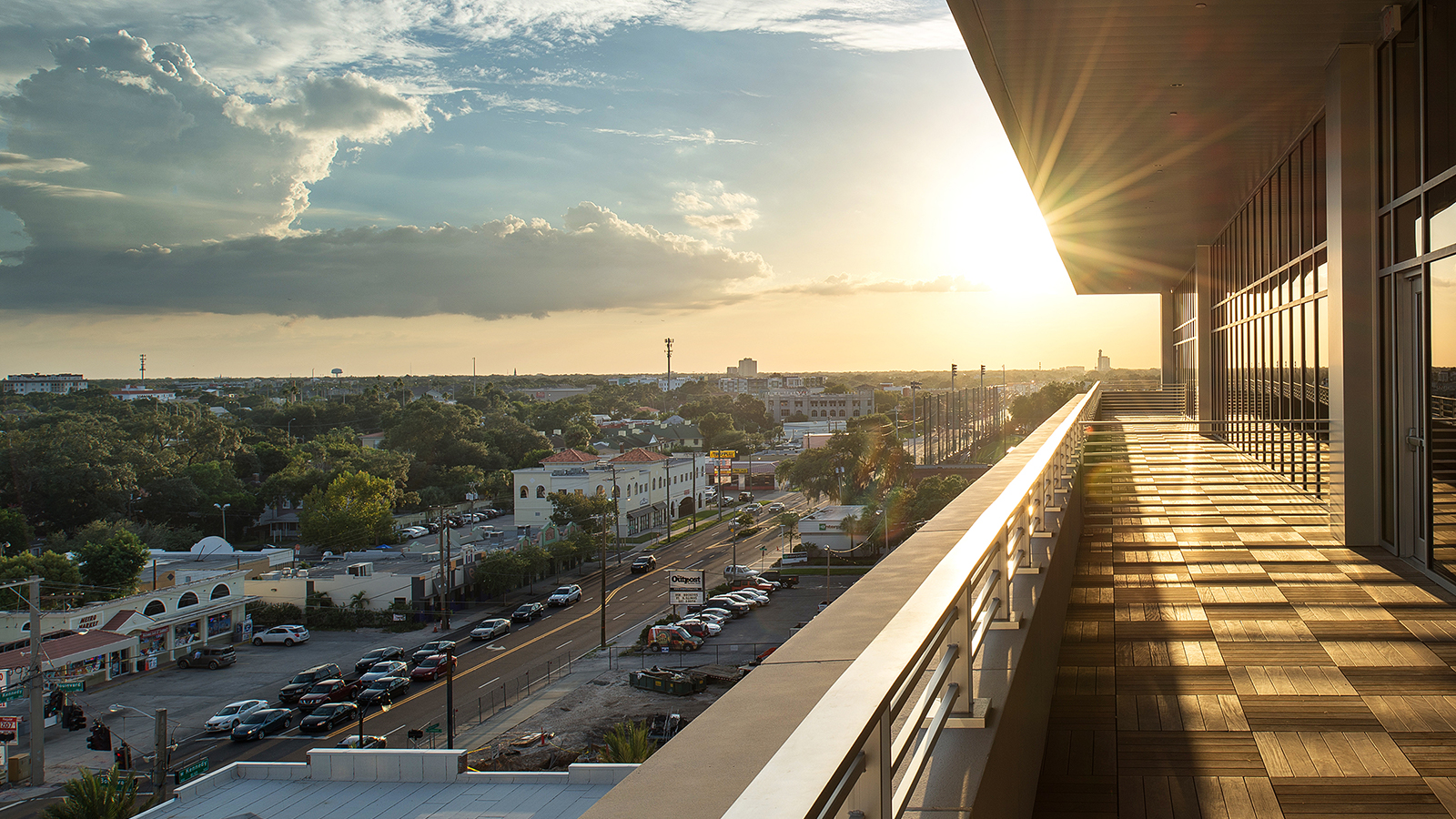 Nicholas Hinrichsen appears on the Sept. 9 episode called "Take Big Risks and Just Get Started."