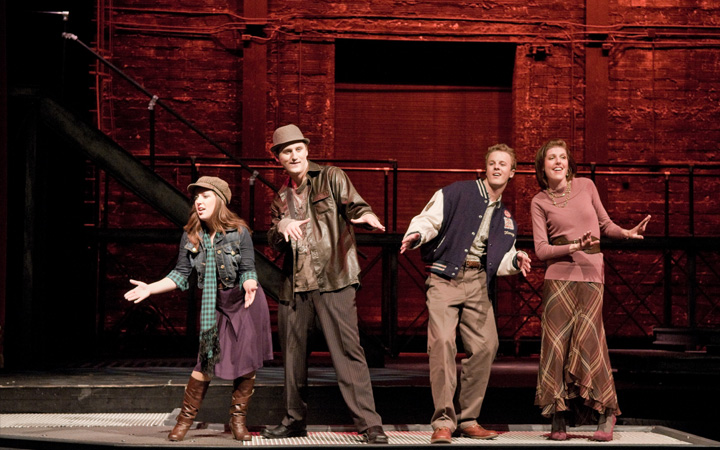 The Department of Theatre and Dance enables students to explore their talents and creativity within a framework of professional discipline and development. Classes and practical stage experiences are designed to nurture students' creative expression, enhance verbal and physical communication, and teach performance skills.
The University's location in the heart of Tampa can help students discover new cultural experiences and internship opportunities. The downtown campus is within walking distance of the David A. Straz Jr. Center for the Performing Arts, a major venue that draws famous fine arts performers and touring companies from across the country and around the world. Also nearby is the Tampa Museum of Art, which frequently hosts performances in conjunction with its exhibitions.
Watch Documentary: Creating Theatre at UT
Watch Dance Documentary: Choreographic Research of the Brain
Programs
Majors:
Bachelor of Arts in Dance — Provides training and experience in preparing to teach dance in a variety of community settings, from private dance studios and community programs to serving diverse populations. This major consists of dance technique, pedagogy, choreography, dance anatomy and kinesiology, and a capstone course, in addition to specific course work in related fields in music and technical theatre. Students also will have opportunities for internships in community dance programs. An audition is required for this program; please, contact the director of the dance program to schedule an appointment.
Bachelor of Fine Arts in Musical Theatre — Provides balanced training and experience in the three performance areas associated with musical theatre: music, theatre and dance. Students develop performance skills and repertoire, while participating in musical theatre productions, vocal ensembles and cabaret performances. The program includes in-residence workshops with established music theatre artists and internship opportunities with a local theme park, theatre company or other venue. Admission to this program requires an audition.
Bachelor of Arts in Theatre — Consists of intensive training and development of performance skills through study in voice, body and movement for the stage, a variety of actor training techniques, and coursework in audition and career preparation. Students develop performance skills and repertoire, study theatre history, theory and criticism, and participate in main-stage and studio productions. Admission to this program requires an audition.
Minors:
Minor in Dance — Provides students with a basic introduction to teaching dance to a wide variety of populations. This minor consists of dance technique and pedagogy, in addition to specific coursework related to the field of dance.
Minor in Dance/Theatre — Provides well-balanced, versatile training and opportunities for improving performance and choreography skills.
Minor in Speech/Theatre — Designed for students to explore and strengthen skills in both theatre and public speaking.
---