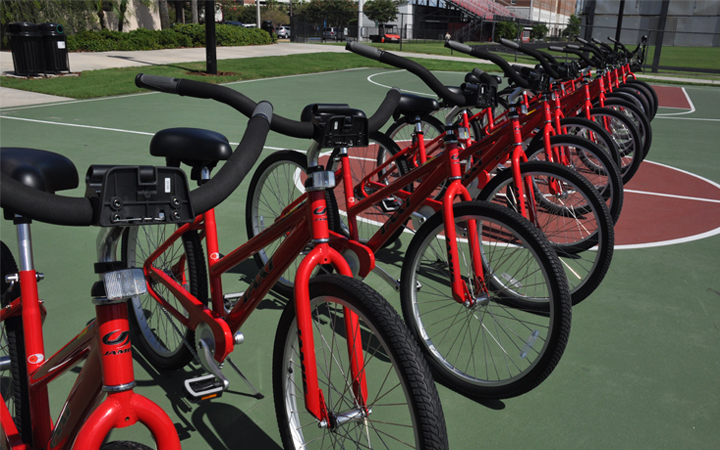 BikeUT is currently unavailable due to Phase II (1) construction. A plan for return upon project completion is currently in development.
BikeUT is a University-wide free bike rental program created to promote outdoor physical activity and sustainable transportation options. Housed by the Office of Campus Recreation and supported by Student Government, the program offers the campus community the opportunity to rent the bikes on a daily basis with a valid Spartan ID.
Take our bikes off campus for a short ride to the park, for some exercise along the 4.5-mile Bayshore Boulevard lining Tampa Bay, to pick up some groceries at the Tampa Downtown Market or just hop on a bike to get across campus to class. Check out Tampa Bay's newest spot for exercise enthusiasts at the Tampa Bay Riverwalk!
The bikes are meant to be shared. So rent one, ride it, return it and repeat as much as you want.
Get Moving
BikeUT is easy and fun because you don't have the hassle or expense of owning and storing your own bike. Students, faculty and staff are allowed to rent bicycles at no charge for personal use. Hours of operation are between 12–4 p.m. Each rental will require a valid UT Spartan ID. Guests, spouses, alumni and visitors are NOT permitted to rent bicycles from BikeUT.
Rentals are equipped with a helmet and bike lock for rider safety. City Bike Tampa offers a 10 percent discount to UT students who desire to purchase their own helmet and lock.
Hours of Operation
BikeUT is currently unavailable. New hours of operation will be communicated upon completion of construction and the reopening plan.
Under normal conditions, bikes may be rented seven days a week during the fall and spring semesters only. The rental program relies on student employees and therefore, the hours may vary from semester to semester based on their academic schedules. All bicycles must be returned by the end of rental operation the same day to avoid late fees. Please remember to lock up the bikes safely using a bike rack.
Access
There are a limited number of bikes for rental, and availability cannot be guaranteed. There are also certain "black out" dates in which rental will not be permitted due to high traffic from an event and/or safety concerns. Such dates will include but not be limited to Halloween, Guavaween, Gasparilla and St. Patrick's Day.
Weather
During inclement weather, bike rentals will be stopped when rider safety is in jeopardy. The staff regularly checks local news stations for weather precautions. If a tornado, severe thunderstorm or flood warning is issued in the downtown/South Tampa area, bike rentals will be stopped until the weather passes. Riders who are already out will be called on their cell phone and notified of the warning. Please check the local weather forecast before heading out to ride. Another warning notification is UT's lightning detection system — ThorGuard. Should you hear the sirens go off, BikeUT will not rent bikes as it indicates that lighting is in the area. Once the red alert is cleared, rentals will resume.
Responsibility
During the time you rent the bike, you are responsible for the bike. You will be responsible for up to a $400 replacement fee if you do not return the bike within 24 hours after the designated rental period is over or if the bike is otherwise damaged, lost or stolen. A $10 late fee will be assessed for every hour the bike is late, and the hourly fee is accessed at 5 minutes past the return time. All fees for lost, stolen or damaged equipment will be billed to the student's Bursar's account.
Questions?
The Office of Campus Recreation manages the BikeUT program and contracts with City Bike Tampa to maintain the BikeUT bikes. If you have any comments, please contact Christopher Gottlick at (813) 257-3232.
---