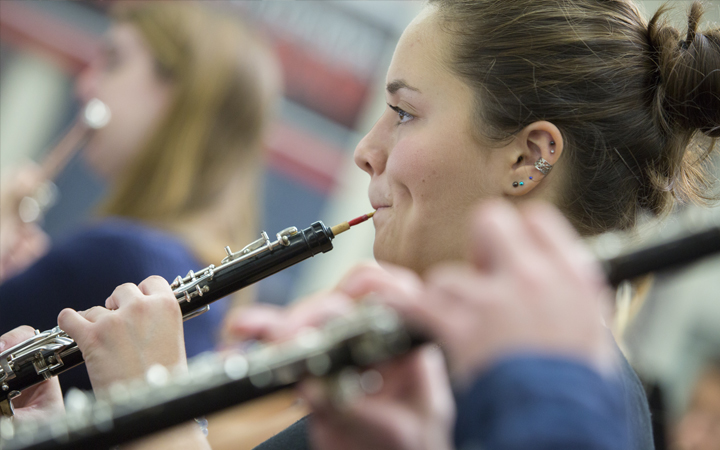 University of Tampa Bands
Woodwind, brass and percussion players will find numerous performance opportunities at The University of Tampa as soloists and collaborators in a variety of ensembles. All bands welcome experienced musicians of every major. If you are interested in joining the University of Tampa Bands, contact bmcdannald@ut.edu, UT director of bands.

Wind Ensemble – The premier wind and percussion ensemble at UT, the UT Wind Ensemble performs several concerts each semester. Repertoire includes music from all style periods, ranging from traditional works for concert band to the latest compositions for full and adjustable-size wind band. Students are assigned parts as required by each piece. Membership is open to all students with high school band experience. A placement audition is held at the beginning of the fall semester. Wind Ensemble meets Mondays, Wednesdays and Fridays from 11:30 a.m. to 12:40 p.m.

Jazz Ensemble – A big band of saxophones, trumpets, trombones and rhythm section that plays music of all styles from traditional swing to contemporary jazz. The UT Jazz Ensemble performs several times each semester on campus and around the Tampa area. Membership is by audition at the beginning of the fall semester. Jazz Ensemble meets Monday nights from 7 to 9 p.m.

Spartan Band – The Spartan Band (pep band) performs up-tempo popular tunes at a variety of university events. Membership is open to all UT students who participate in either the Wind Ensemble or Jazz Ensemble.
UT Summer Band Camp (middle and high school)
The UT Band Camp is a comprehensive music camp for woodwind, brass and percussion students in grades 7-12. The camp is sponsored by the Department of Music at The University of Tampa and led by UT Director of Bands Brandon McDannald.
Learn More About Summer Band Camp.
---