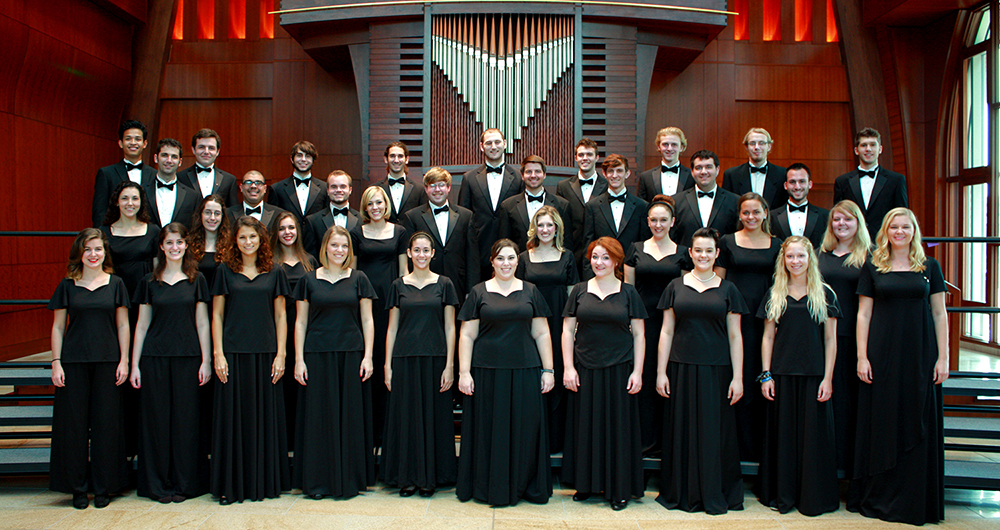 The University of Tampa Chamber Singers is a vibrant, auditioned, mixed ensemble that performs a variety of challenging choral repertoire spanning from the Middle Ages until modern times. Although primarily comprised of music majors and musical theatre majors, the ensemble welcomes experienced singers from every academic discipline on campus. Students are expected to commit to multiple on and off-campus performances and rehearsals throughout the year, and preference is given to students who can sing in both the fall and spring semesters. Auditions are held during the first few days of the semester and students are expected to audition each year, regardless of participation in past semesters.
The University of Tampa Chamber Singers has performed throughout the state of Florida and the Southeast, and in 2015 they took a one-week performance tour culminating with performances in and around New Orleans, LA. In 2016 the choir was selected to perform for the FMEA/ACDA luncheon at the Tampa Convention Center and in 2017 Chamber Singers performed a cantata, BWV 131, by Johann Sebastian Bach with a professional chamber orchestra. The University of Tampa Chamber Singers is the featured choir on the annual UT Holiday Concert, And Heaven and Nature Sing, held each December in Sykes Chapel and Center for Faith and Values.
Students who are selected for membership demonstrate outstanding musical discipline, vocal flexibility and a willingness to explore a variety of difficult choral music. Students are chosen for membership based on their ability to produce a healthy, vibrant choral tone free from tension and undesirable habits. In addition, students who are selected for the choir demonstrate superior sight-reading sills and musical interpretive abilities. The group places a strong emphasis on commitment and teamwork in a noncompetitive, nurturing artistic environment. Students are expected to work on their music outside of class, and are required to produce a mature, healthy vocal tone that is flexible, buoyant and adaptable to the demands of multiple stylistic requirements.
More information about the audition:
Auditions for Chamber Singers are held during the first few days of the fall semester. Priority is given to singers who can commit to an entire academic year, and students who have participated in past semesters are required to audition each year.
There will be five parts of the auditions. The audition environment will be relaxed and cordial. There is no reason to be nervous! All are welcome.
Exploration of the Voice: The student will sing simple exercises to explore the range and comfortable tessitura, and to demonstrate vocal quality and dexterity.
Evaluation of Vocal Production: Students auditioning for select ensembles will sing a short solo of his/her own choice to demonstrate vocal production qualities. The song should be an art song, aria, patriotic song, folk song or hymn. Pop songs are not permitted.
Sight Reading: Students will be asked to read, at sight, a brief passage of music. After a minute to study the example, the student will be given a starting pitch and will sing a cappella, using any music reading system or reading on a neutral syllable (for example, "la").
Ear Evaluation: The director will clap various rhythmic patterns, and the student will have to clap them back. The director will play a series of three or four pitches on the piano, and the student will have to sing them back on a neutral syllable.
Interview: The student will have a few minutes to talk with the director, ask questions and share concerns.
Donations for Chamber Singers Travel:
If you would like to help make off-campus travel possible for Chamber Singers, your tax-deductable contributions are greatly appreciated.
Make a secure, online contribution through the Office of Development and University Relations. Please be sure to designate "Choir Travel Fund" in the comments section.
Send a personal check and mail it to the following:

The University of Tampa
Development Office, Box H
401 W. Kennedy Blvd.
Tampa, FL 33606
(Please note on the check memo "Choir Travel Fund")
For more information about supporting The University of Tampa Chamber Singers, contact Ryan Hebert at (813) 257-3344 or email rhebert@ut.edu.
---