Published: April 27, 2023
UT Study Space Named for Alum, Standout Student-Athlete Stephen H. Mauldin '90
The University of Tampa renamed the Academic Study Lounge, located in the Martinez Athletic Center, in honor of Stephen H. Mauldin, a member of UT's Class of 1990, and a member of UT's Board of Trustees since 2018. The renaming recognizes Mauldin's achievements as a student-athlete, his commitment to UT as an alum and his philanthropic efforts.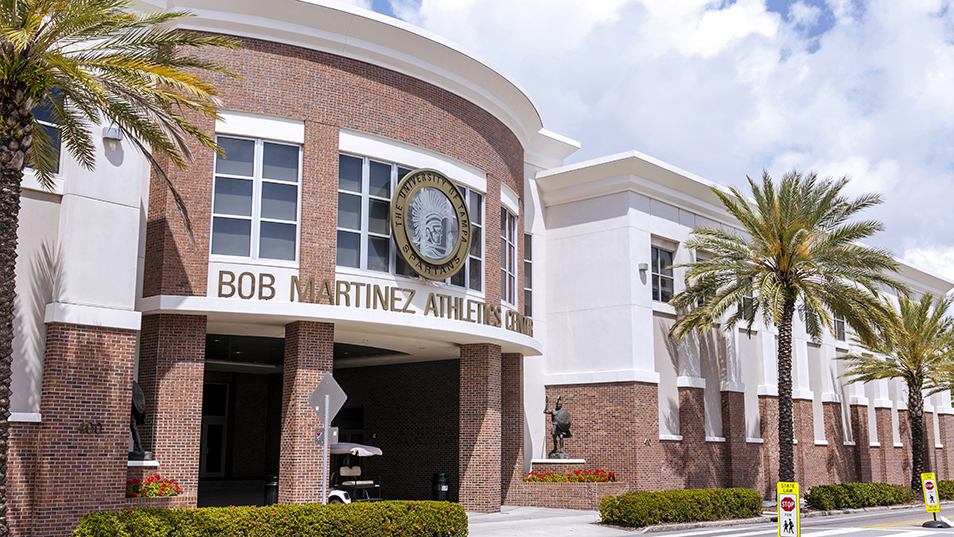 Stephen H. Mauldin '90, a 2008 inductee into the UT Athletic Hall of Fame, was a four-year letterman in baseball and was UT's first and only male three-time Academic All-American.
The two-story study space will now be known as the Stephen H. Mauldin '90 Academic Study Lounge, which is available for all UT students to use for individual and group study. The renaming was made official on Friday, April 14, in an event marked by a private luncheon and a plaque unveiling.
Mauldin, a 2008 inductee into the UT Athletic Hall of Fame, was a four-year letterman in baseball and was UT's first and only male three-time Academic All-American. Among other conference, regional and national accolades, he concluded his four years as a Spartan ranked in the top-five leaders in career batting average, hits, RBI, at-bats and games played. UT's Baseball Head Coach Joe Urso, who was a teammate of Mauldin's at UT, said Mauldin exemplified "perfection" as a student-athlete. "I will always remember Steve's leadership on and off the field," Urso said. "He made all of us around him better."
For Mauldin, who was drafted by the California Angels in the 19th round out of high school and opted instead to attend UT to focus on his education, the study lounge represents a commitment to excellence in Spartan Athletics. "I am genuinely honored to potentially be a small reminder of the power of the word and to UT student-athletes," said Mauldin. "Serious focus on sport and scholarship can indeed coexist at the same time."
The study lounge, a modern, striking space with red and black furnishings and details, is in UT's Martinez Athletics Center. The centerpiece of the room features a pillar called the Spartan Pinnacle on which a quote from UT President Ronald Vaughn is inscribed. It reads, "UT prides itself on educating the whole person — academically, spiritually and physically — in order to prepare our future leaders."
A plaque recognizing Mauldin's contributions to the University and his position as a role model was revealed at Friday's event in the study lounge. Urso, Vaughn, student-athlete Drew Erhard '21, M.S. '22, M.S. '23, and Athletic Director Larry Marfise spoke at the private lunch and plaque dedication. After the official unveiling of the plaque, Mauldin, along with his family and friends, attended the UT baseball game, where the No. 3-ranked Spartans took on the Eckerd College Tritons in the first of a three-game sweep. Mauldin was recognized for his dedication to UT's students during the third inning of the baseball game.
Mauldin lives in Winter Park, FL, and is co-CEO of CNL Financial Group. After graduating from UT in 1990, Mauldin earned his MBA from Northwestern University's Kellogg School of Management and has since worked in the private equity and commercial real estate investment industries. His many volunteer roles include seats on the UT Board of Trustees and the executive board of the Orlando Economic Partnership. He is married with three daughters, the youngest of whom is a standout UT student.
---