Published: September 18, 2020
Undergrad Use of Social Media Studied for Opportunities in the Classroom
Renata Sindicic '21 checks her Instagram and Snapchat at least hourly. They are her most-used social media platforms and are how she keeps informed on what's going on and how she messages back and forth with her friends.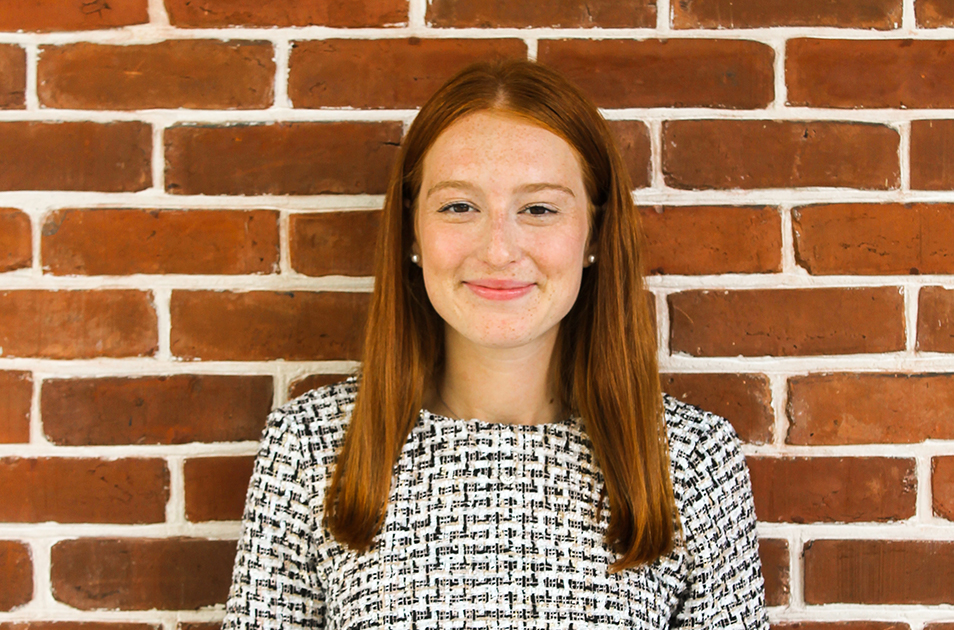 Renata Sindicic '21 was part of a UT research group that studied how undergraduates use social media and their preferences, and on their lurking behaviors. Photo provided by Sindicic
Sindicic, who is president of the sorority Delta Zeta and a member of the Greek honor society Order of Omega, said her social media preferences are a good example of the average UT college student, and she has the data to back it up.
In a paper that was just published in the International Journal of Social Media and Interactive Learning Environments in August 2020, Sindicic, Enilda Romero-Hall, graduate coordinator for the instructional design and technology program, Linlin Li M.S. '20 and Erika Petersen M.S. '19 studied, "Most versus least used social media: undergraduate students' preferences, participation, lurking and motivational factors."
"Our aim is to help faculty members understand how students are using social media so that they can take action and consider it for the classroom," said Romero-Hall, hoping educators better tailor social media use through formal, informal and collaborative learning opportunities.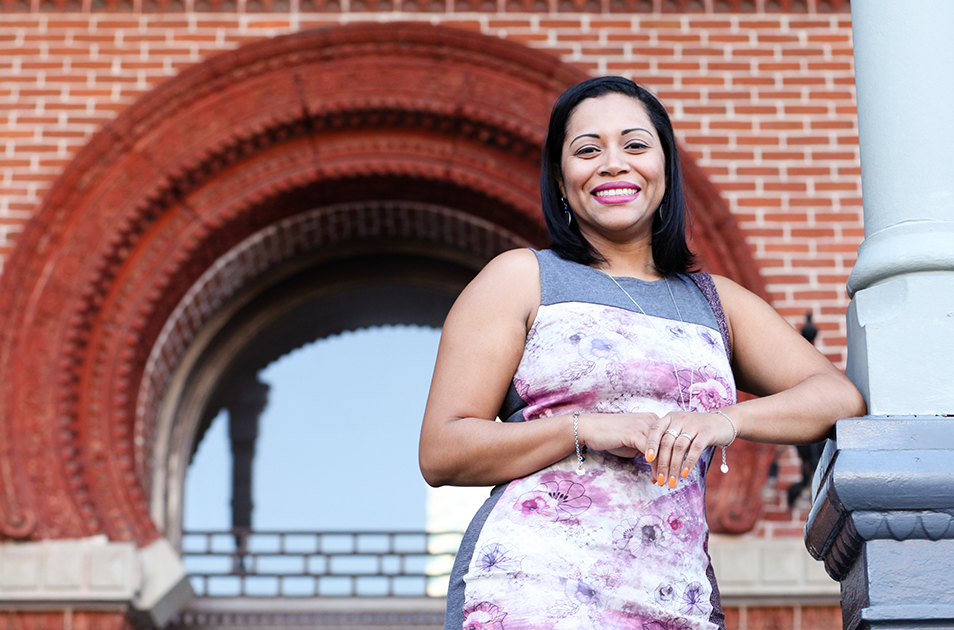 Enilda Romero-Hall, graduate coordinator for the instructional design and technology program, studies the design and development of multimedia instruction, human-computer interaction, online social communities and blended/hybrid education.
Of the 769 University of Tampa undergraduates surveyed about their most-used social media (MUSM), 41.48% answered Snapchat, 38.07% answered Instagram, 7.81% answered Twitter, 6.68% answered Facebook and 5.97% answered YouTube, with 62.35% responding that they log in to their MUSM hourly.
"It's important to understand who the learners are and meet them in the environment they are comfortable in," said Romero-Hall, associate professor of education. For example, there would be less of an educational impact to assign students a group chat on a theme utilizing a class hashtag on Twitter, rather than leading a group discussion on Instagram, since the majority of students aren't using Twitter on a regular basis.
Also of interest from the study was a focus on lurking, defined as when someone uses a social platform but doesn't interact with comments or likes. While the term could have a negative connotation ("creepy" comes to mind), Romero-Hall said there are some benefits associated with lurking — such information collected for future use or having conversations off-line with the active users (i.e. a colleague reacting through a text message to a user who made a comment on a social media post).
The researchers also found that students utilize social media differently based on their class year.
Sophomores, juniors and seniors are more active on social media than first-years, and sophomores lurk more than the rest. Romero-Hall said perhaps sophomore use had to do with their comfort level socially by their second year, ease of connecting with friends on social and their confidence in lurking to glean information as needed instead of being active.
"There is still so much more to learn about how students lurk, why they lurk and how they define themselves as potential lurkers. You can be a lurker in one specific platform and react very differently on another," said Romero-Hall, who wants to pursue future research on the lurking behavior patterns of undergraduate students.
Romero-Hall received Office of Undergraduate Research and Inquiry (OURI) and Research Innovation and Scholarly Excellence (RISE) UT grants for the 2018-2019 year. It took a year of research and analysis and included three poster presentations by Sindicic in July 2019 at the Social Media and Society conference in Toronto, and in Spring 2019 at the Florida Undergraduate Research Institute in Jacksonville and the UT Undergraduate Research Symposium on campus. Their paper was accepted in March 2020 and published Aug. 13, 2020.
The downside of the research timeline is that by the time the research is published, social media platforms and how they are used have already evolved. For instance, TikTok wasn't in the mainstream conversation when the research team did their survey in October 2018, but it is now.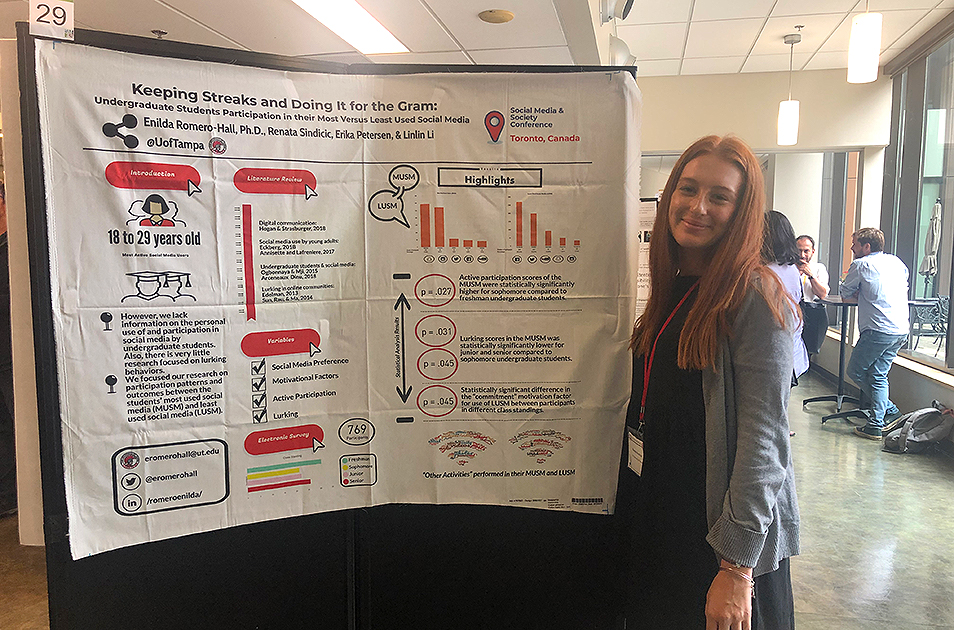 Sindicic presented the team's research at three presentations: in July 2019 at the Social Media and Society conference in Toronto, and in Spring 2019 at the Florida Undergraduate Research Institute in Jacksonville and the UT Undergraduate Research Symposium on campus. Photo provided by Sindicic
Sindicic, an international business major with a concentration in marketing and a minor in business analytics, took the lead on looking at the results of the survey and identifying trends and significant patterns that she could organize into broad categories, which were then highlighted in the paper.
"She brought so much context to the study," translating social media vernacular on survey questions and providing a frame of reference, said Romero-Hall.
"Dr. Romero-Hall sparked my interest in research," said Sindicic, who would like to pursue her master's after graduation at UT, possibly in cybersecurity. Her career goal is to work with a global company doing marketing research. (She'd have an advantage working at a global company because she already speaks several languages, including Spanish, Portuguese and American Sign Language; the last two were learned from her parents, who are from Brazil and are both deaf.)
Sindicic said one of the biggest takeaways from the research is that faculty members shouldn't dismiss social media as an educational tool.
"They are missing the mark by not utilizing social media more in the classroom," said Sindicic.
Have a story idea? Contact Jamie Pilarczyk, Web Writer
Read more UT Life stories.
Subscribe to News and UT Life.
---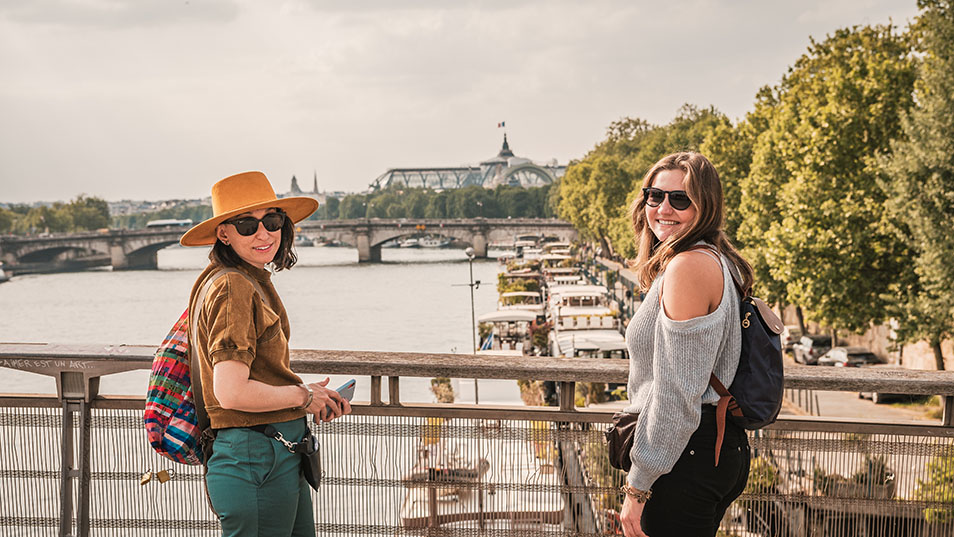 Associate Professor of English Sarah Juliet Lauro and her students went to Paris to document the sights mentioned in Ernest Hemingway texts.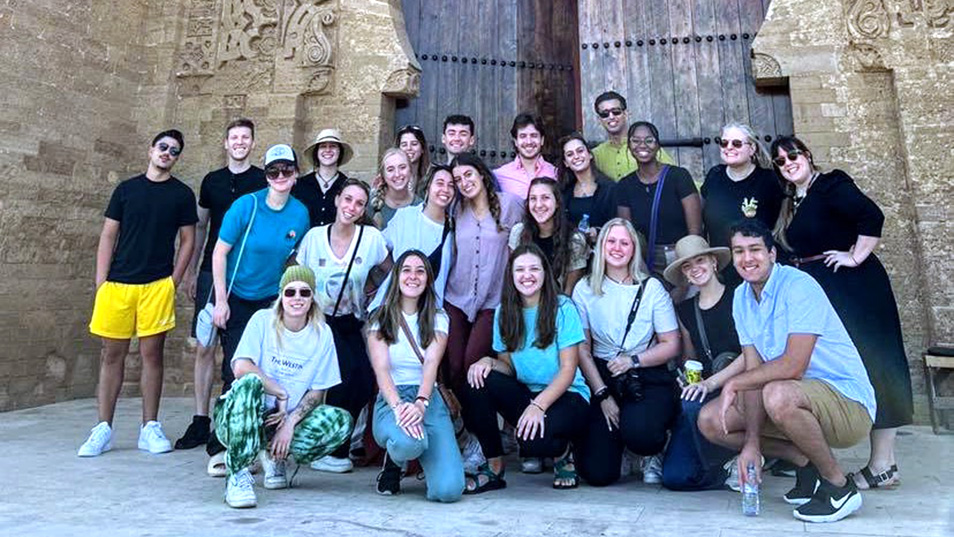 Twenty students from The University of Tampa's Speech for Business and the Professions course traveled to Morocco for 11 days in early May.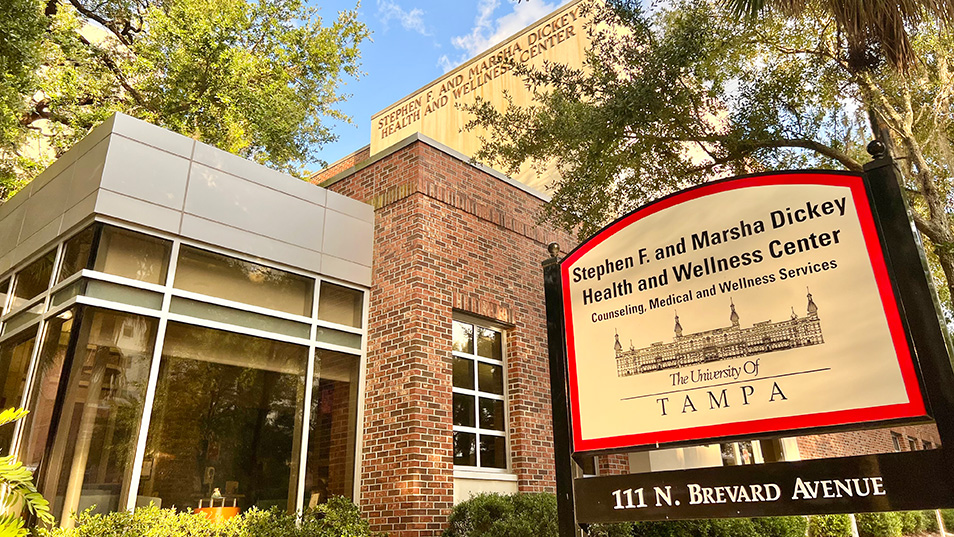 UT recently completed its four-year partnership with the JED Foundation (JED), a nonprofit dedicated to promoting emotional health and preventing suicide among young adults.