Published: July 01, 2020
Education Faculty, Students Develop Digital Tools for Haitian Orphanage
In 2010 Haiti was hit with a number of natural disasters, including 7.0- and 6.1-magnitude earthquakes and the Category-2 Hurricane Matthew. Thousands of Haitians died in the disasters, which left long-lasting, negative effects on the economy while destroying homes, businesses and schools throughout the country.

Suzanne Ensmann, assistant professor of education, is leading a UT team in creating new teaching methods for English language education in Haiti.
One year later Suzanne Ensmann, assistant professor of education, visited the country on a service trip with several nonprofit organizations to rebuild homes destroyed from the natural disasters. With more work to do and a desire to be of service, Ensmann returned in 2013, visiting several orphanages.
"Both times I was down there I realized there was a much larger picture that needed to be addressed than just the small efforts I was going down for," said Ensmann. "The poverty is overwhelming. Schooling is not required. It's pretty much a luxury."
Ensmann specializes in instructional design for online and hybrid learning. She teaches courses such as media for instruction and introduction to instructional games and simulations, teaching her students how to effectively educate through new forms of instructional technology.
Recognizing the need for a new approach to education in Haiti, combined with Ensmann's specialty in instructional design, she teamed up with two other UT professors: Tammy Schimmel, associate professor of education, and Tony Erben, immediate past chair of the education department and coordinator for teaching English to speakers of other languages (TESOL). The group applied for and was awarded a 2019-2020 UT Research Innovation and Scholarly Excellence (RISE) Award/Dana Foundation Grant, with the directive for UT students to design and deliver digital interactive instruction (interactives) for children in Haiti.
"I saw the need for education and organizations wanting the help, and I have students who create amazing instruction," Ensmann said. "Connecting them together with UT's RISE grant to place tablets in the children's hands could profoundly redirect the future of their communities."
In Haiti, although the attendance rate for children of primary school age is 84%, the primary school completion rate is only about 54%, according to UNICEF. Completing higher grade levels is even rarer, with the attendance rate for adolescents of lower secondary school at just 28%.
After receiving the grant and connecting with many organizations in Haiti, Ensmann chose to partner with the Christian Action and Relief for Haiti (CARHA) orphanage for the project due to CARHA's focus on improving education for Haitian children. The project centers around teaching basic English reading and writing skills through interactive games and lessons on digital tablets. Although Haitian Creole and French are the official languages of Haiti, CARHA recommended they focus on English lessons.
"French is often taught in the schools, but English is more often spoken throughout the world," Ensmann said. "This organization wants the children to improve their economic position in life."
The funding from the grant offered stipends to oversee and support the technical and professional work in writing, designing and developing the academic lessons, as well as funds for the orphanage to purchase 21 tablets from Surtab, a company based in Haiti that produces tablets for schools in the country. The software containing the interactives will be pre-downloaded to the tablets so that if internet connectivity is an issue, the children are still able to learn and use the games. The grant money is also being used to purchase Surtab's battery-operated charging stations, so that the tablets can be charged without electricity.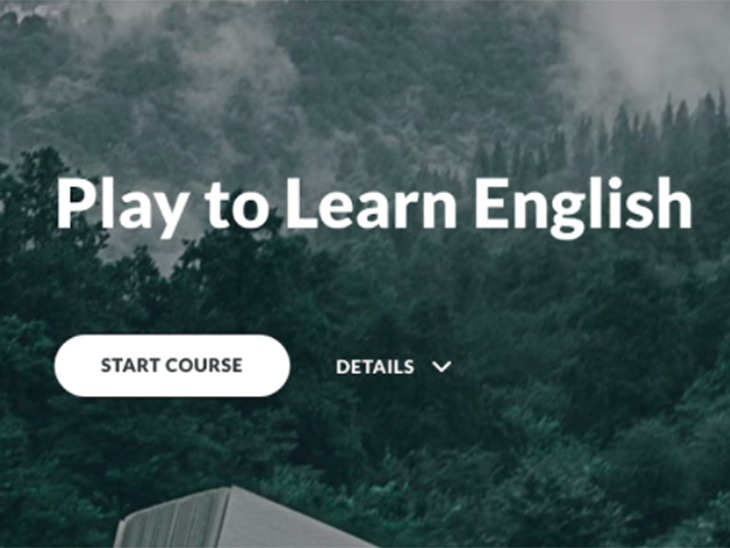 Ensmann is currently waiting to test the final beta version. Initially, she was supposed to travel to Haiti in April to hand-deliver them, but due to COVID-19, the grant has been extended to the fall to allow the final phases of the project to be completed. Photo provided by Suzanne Ensmann
When the project began, the children at CARHA didn't have access to any digital learning devices and had only a limited ability to connect to the internet. A schoolhouse opened in the fall of 2019, concurrently with this project, but was intermittently shut down due to political unrest. The children are at various levels of education with some never having had schooling before, Ensmann said.
Ensmann began working with some of her UT students in Summer 2019 to develop the lessons. In Fall 2019, students in her Intro to Games and Simulations in Education course gamified English language lessons, adding competitive aspects with incentives for progress.
"Winning or gaining a prize at the end was what seemed to enlighten and really spark the children's attention," said Ensmann, explaining that interactives offer students an opportunity to engage in their learning. Games go a step further to offer elements such as collectibles or opportunities for players to "win" making the learning fun.
"So all of the interactives to date have been developed into games," she said.
Students in Schimmel's Literature and Language Arts in the Elementary School course typically create their own piece of children's literature.
"This task is designed to guide students through the writing process, a multistep process based on how authentic writers prepare texts," Schimmel said. For the target audience of Haitian students, Schimmel's Fall 2019 students created a book that addressed contextually-based real-world environmental issues in Haiti.
Erben's Spring 2020 TESOL methods and practicum students then adapted and modified the book created in Schimmel's course to further contextualize the learning.
Putting together the work of all the courses and professors resulted in a complete package of various interactive games for the children to learn English in an engaging and fun way.
The final package has not yet been delivered to the orphanage due to COVID-19 disruptions, but halfway through the project the games were sent down to Haiti for testing to see how the children reacted.
"Everything that we were looking to achieve happened: their attention was grasped, they clearly reacted to it, they continued playing it, they were clapping and cheering," Ensmann said. "It was a great thing to see."
Ensmann is currently waiting to test the final beta version. Initially, she was supposed to travel to Haiti in April to hand-deliver them, but due to COVID-19, the grant has been extended to the fall to allow the final phases of the project to be completed.
Ensmann says that this will be a pilot run of the product, and they hope to see it expand to the rest of the country.
"If it works well [with CARHA], the potential is unlimited for where it could go from there," said Ensmann.
Story by Mallory Culhane '21, journalism major
---