Published: August 25, 2023
Collaboration Between Sports and Science Is a Game-Changer
Every day during the training and competition season, members of the UT women's soccer team pick up a small garment and slip it on with their workout gear or game jersey as they head out to the field. Over on the basketball court, the women's team also dons the tight-fitting, sleeveless pinney. Graduate students from the Department of Health Sciences and Human Performance oversee this state-of-the-art wardrobe and ensure that each player has one.
It isn't the latest trend in athleisure. Rather, these simple black vests contain sophisticated tracking devices that are part of an innovative, cutting-edge collaboration between the Athletics Department and the Department of Health Sciences and Human Performance (HSHP). That program, led by HSHP associate professor J.C. Andersen, uses movement and heart rate data from wearable devices to improve athletic performance, reduce risk of injury and build a new generation of sports scientists.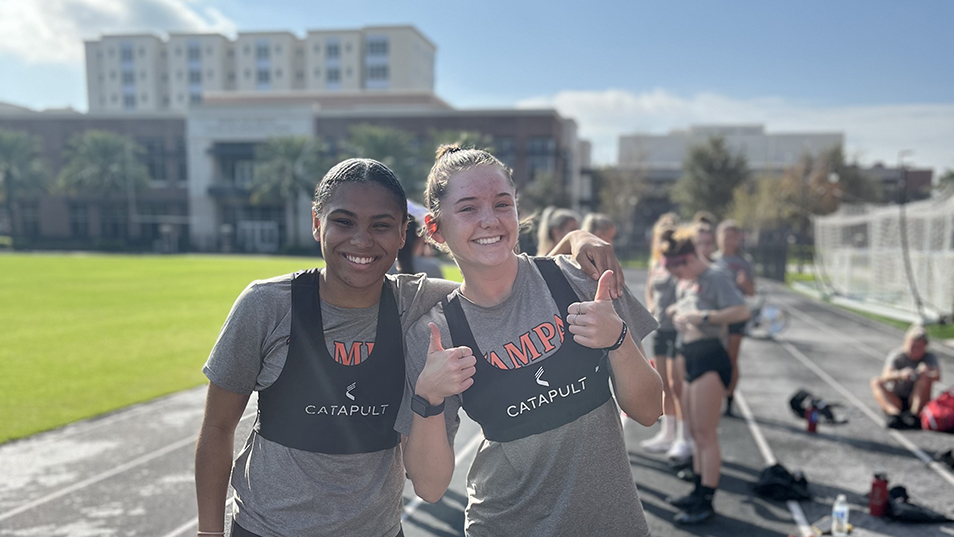 These simple black vests contain sophisticated tracking devices that are part of an innovative, cutting-edge collaboration between the Athletics Department and the Department of Health Sciences and Human Performance.
A COMPETITIVE ADVANTAGE
The device, about the size of an old flip phone, is called Catapult and is made by an Australian company that launched in 2006. It fits securely into that slim garment the players put on over or under their jerseys. Catapult integrates with a Polar heart rate monitor, which is worn like a belt around the mid-torso, to track heart rate data useful for understanding a player's fitness levels.
Each Catapult device also records the player's movements using GPS and accelerometer data, providing key insights about where and how fast the player moves, how quickly she accelerates to full speed, how quickly she stops, how high or far she jumps, and much more.
At the end of the workout or the game, players return the devices, and a team of grad students gets to work downloading the raw data and analyzing it. They prepare reports for players and coaches in near-real time that can impact the next day's drill lineup or game plan.
Thomas Jessee, head coach of the women's basketball team, brought his team into the project two seasons ago because "I'm always looking for something that would give us an advantage over the competition," he says. "Sometimes that could be something as simple as a drill or as complex as a device like the Catapult."
Though the team has just two seasons' worth of data so far, Jessee says the results have already been groundbreaking and have "allowed us to have a new way of looking at the players and having the players become better athletes." The numbers paint a picture of how effective a specific workout was on a specific day.
For example, "we could be running a cool-down drill that should be bringing the players' bodies back down" from the high cardiovascular output at the height of the workout, Jessee said, "but we might look at the data afterward and see we had too much cardio" and the drill didn't have the desired effect. Adjusting the intensity level of the drill can bring it back in line.
Where once coaches had to rely on visual cues, player feedback and their own experience in determining whether a training protocol was working as hoped, the Catapult data can confirm or refute what the coach expects to see. "We get to see exactly what the athlete's effort, output and energy expenditure was," Jessee says. "That's huge when you've got young ladies who want to train and be the best they can be."
A WIN-WIN PROGRAM
It's not just the athletes who benefit from this collaborative project—UT grad students also gain valuable experience. They learn how to work with the technology and its resulting data while also learning how to effectively communicate with the players and coaches. It's a very real-world scenario for emerging sports scientists to hone their on-the-job skills.
The program is also contributing to the sports science field by providing insights that haven't been available before about women's sports in the Division II collegiate context. Andersen says the choice to focus on women's sports teams largely stemmed from the fact that women's sports in general are under-measured and under-researched. "If you stacked up all the articles about men's soccer versus women's soccer, the men's stack would be three or four times larger," he says.
Plus, the head coaches of the soccer and basketball teams were eager to learn from the technology and happy to partner with Andersen and his students.
The project also can help prevent injury and better guide a player's return to sport after injury. Sophie Finlay M.S. '19, who worked on the Catapult project as a graduate student, says this emphasis on injury recovery or prevention is one of the best ways to apply the technology and advance the field of sports science.
"With some collegiate sports, the coaches very much run the players into the ground, thinking that the more we run them, the fitter and better they are. But when you're actually balancing all these other factors," such as the student-athlete's academic workload, rest and nutrition, "it's much more nuanced than that," she says.
Having the hard data to back up any recommendations also helps the coaches understand the health and fitness of their players. "Before, it would have just been a guessing game with the athletic trainers and the coaches. They would use trial and error," Finlay says. But with precise data at their fingertips, the coaches can make better-informed decisions about which player to rest and which to put in at the clutch moment.
LEAPING INTO THE FUTURE
The program launched about four years ago, and Andersen says it came about following a discussion with Erin Switalski, women's soccer head coach, and her desire to bring "something different and new into what we do." Andersen immediately saw that this program would also provide hands-on training for students who would soon be looking for sports science jobs where data science skills might make the difference between getting hired or being passed over.
"We had several students who had applied for positions in collegiate and professional athletics, and one of the first questions they get asked is 'do you have any experience with player tracking with Catapult or GPS technology?' At the time, the students would have to say no because they didn't," Andersen says.
One current student, Salvatore Inglima '22, M.S. '23, is leading the women's soccer initiative and says that working with the Catapult project will help him in his quest to work for a professional soccer team. "Having experience, and being able to say that I can use this equipment, and I'm comfortable doing data visualization, that's really helpful for me and it makes me a lot more confident," he says.
On the basketball side, Rajvi Savla, M.S. '23, leads the charge, and she says that given her physical therapy background and her interest in sports medicine and sports sciences, working on the Catapult program is helping set her up for success in her future career. "Technology is going to be a big part of the sports science and sports medicine fields, and I wanted to get as much experience as I can."
By Elaine K. Howley
This story first appeared in the Spring 2023 UT journal.
---