Published: September 20, 2021
Serving With Honor
Maj. Gen. Jeffrey Drushal '89 has climbed through the officer ranks of the U.S. Army for more than three decades, reaching a level that few achieve. After living all over the globe, he's grateful to be stationed in familiar territory: at the U.S. Central Command at MacDill Air Force Base in Tampa, just a stone's throw from his beloved alma mater.
By Jessica Blatt Press
Photography by Bob Thompson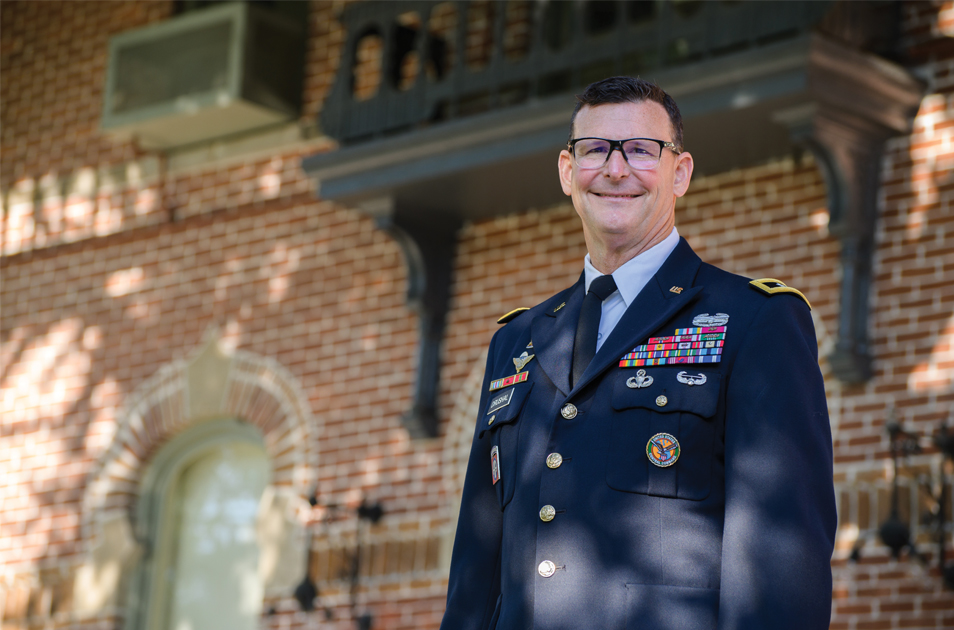 In May, Maj. Gen. Jeffrey Drushal '89 gave the 2021 commissioning speech to the graduating cadets in UT's ROTC program. Photograph: Bob Thompson
To meet Maj. Gen. Jeffrey Drushal '89 now, you'd never guess it, but back in the mid-1980s, he was adrift.
He'd graduated from Tampa's Chamberlain High School — as a solid B-student and football teammate to future NFL football coach Jay Gruden — and was attending junior college in Southern California because his parents had moved to the West Coast. Drushal was taking classes full time while working at a popular chain restaurant to pay his tuition and had difficulty integrating and forming friendships with people who grew up in the L.A. scene.
"I had no thought of where my life was headed, what I wanted to do. Nothing," he says. "I just kept my head down and went to school, and I was so unhappy with where I was and what was happening."
He knew something needed to change. He found inspiration through his father, who had served in the U.S. Army, as well as his older brother, Jon, who had received a scholarship to UT and was at the school's burgeoning ROTC program. (He graduated in the class of 1986 and is now a retired colonel.)
"My top goal became getting back to Florida," Drushal says.
So, he enrolled in ROTC, attended Basic Camp and ultimately scored a scholarship to UT. He started at UT in the fall of 1987 as a junior and, from day one in the ROTC program, he found his place – and his purpose.
"It wasn't until I got into UT and the ROTC department that I learned about serving others and serving a higher calling in a truly mature and adult fashion," he says. "I fell in with this group of people in ROTC who had all been honor graduates of their high school classes, sports lettermen and incredibly high achievers."
CLIMBING THROUGH THE RANKS
That was the beginning of an incredible career with the Army that has spanned more than three decades.
He'd go on to serve in three deployments to Iraq, two deployments to Afghanistan and one to Kuwait, steadily rising through the ranks in his field of expertise — transportation and logistics. He explains his specialty this way: "When you have the fighting forces deployed, they rely on a network of trucks and supply activities to keep them flush with what they need to fight: food, water, fuel, ammunition, medical supplies — the things that are inherent to being able to exist and fight."
It was as a lieutenant colonel on his third trip to Iraq where he began, as he says, to stretch his legs intellectually and invent new strategic processes with his team. His focus, determination and dedication ultimately propelled him to his current major general rank.
In the Army, there are 10 ranks for commissioned officers, and the highest four are different types of generals. The lowest of those four is brigadier general (a one-star general), then there's major general (a two-star general), lieutenant-general (a three-star general) and, finally, general (a four-star general). (There are, technically, five-star generals, but there hasn't been one since World War II (2).)
There are approximately only 113 major generals in the U.S. who are on active duty as of this writing, according to the U.S. Army, so achieving that rank is "a really big deal," says Lt. Col. Brett Boston, professor of military science and director of UT's Army ROTC program.
"Less than 1% of the population serves in the military. Less than 1% of the less than 1% who serve even make it to brigadier general. From there, even fewer will make it to major general or above," says Boston. On top of that, in order to become a general or major general, U.S. Senate confirmation and presidential approval are required.
Try telling that to Drushal, though, who's now based at U.S. Central Command at MacDill Air Force Base in Tampa, and he'll reflexively shrug off even the faintest hint of praise. "There is no stature and prestige and all of that stuff. I'm just trying to do the best job I can," he says.
Since June 2020, Drushal has been serving there as director of logistics and engineering, overseeing roughly 135 employees. His day-to-day includes interacting with those staff members, as well as with deployed military units and the Joint Chiefs of Staff for the U.S. Department of Defense in Washington, D.C. Building strategic plans through consensus and connection with the workforce, securing resources, managing supply chains and dealing with government contracts are just a few of his skills. It's not uncommon for Drushal to travel internationally to help solve problems on a global scale.
His executive officer — who is another UT alumnus, Lt. Col. Luke Medvegy '03 — believes that Drushal's "E.I." (emotional intelligence) and natural charisma are what help him relate so well to others and get these high-pressure jobs done so effectively.
One fun turn of events is that his brother, Jon, works at Central Command now, too, in a civilian role as branch chief of Partner National Capacities Branch, so the two are together once again.
OVERCOMING OBSTACLES
Drushal's career has not been without its challenges. It has required him and his family to move multiple times, and he has had to leave those loved ones for extended periods of time.
"It is extremely difficult to look at your family six times and tell them that you are going back to war," says Drushal. "Probably the hardest one was the first one, which was Operation Iraqi Freedom. This was before anybody knew what it was going to be, what it looked like and how long it was going to last."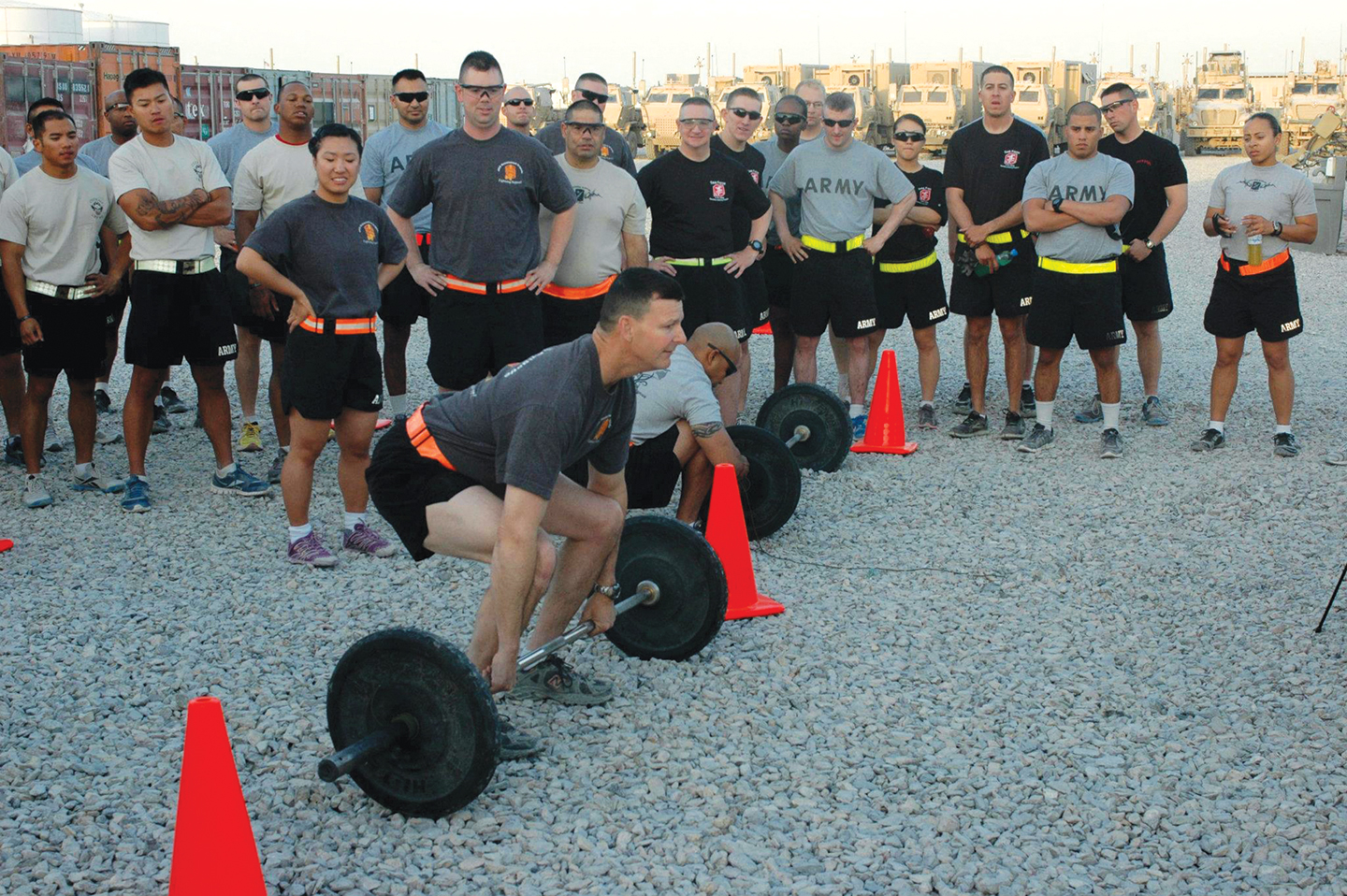 Maj. Gen. Jeffrey Drushal '89 is internationally ranked 1,407th in his division (men aged 50-54) in the CrossFit exercise program. Photograph: Courtesy of Maj. Gen. Jeffrey Drushal '89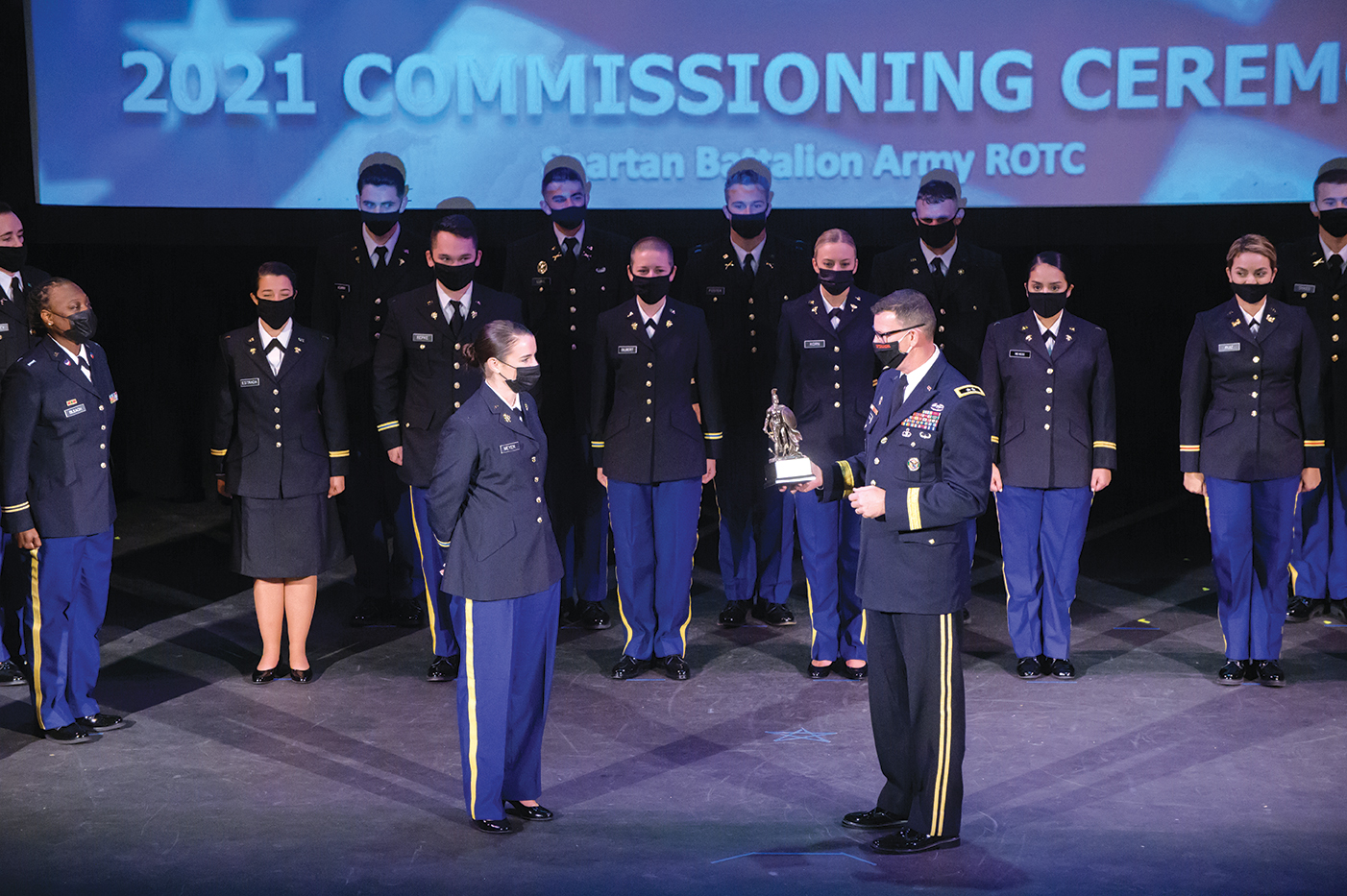 Maj. Gen. Jeffrey Drushal '89 receives the Spartan Award from 2nd Lt. Adelle Meyer '21 at the 2021 commissioning ceremony for UT's ROTC program in May. Photograph: Courtesy of Maj. Gen. Jeffrey Drushal '89
In addition, email access wasn't always reliable, so communication sometimes relied on handwritten letters and possibly a weekly call home.
There have also been physical hurdles: 32 years of pushups, 69 parachute jumps and four-and-a-half years in combat, wearing 40 pounds of body armor. "Those things take a toll on you," he says. Then there are the mental ups-and-downs. "I think about work so much that it's hard to disconnect from it. It's something that I have to work on," he says.
He's found strength in counseling, thanks to the military's efforts to destigmatize mental health support. He journals. He does yard work and housework, plays golf and goes boating with Jon. His parents, his wife (Terry, a West Point graduate) and his two kids also provide support.
Something else that keeps him going is CrossFit, a high-intensity workout regimen that involves interval training.
He started doing it on New Year's Day in 2006 while in Iraq, and hasn't looked back. He's now a CrossFit Level I (1) certified trainer, and in 2020, he was ranked 1,407th in his division (men ages 50-54) in the world and 934th in the U.S. Some of his stats include deadlifting 435 pounds and doing 40 consecutive pull-ups.
For him, it's not just about staying in shape; it's also about building meaningful relationships.
"My theory is that CrossFit is the No. 1 way to build your team, other than going to combat. That shared sweat, that shared effort, team workouts, one team against another. That's how you build those bonds and generate a level of trust that you would not otherwise have," he says. He's gratified the Army is starting to adopt CrossFit-like training into its fitness test.
THE NEXT CHAPTER
As Drushal looks ahead to his retirement in 2022, he's grateful to be back in Tampa, where his journey of service began.
One goal is giving back to UT. In May, he gave the 2021 commissioning speech to the graduating cadets and wrote personal notes ("star notes," as they're called in the Army) to each of the ROTC students in the classes of '20 and '21.
Another goal is finishing a book, which documents the strategic processes he's developed in the military — operations that could have applications in business, entrepreneurship and beyond.
His dream post-military gig would be working as a strategic leadership consultant for the Tampa Bay Buccaneers, as he has season tickets to their home games and considers himself a rabid fan.
He'll also relish having more time to spend with his family. As fate would have it, his daughter, Alex, is following in her father's footsteps as a UT sophomore in the ROTC program. To her, Drushal is just her "goofy dad," with whom she loves doing CrossFit, hanging out and having long conversations. He's no different as a dad than he is as a general, she says.
"He treats me with a lot of respect, he helps me when he can help me and when he wants me to 'adult,' he is going to make me adult," she says. And, really, what makes for a better leader than one who coaches us all to be our best and most "adult" selves?
---