Published: April 05, 2021
One Daring Diplomat
Twice a U.S. ambassador in Africa, Patricia Moller '73 knows a thing or two about how to have complicated conversations and persuade powerful leaders.
By Dave Seminara
Photography by Jessica Leigh
Photographs: Courtesy of Patricia Moller '73

The home decor of Patricia Moller '73, who is leaning on an antique rosewood bed from India, reflects the places she's traveled to across the globe. The skirted figure on the left is Nimba, a fertility deity and the national symbol of Guinea, and the paintings are by artists from Serbia, India, the Democratic Republic of Congo, Vietnam, Guinea, the Republic of Georgia and Armenia.

The first things Patricia Moller '73 noticed when she entered the heavily fortified compound in an armored Chevy Suburban were the throngs of lounging, armed soldiers, the neat piles of grenades and the machine guns with bandoliers of bullets draped over them stacked in the driveway. It was a sizzling hot day in December 2009 in Conakry — Guinea's capital — and Moller, then the country's U.S. ambassador, had come to see Sékouba Konaté, the country's recently installed, unelected military leader.
Her colleagues at the embassy and in the U.S. State Department in Washington, D.C., had warned her of the dangers of meeting with the man who had earned the nickname "El Tigre" (the tiger) for his prowess on the battlefield. In fact, she had to use some of her keenest negotiating skills to convince U.S. security officials, who insisted they could not guarantee her safety, to allow her to meet with him.
Moller watched a group of women inside the compound cooking rice for the soldiers over an open flame and felt out of place, as she wore a black suit, complemented by heirloom jewelry. "It struck me like a scene from Apocalypse Now," she recalls. Then one of the soldiers told her and her small team of armed security officers that El Tigre would like to meet her in his bedroom suite.
"I walked across the courtyard and said to myself, 'Patricia, this may be the dumbest thing you've ever done.'"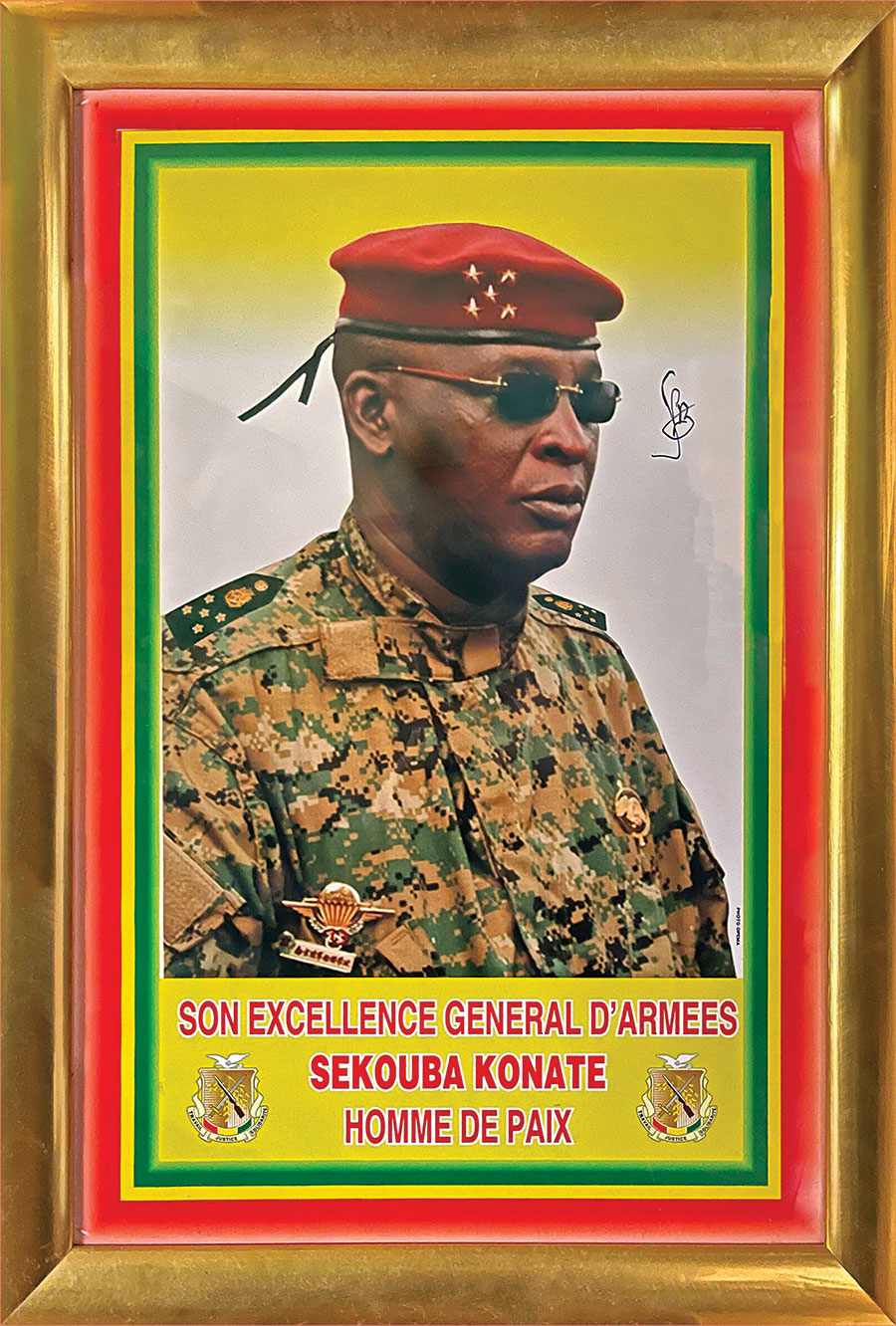 This framed, autographed photo of Gen. Sékouba Konaté ("El Tigre"), who served as the interim president of Guinea from December 2009 to December 2010, hangs in the home of Patricia Moller '73.
WANDERLUST
The novelist Marcel Proust once said that "a change in the weather is sufficient to recreate the world and ourselves." Moller's peripatetic life has been full of changes in the weather. Her father was in the U.S. Air Force, so she grew up living on or near bases in the U.S. and in Germany, where she started her college education.
Her first husband was a fighter pilot in the Air Force, and when he was transferred to MacDill Air Force Base in Tampa, she transferred to UT, where she tutored a pair of future NFL stars (the late Freddie Solomon '75 and the late John Matuszak '73) and graduated with a history degree. After a stint as the curator of the Henry B. Plant Museum, she spent 10 years in investment banking before finding her calling as a diplomat with the U.S. Foreign Service in 1987.
"It took 20 years in the Foreign Service to earn what I made as an investment banker," Moller says. "(As an investment banker), I felt like I wasn't adding to the general welfare or adding value to the human condition. I just couldn't keep doing it."
Her first post as a diplomat was Munich, and she was in Germany when the Berlin Wall fell. That's also where she met her current husband, who was a fellow diplomat. Little did Moller know that Munich would be her first and last cushy post. "Let's just say I haven't had reliable dry cleaning since then," Moller says.
The posts that followed included Madras, India; Belgrade, Serbia (then Yugoslavia); Yerevan, Armenia; Tbilisi, Georgia; Bujumbura, Burundi; and Conakry, Guinea. And in post-active duty, she served as Chargé d'affaires (an embassy's chief of mission when there is no ambassador at post) in Rabat, Morocco, and Bucharest, Romania.
Along the way, she also did tours in Washington, D.C., including working as a desk officer for Vietnam, where she helped negotiate the resumption of diplomatic relations in 1995 after a 20-year hiatus.
Another memorable moment occurred in Belgrade, where she served as the management officer in the late 1990s. She earned the Leamon R. Hunt Award for Administration Excellence for helping evacuate embassy personnel three times, including when NATO started a bombing campaign there in April 1999.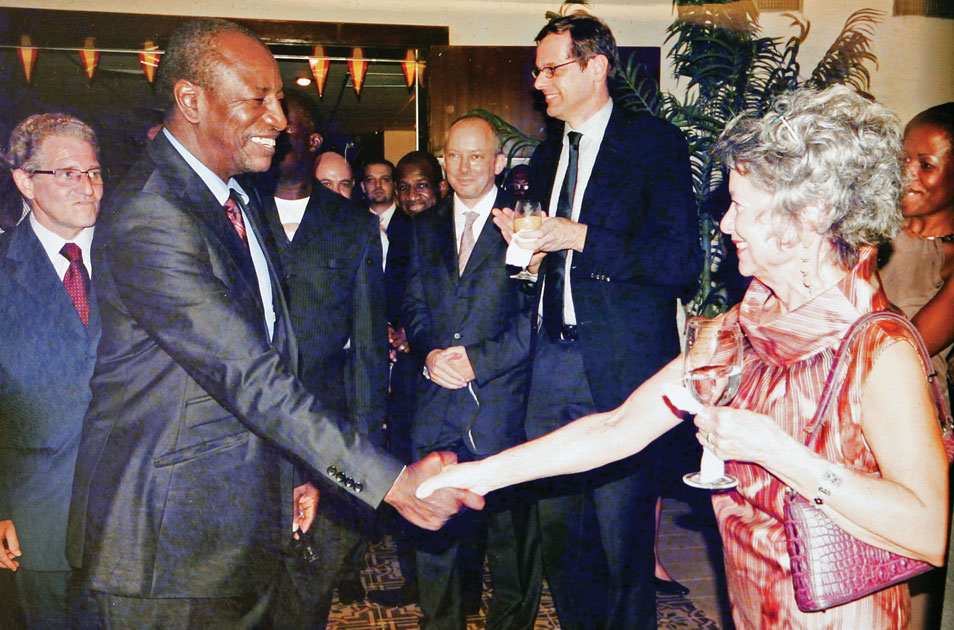 Patricia Moller '73 (right) congratulates Alpha Condé (left) in October 2010 on becoming the president-elect of Guinea through the country's first free and fair election.

RIVERS OF RED WINE
Few diplomats ever rise to the level of ambassador, and when Moller joined the Foreign Service, men dominated those ranks. Yet in 2005, she was offered the job for the first time, a call she likens to winning an Academy Award. That was the good news.
The more startling news was that she was asked to serve in Bujumbura, Burundi, a conflict-ridden country that had a per capita GDP of just $95 at the time and was unstable after a devastating, 13-year civil war that had left more than 300,000 people dead.
Colin Powell and other leaders at the State Department at the time recognized Moller as a tough customer who could effect change in challenging environments. She didn't think twice before saying yes.
"If you go to Paris, London or Rome, the living is fabulous. They are gorgeous places, easy peasy," she says. "But you don't usually have the opportunity to affect foreign policy as directly as you do in some of these developing countries."
U.S. presidents typically choose political appointees (often donors or fundraisers) to serve as ambassadors in glamour posts, while career diplomats like Moller often do the heavier lifting in the world's most difficult posts.
An Office of the Inspector General team that inspected the embassy during her tenure there praised her strong leadership skills and her ability to foster positive morale. She achieved this by trusting her people and forgoing certain privileges and protocols. For example, it's customary for embassy employees to stand when an ambassador enters the room, but Moller found the tradition tired and unnecessary. Her residence — a grand old place with a view of Lake Tanganyika — had a swimming pool and tennis court, and she let everyone in the embassy use them.
On the diplomatic front, she used charisma and persistence (along with quality cabernet) to bring together Burundi's opposing political factions in late-night soirees at her residence. "We saved a whole government once over rivers of red wine on my veranda," she says. "They had to come together because it was the U.S. ambassador inviting them.
After a three-year tour in Burundi, she was asked to take on a second and even more daunting ambassadorship — this time, in Guinea. A year before she arrived, in late 2009, the country's longtime military dictator, Lansana Conté, had died. A brutal military junta led by Moussa Dadis Camara took power. Camara was ruthless — and bizarre. He once hosted a press conference at 3 a.m. in his bedroom, dressed in pajamas and accompanied by his 6-year-old daughter.
A month before Moller arrived at post, his troops had slaughtered more than 150 political opponents in a football stadium, and, in a separate incident, his Presidential Guard publicly raped a number of female protesters. Moller decided she wasn't going to legitimize Camara by presenting her credentials to him as the new ambassador. In what now looks like a macabre stroke of good fortune for the people of Guinea, Camara's aide-decamp shot him in the head just weeks after Moller arrived. Camara survived but left the country for medical treatment, paving the way for Gen. Konaté, "El Tigre," to take power.
LAYING ON THE CHARM
On that sizzling hot day in December 2009, Moller was led into El Tigre's suite (thankfully it was a sitting room next to his actual bedroom) and was seated at a coffee table. El Tigre is a hulking man — more than a foot taller than Moller, who is five feet — and liked to wear small sunglasses. On this occasion, he wore camouflage fatigues, appropriate for a career military man who trained as a parachutist.
Moller was the first ambassador to meet with him, and she had tried to meet on neutral ground, but he refused. This meeting was essentially a Hail Mary.
She told Konaté that she would work with him on two conditions: if he agreed to have free and fair elections (something that had never happened in the country's 50 years of independence up to that point) and, most critically, if he agreed to not run as a candidate. "I just sat back after I said it, because I knew the person who spoke next loses," she recalls.
El Tigre appeared taken aback and repeated, "You don't want me to run?"
Moller made a case for why it was important for the country to choose a civilian leader and explained that by doing this, he'd secure a place in Guinea's history.
He leaned over, conferred with his sidekick and looked at her intently and said, "Yes, I will do these things because they'll bring my country to a better future. You will work with me, right?"
It was a promising start, but, of course, it took months of hard work, handholding and teeth pulling to turn his words into deeds. Several months later, the country did have its first-ever free and fair election — a proud moment for Moller. Alpha Condé was elected president and has since been re-elected twice, most recently in October. Looking back on her career, Guinea remains her favorite post. "I was privileged to help change the history of a country, the future of a country," she says.
The State Department agreed, presenting her the Robert Fraser Award, its highest honor.
STILL CIRCLING THE GLOBE
Her life since the two prestigious ambassadorships has remained busy and exciting. In 2012, Moller left the Foreign Service, and the following year, she bought a house in St. Petersburg, FL. Moller is currently chairperson of the board of directors at West Africa LNG Group.
She's happy to be anchored in Tampa Bay, but her thoughts frequently return to El Tigre. In fact, they're still in touch to this day. "We shared a bond," she says.
---