Published: February 26, 2018
UT Sykes Chapel Concert Artist Series Continues March 4 with Cellist Nancy Snider and Friends
On Sunday, March 4, The University of Tampa's Sykes Chapel Concert Artist Series will continue with an afternoon of chamber music with renowned cellist Nancy Snider and friends Yuri Namkung, violin, David Yang, viola, and Grigorios Zamparas, piano. The concert begins at 2 p.m. in the Sykes Chapel and Center for Faith and Values is free and open to the public.
The program will include music for string trio and piano quartet, including Beethoven's String Trio in c minor, op. 9; Jean Cras' Trio and Joaquin Turina's Piano Quartet in a minor, op. 67.
Snider is a member of the Opera Lafayette Orchestra and performs regularly in a variety of chamber and period-instrument ensembles ranging from The John F. Kennedy Center for the Performing Arts, Jazz at Lincoln Center's Rose and L'Opèra Royal de Versailles, to experimental stages and living rooms. Snider also serves as senior professorial lecturer and director of the music program at American University in Washington, D.C.
A graduate of Columbia University and The Juilliard School, Namkung's major solo guest appearances have included Zürich Tonhalle Orchestra, the Orchestra of St. Luke's at Alice Tully Hall, the Seattle Symphony, and throughout Colombia and Brazil with the Filarmonica Joven de Colombia. She has also performed with jazz pianist and UNESCO and UNICEF Artist for Peace Danilo Perez in Panama.
Recipient of an artist fellowship from the Independence Foundation (awarded to a small number of exceptional artists), Yang has been called "a conduit for music" and his playing described as "lithe and expressive" in The Strad magazine. Yang has forged a career that is a blend of performing, composition and storytelling. Concert highlights include concertos in Canada and Great Britain, along with recitals in Italy, the U.K. and throughout the U.S.
Zamparas is an associate professor of music and director of piano studies at UT. Over the years, Zamparas has received critical acclaim for his versatile performing career as recitalist, orchestra soloist and chamber musician in Greece, Bulgaria, Czech Republic, former Yugoslavia, Austria, Russia, Brazil, South Korea and the U.S.
The concert is free, but seating is limited. Doors will open 30 minutes before the performance. Parking is available on campus.
For more information, visit the Sykes Chapel or contact Haig Mardirosian, artistic director for the Sykes Chapel Concert Artist Series, at hmardirosian@ut.edu.
---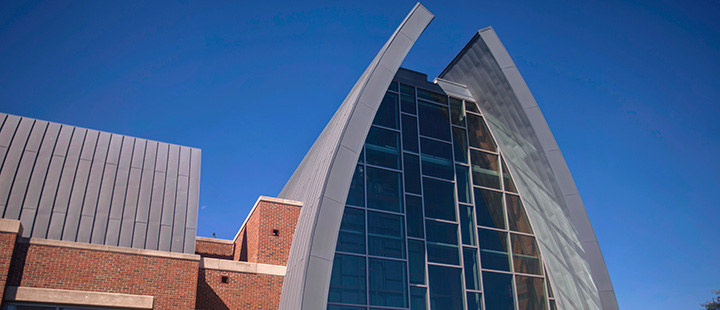 On Sunday, April 8, The University of Tampa's 2017-2018 Sykes Chapel Concert Artist Series will conclude with a performance by the Philadelphia Brass, called "one of the gems of Philadelphia's cultural life" by NPR's Martin Goldsmith. The concert begins at 2 p.m. in the Sykes Chapel and Center for Faith and Values and is free and open to the public.
The concert will have a special emphasis on American music, featuring works by Jennifer Higdon, Aaron Copland, Duke Ellington and Frank Loesser, among others.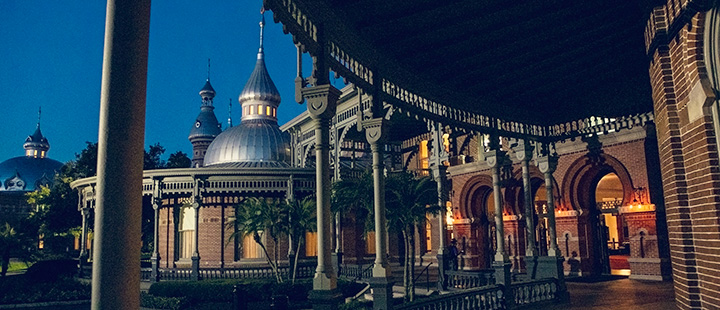 On Friday, March 30, The University of Tampa will welcome pianist Frederick Moyer — hailed by The New York Times as "first-class" and The Milwaukee Journal as "a superstar pianist" — for a guest recital. The concert, which is free and open to the public, begins at 7:30 p.m. in the Plant Hall Grand Salon.
The program for the performance will include works by Franz Joseph Haydn, Ludwig van Beethoven, Felix Mendelssohn, Sergei Rachmaninoff and Oscar Peterson.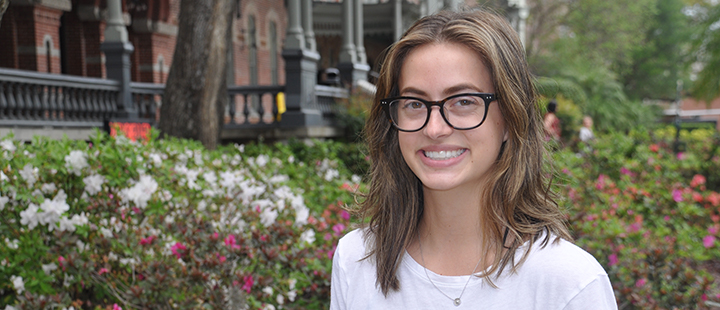 "There are a lot of stereotypes and studies that say boys aren't as good in second language acquisition as females," said Harrington, who worked with Assistant Professor Andrew DeMil on the research project, "Gender differences in Spanish Language Learning: Speaking Exams," which they presented at the Florida Undergraduate Research Conference in February and to the UT Board of Trustees March 22.

"We wanted to do a study of our own here at UT. In the previous year (DeMil) had studied reading comprehension of girls versus boys, so we wanted to study speaking this year," said Harrington, of Maple Grove, MN. "The results were the same though. The boys aren't any worse, if not the same, as females. They are just extremely underrepresented."