Published: May 09, 2019
UT Incubator Company Wins $50,000 Grant in Johnson & Johnson Challenge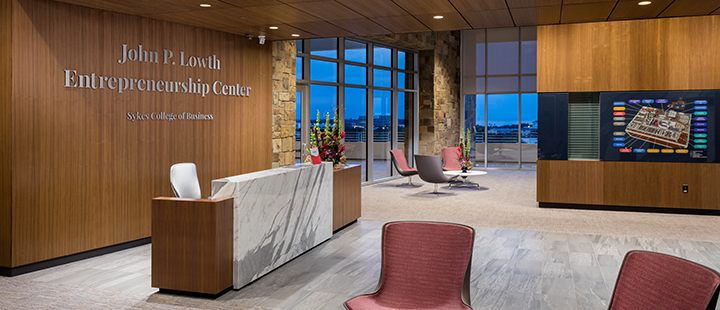 Lauren Wright, founder of a company called The Natural Nipple and a participant in The University of Tampa's Lowth Entrepreneurship Center Spartan Incubator program, won first place and a $50,000 grant recently in the Johnson & Johnson Nurses Innovate QuickFire Challenge. The innovation award focuses on taking inventions from nurses, who constantly field gaps in industry, and bring these unprecedented solutions to market.

The Natural Nipple is a unique bottle modeled after a mother's breast size, nipple shape and milk flow designed to promote prolonged breastfeeding invented by Wright, alongside COO Tram Pham.

Last October, after winning $10,000 in the Florida Blue Health Innovation Pitch Competition, Wright said she hoped to empower mothers to give the next generation the best possible start to life "by engineering a product that revolutionizes breast to bottle continuity, promote bonding, and optimize wellness for mothers and babies worldwide."

Wright, a nurse practitioner and Ph.D. student, also said the company is creating a movement where mothers feel comfortable in discussing their barriers to breastfeeding and seeking assistance from other mothers and even scientists and researchers.

The Johnson & Johnson Nurses Innovate QuickFire Challenge invited more than 3.2 million nurses located throughout the U.S. to submit ideas for new devices, health technologies, protocols or treatment approaches that have the power to profoundly impact patient care and human health. The nursing innovators with the best idea(s) won grants and access to mentoring and coaching from Johnson & Johnson Innovation's JLABS to help bring their ideas to life. The solutions were evaluated by a panel of reviewers and judges on their ability to meet the following criteria: uniqueness of the idea; potential impact on human health; feasibility of the idea; thoroughness of approach; and, identification of key resources and plan to further the idea.

"To have the solution I have poured everything into developing the past year be selected in a specifically nursing innovation pitch, and recognized against other bottle designs and IP, gives me so much hope about the greater impact it will have to reduce families No. 1 stress in infant feeding and optimize wellness worldwide," Wright added.
---