Published: June 28, 2018
Sophomore's Love of Words Sprouted From Silence
Aislinn Fallon '21 has a love of words. The journalism major runs a blog, published a book, just launched a charitable project and writes articles for two local websites. But she didn't find that passion until she was forced to be silent.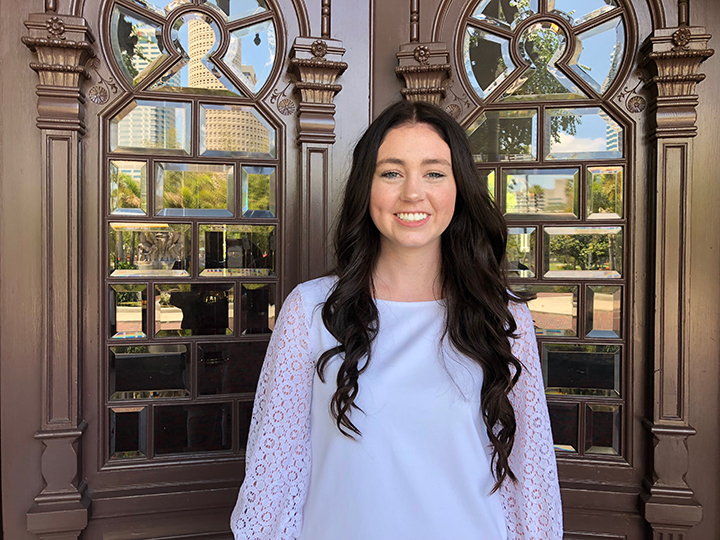 "Life is going to push you down. Of course, when I was first experiencing all this I thought how on earth will I ever survive this," said Aislinn Fallon '21, who is thriving despite her chronic pain. "But you have to get back up and say, 'I will survive this. I'm going to beat this, and I'm going to change the world because of it.'"

Fallon had a traumatic brain injury while playing soccer on the day of her 13th birthday. She was athletic and also a competitive diver and into acrobatics (tumbling and trampoline), but the injury forced her to slow down. It caused her to have a year of short-term memory only, she lost the dexterity in her right hand so she wasn't able to write, and she had to be hospital-homebound schooled due to the constant pain and fainting. Just two months prior, her family had moved from Kentucky to Gainesville, FL.

"It was really a challenging time to have such a dramatic change," Fallon said. "I had just moved, and sports were my whole life. It was this complete 180, a complete turnaround of my entire life."

Many of her symptoms dissipated after a year, but the migraines and fainting wouldn't cease.

"The injury caused so much scar tissue to build up on my neck. Due to that injury combined with past injuries, I have chronic pain. So I basically have a migraine all the time. I've had a migraine for six straight years, and I'll have one for the rest of my life," Fallon said. "You get used to it. When I wake up, it's completely normal for me to be in pain."

Fallon looked for a mentor to help her navigate her new life. She knew she'd never play sports again and had to be homeschooled until her symptoms could be managed better. She hoped to find someone to look up to who was young and female, who had chronic pain and was thriving and succeeding with it. She came up short.

"I decided if I can't find the person I needed, I should become the person I needed," said Fallon, who stared a charitable organization, chronicpain09, in 2015 and a year later launched an online support group from it.

"This isn't the path I expected for myself. I thought I'd be an athlete, and I wasn't super passionate about writing. Then in a day, everything changed," she said. "What I don't like is when people say I suffer from chronic pain. No, I live with chronic pain. I'm not suffering — I'm living. I'm happy. It hurts, and it's awful sometimes, but you live with it and you learn to accept it. That's the message I want to get to young minds, because there were so many people who told me chronic pain was impossible to live with; it's impossible to be happy. What I want all the young minds out there to know is that if they want something, and they are passionate about it and work hard, they can change the world and make an impact."

Fallon's support group numbers 240 members who share tips and insights about a number of chronic illnesses, finding comfort in the shared experience. She's encouraged by the feedback she's received from members and in the conversations she sees posted.

"What's really amazing is when I see someone post about a condition I don't know much about — like EDS — I see people in the comments helping each other. That just makes me so happy, because I was able to connect those two people," Fallon said. "People have messaged me and said this support group has given me hope and that absolutely touches my heart."

In January, Fallon launched Operation Care, a project within chronicpain09 that raises money to buy toys, books, games and such for children of all ages who are hospitalized. She recently made her first drop off of items to St. Joseph's Children's Hospital in Tampa, which posted their appreciation with a photo of Fallon on its Facebook page.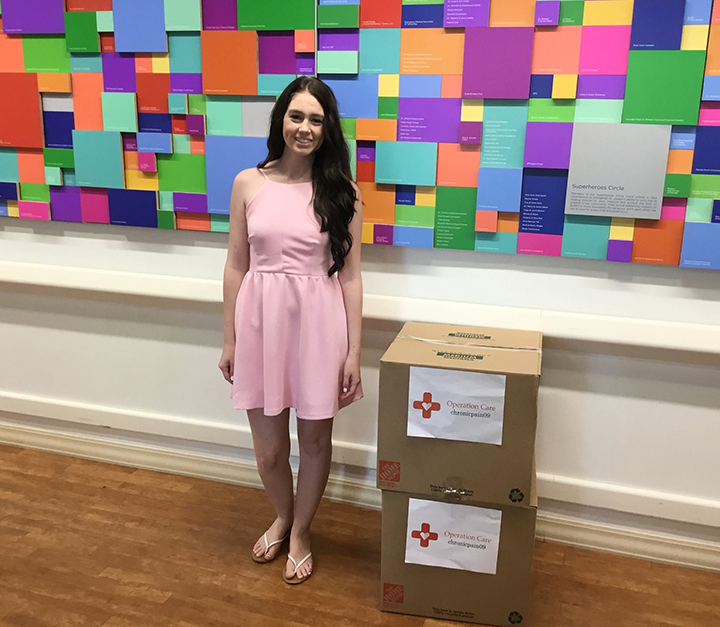 In January, Fallon launched Operation Care, a project within her charitable organization chronicpain09, that raises money to buy toys, books, games and such for children of all ages who are hospitalized.

"Losing my ability to read and write caused this major passion for me. When you go through the world without being able to do something as simple as reading a label at a grocery store, when you can't do that and you can't write with a pen, it's all I wanted to do," Fallon said. "Once I could again, it was like the whole world went from black and white to beautiful color. I could read; I could write. I really realized the impact words have on the world. That's how I found my passion for writing."

Fallon will be going into her second year at UT this fall, but she has already served as the news editor for The Minaret her first semester at UT and picked up an internship the other semester. The internship, with digital marketing company RKC.me, which runs the hyperlocal websites That's So Tampa and I Love the Burg, grew into summer employment.

"I was blown away by her maturity despite her being a first-year student. She has already accomplished so much at a young age, from being a published author to creating a nonprofit organization," said Kristen Foltz, assistant professor of speech, who has taught Fallon in two courses, Global Speech, Human Rights and Social Justice and Introduction to Law and the Legal System. "She is an incredible public speaker and writer. More importantly, she always keeps a positive attitude and despite life's challenges, she is always pleasant to work with."

Fallon met David Wheeler, assistant professor of journalism, prior to coming to UT. They met at the Florida Scholastic Press Association (FSPA) conference when she was in high school and Fallon, who published the book of poetry Pretty Little Things & Witty Little Words when she was 18, presented with him on getting published at a young age.

"Never in my decade-plus of teaching have I seen a student so far along in her career before even entering college," Wheeler said.

For Fallon, Wheeler's encouragement starting at FSPA has carried over to her experience at UT, where she said Foltz, among others, have been a great support.

"The teachers here are so kind and caring," she said. "They really know you personally and want you to succeed in what you're doing. Meeting Dr. Wheeler at FSPA was my first experience in learning that about UT."

Fallon hopes to have a career in writing and will use her life experiences to guide her on that path.

"Life is going to push you down. Of course, when I was first experiencing all this I thought how on earth will I ever survive this," Fallon said. "But you have to get back up and say, 'I will survive this. I'm going to beat this, and I'm going to change the world because of it.'"


Have a story idea? Contact Jamie Pilarczyk, Web Writer
Subscribe to News and UT Life stories
Read more UT Life stories


---