Published: July 11, 2019
Public Health Students' Research Impacts Most Vulnerable Children
Associate Professor Rebecca Olsen is leading a team of four UT students and collaborating with Professor Ryan Cragun on assessing the effectiveness of a grant that helped some of the nation's most vulnerable children.

In 2015, Olsen was part of a national effort of 10 leading children's hospitals in a $23.5 million, three-year grant focused on efficiently coordinating care for children with medical complexities. Olsen served as the research consultant for BayCare on the grant with Dr. Daniel Plasencia, who directs St. Joseph's Children's Hospital Chronic-Complex Clinic, which is part of the BayCare Heath System, and is one of the 10 hospitals involved in the grant. The clinic is a one-stop shop for children to get the services they need, rather than a maze of doctors' offices and therapy centers, which is generally the norm.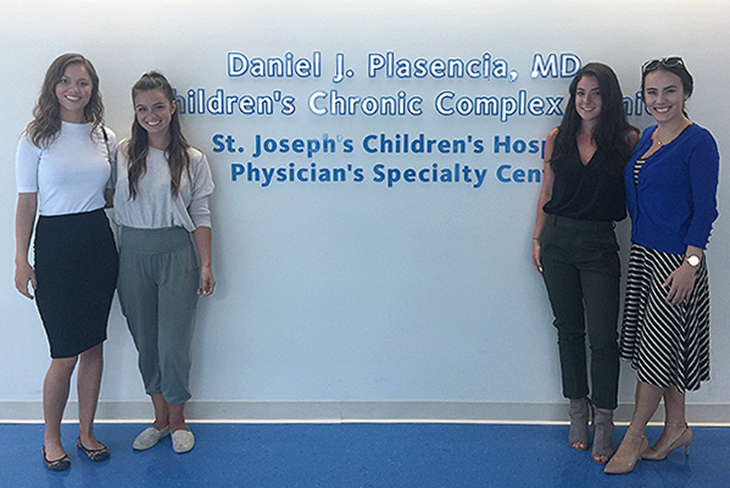 Associate Professor Rebecca Olsen said the student team is being exposed to a mix of health care quality as well as public health policy, creating an interdisciplinary experience through the research. "They are understanding the integration of research and practice and how this impacts policy," Olsen said. "As undergraduates doing this type of work, it's amazing. It's a whole different ball game when you're learning by doing."
"It was a lot of work for the hospitals and care providers involved. We're looking at whether it was all worth it," Olsen said.

One positive outcome was the research's role in helping to pass the Advancing Care for Exceptional Kids Act (ACE Kids Act) this spring. The congressional proposal was signed into law to improve how care is delivered to children with complex medical conditions on Medicaid.

For the families, caregivers and children — who live with chronic conditions like being quadriplegic or having multi-organ issues and who are dependent on technology for their day-to-day care — Olsen has a soft spot in her heart.

"What (coordinated care) is doing for this population is huge," she said of medical homes like St. Joe's that help coordinate all of the specialists, testing and history for these patients in one, single location. "I'm so excited to see the students just as passionate as I am. You can't help but be sympathetic to what these families are going through."

National research of the 8,000 children involved in the initial grant showed a decrease in both the cost of care and in the utilization rates (how often children are going to the emergency room, how often they are admitted and then how long they remain in the hospital).

Olsen and her team are now looking at how the hospitals and care centers performed on an individual basis, specifically the St. Joe's clinic, which serves around 800 children and placed a heavy emphasis on patient-engagement in the research and defining the deliverables.

"My role in the project is to work along with the team to collect data on patients such as their length of stay, level of severity of their illness, ZIP code, etc., all while keeping the patients anonymous in our collection, to see if the grant had any change in the overall care of the patients," said Dana Schocken '20, a public health major with a concentration in wellness and a minor in sociology, of Massapequa Park, NY.

"I hope to gain a sense of what it is like working in the hospital atmosphere and the satisfaction of helping others," said Schocken, who plans to attend nursing school after graduation. "I hope to gain familiarity with working on a research team, collecting and analyzing data, seeing the effect grants can have on patient care and outcomes, and hopefully attending academic research conferences explaining the data. I am extremely proud to be a member of this team."

Cyanna Mitchell '19, a public health major with a concentration in health education and wellness, of Tampa, FL, wrote the Request for Proposal (RFP), including the literature review, study purpose and hypotheses, and methods updated from Olsen's previous study, entitled "Cost Effectiveness of a Hospital Based Medical Home: Children with Medical Complexities." She is hoping to build on the research by offering technology solutions to automate the paperwork-related processes.
"Although the hospital databases are difficult to use, it is surprising how much information the hospital staff manage to record. The clinicians have such a tight schedule, and incredibly (literally) complex conditions they are working with, but they still seem to be able to find time to record everything for every patient by hand," said Mitchell, whose dream job is to run specialized health care settings that implement smart technology. "In my career I would like to transform the way health care is delivered, accessed and received. When the patients are happy and healthy, the hospital can also thrive. The hospital and the patient are dependent on one another, and if we can foster the communication between the two, I believe we can solve several issues we experience today in health care."
Olsen said the student team, which also includes biology major Emily Olsen and public health major Taylor Alexander, is being exposed to a mix of health care quality as well as public health policy, creating an interdisciplinary experience through the research. They are analyzing data, writing reports and will likely be presenting at conferences and publishing the results.

"They are understanding the integration of research and practice and how this impacts policy," Olsen said. "As undergraduates doing this type of work, it's amazing. It's a whole different ball game when you're learning by doing."
---