Published: June 21, 2018
New UT Partnership Trains Future Leaders of High-Needs Schools
Leaving a comfortable job in retail management in his mid-30s to pursue a career in education wasn't a midlife crisis for Paul Johnson.

It was his destiny.

"My mom was an educator for some 30 years," says Johnson, 41. "I knew in the back of my mind it's where I would be one day."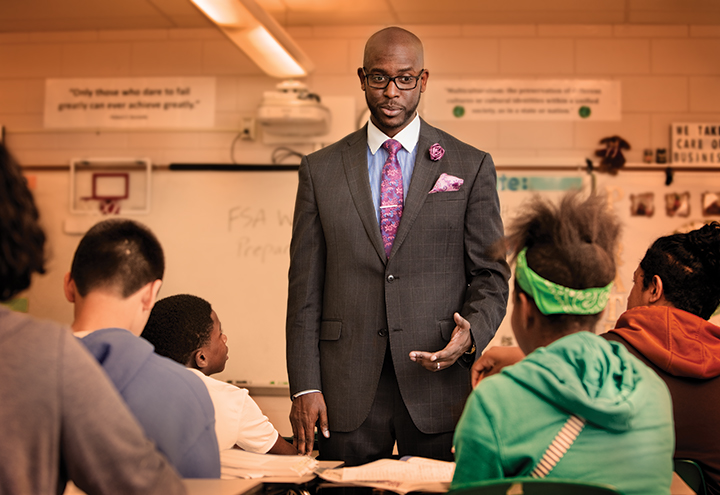 Paul Johnson M.Ed. '19, at Van Buren Middle School, left a rising career in retail management to become an educator.

So goodbye, rising career and healthy paycheck; hello, uncertain future in a rapidly changing and often unappreciated field.

Johnson took the first step as a paraprofessional for Hillsborough County Public Schools (HCPS), changing diapers and lifting students out of wheelchairs in exceptional education classes. He also worked in a tutoring program, helping kids prepare for college entrance exams. And once he earned his teaching certificate, he became a high school language arts teacher.

That was just the start of his life journey. Now Johnson has aspirations that go beyond the critical work that takes place in the classroom. He wants to be a principal who influences students, teachers and administrators in high-needs schools.

But that challenging goal requires specialized training and skills.

So in the fall of 2017, Johnson joined 15 other selected teachers in the fledging class to pursue a master's degree in educational leadership for "turn-around" schools. Like all the students, he was moved to a low-performing school (Van Buren Middle School, teaching seventh- and eighth-grade language arts), so he'll be getting on-the-job training while completing the program.

The initiative is a new partnership between UT and HCPS. Classroom instruction takes place on campus by UT professors and school leaders from all five school districts in the Tampa Bay area, and HCPS pays 50 percent of tuition for the students, who are all current teachers within the school system. The financial assistance was made possible by a $7 million federal grant that targets this area of need.

"These students are our pioneers," said Adrianne Wilson, coordinator of UT's educational leadership program. "This is a bold and innovative program. And with the preparation they are getting, we could really change the direction of some of our failing schools in this county."

The urgent goal is to train the next generation of school principals for high-needs schools. Ultimately, Wilson said, the best scenario is that there won't be a need for a program like this.

"We're a long way from that now," she said. "But with the right leaders in place, it's not an impossible dream."
PIECES IN PLACE
The groundwork for the two-year program has been years in the making.

Tricia McManus, HCPS assistant superintendent for educational leadership and professional development, brings her own experience to the table. She comes from a family of educators and served as a principal in two high-needs schools. One of the lessons she learned: Improving a school doesn't happen by chance.

"It really does take a village," she said. "You have to be collaborative. You can't do this alone. And without the right leadership skills in place, it is difficult to get others on board with you."

The need is most certainly there. Currently, of Hillsborough County's 244 schools, 50 are labeled as high-needs schools, taking in factors such as discipline, academics, attendance and teacher turnover. Another 25 are less critical, but still require much improvement.

Regrettably, McManus said, the numbers have gone up in recent years instead of down. To keep that trend from escalating, the UT partnership was added to the multi-step Turnaround Leadership Pathways (TLP) run by the district.

"I'm excited that we've got a plan with all the pieces in place that can change the course of these schools," she said. "Now it's our responsibility that we implement each layer with fidelity."

It takes certain qualities for an educator to want to tackle the extra challenges of a turnaround school. And acceptance into the master's program is comprehensive and rigorous. So before a teacher intends to apply, McManus suggests a self-examination of what it takes. Among them:
Belief that all students can perform at a high level. "That's first and foremost," she said. "Do you really believe that you can close achievement gaps between black and Hispanic and white students? That's a crucial requirement."
A sense of urgency. You can never let your foot off the pedal, McManus said. You've got to continue to push the agenda without getting complacent or discouraged.
Grit. "It takes resilience to do this job. You can't let things get you down, or you'll abandon the work before it's completed," she said.
Confidence. Sometimes half the battle is knowing you will win, despite the odds. McManus said applicants have to believe in themselves and that they are capable of reaching seemingly insurmountable goals.
"If you think in terms of black and white, and if you can only follow the rule book, you probably aren't the right person for this job," she said. "You have to be willing to think and act outside the box, and that takes confidence."
A POOL OF FUTURE LEADERS
When the initiative was first announced, nearly 200 educators showed up for an information session to learn more about it.

That turnout was a pleasant surprise for Wilson.

"To know that many people have an interest in taking on this challenge is heartening," she said. "It tells you about the caliber of people we have in this school district."

In the end, about 60 applied for the program. Besides submitting an essay and letters of recommendation, they also had to show a good history of work attendance, undergo a panel interview and site visits to the schools where they worked. Wilson even made personal calls to their principals for additional information.

"We didn't want to just make our number, we wanted top-notch people," Wilson said. Although the original limit was 15, a 16th person who showed great promise was also added to the inaugural class. Their ages range from early 20s to mid-40s.

The commitment is long and intense. Cohorts agree to move to a low-performing school throughout the duration of the program. They attend classes weekly at UT to earn 30 credits, and complete a 90-hour internship at their school each semester. Each cohort is assigned an on-site administrator as a leadership coach.

For Johnson, taking on multiple responsibilities at this stage of life takes some juggling. He and his wife, a school administrator at Tampa Bay Tech, have two young children, ages 5 and 2. They get some help from extended family when needed, and rely on "a lot of prayer, a lot of patience."

"My wife is the rock star," Johnson said. "I watched the sacrifices she made to get her doctorate; now she's there for me as I move forward."

Upon completion of the master's program, cohorts are moved to a regular performing school for at least a year. Then they are eligible for an assistant principal's job in a high-needs school. At this point, the clock starts on the contract they signed with HCPS, pledging to stay with the district for at least six years. If they leave beforehand, they will pay a pro-rated portion of the tuition costs picked up by the district.

If their next goal is to become a principal, they can apply for the Preparing New Principals program. McManus said that's yet another layer in developing and training the best possible people for the job.

"Our partnership with The University of Tampa is helping us build a pool of future leaders," she said. "It's pretty simple. You have enough people trained and in place, and you're going to reduce the number of struggling schools."
NEW DIRECTION
Drew Gehrke started college as a business major. But his priorities while at the University of Florida began to shift.

"The more I learned about the achievement gap between kids who lived in affluent communities and those who lived in poor ones, the more I wanted to get involved to bring about fair outcomes," said Gehrke, 28.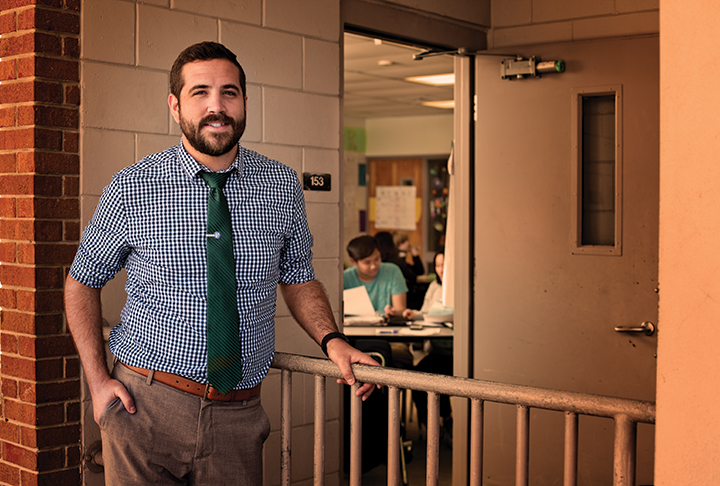 Drew Gehrke M.Ed. '19, at Leto High School, became an educator to help close the achievement gap between kids in affluent and poor areas.

After graduation, he headed to Arizona to get his master's in secondary education and work with Teach for America. He taught in a largely Hispanic Title 1 school for three years — an experience that convinced him that this was his niche.

He returned to his home state to pursue his dream "to be a principal who helps other principals in ending high-needs schools." He doesn't think he's being idealistic when he says it can be done.

Getting accepted into the master's program partnership is giving him the tools he needs to meet his goals. Gehrke is now teaching in the collegiate academy at Leto High School while he completes his second advanced degree in education.

"It's a bigger picture kind of thing for me. I look at teaching as a form of community development — equip these kids with better skills, and you're going to improve the community as a whole," he said.

One of the problems he intends to address: apathy. Too many students in high-needs schools aren't being challenged enough. Boredom sets in, and next comes behavior problems and a lack of desire to succeed. And with a high teacher turnover rate in these schools, the students also lack consistency.

"In my experience, there's not enough urgency," Gehrke said. "That message has to start at the top. You only get a short window of time to influence these kids, and you have to make the best of it."

Fellow cohort Katie Ahearn, who got her undergraduate degree at the University of South Florida, grew up in a safe and sheltered home. She attended a private school and never had to worry about where her next meal was coming from.

Her decision to go into teaching came easily. But after working at Reddick Elementary School in Wimauma and being part of the team that helped raise its failing grade up to a "C," she had a new purpose.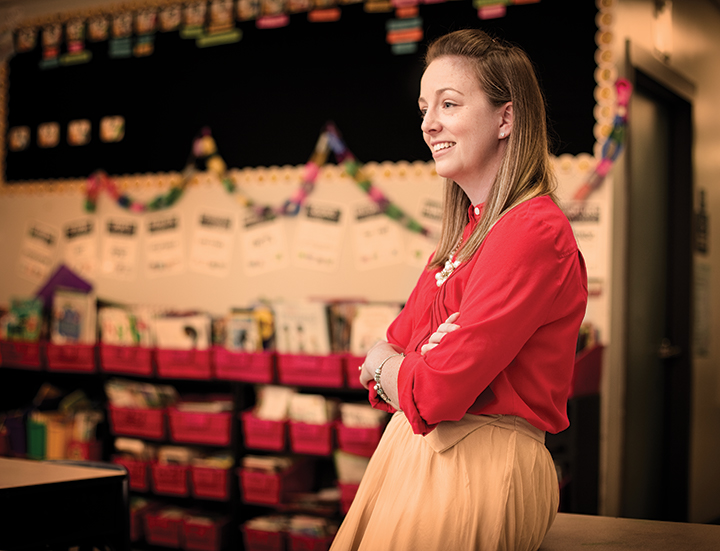 Katie Ahern M.Ed. '19, who teaches at Potter Elementary School, considers herself a behavioral specialist as well as a teacher.

She developed an interest in gang culture and how to divert grade-schoolers from following that path.

This new direction in her life caused some concern among friends and family, including her husband and her parents.

"There was the expectation I would go into the family business (towing and recovery)," said Ahearn, 24. "But once my parents visited my classroom and saw the transformation in these kids with our use of conscious discipline, they came around."

Ahearn, now at Potter Elementary School, said she considers herself as much a behavioral specialist as a teacher. Like Gehrke, she wants to be part of a community turnaround. Improve education, she said, and it will reflect in less poverty and less crime. In the bigger picture, she would like to run her own school one day, focusing on students who have been sent to alternative programs because of discipline and academic issues.

"I'd like to be the female Ron Clark," she said. Clark is an educator whose work with disadvantaged students has earned him national acclaim. He's also a best-selling author, a motivational speaker and founder of an Atlanta-based academy. "He's proven that where you grow up does not determine whether you will succeed or fail. His kids have come out of Harlem and ended up at Harvard."

As a young white woman, Ahearn knows that she will have to cross some cultural boundaries to be successful. The master's program is laying the groundwork to achieve that.

"I've got no regrets about doing this, not at all," she said. "We've got a great class and a strong support system. We feed off each other's energy and brainstorm ideas."

Wilson couldn't be happier with this inaugural class. The students in the cohort share similar values and a strong desire to change the world one student at a time, and in schools where hope sometimes has been left behind.

"Education is noble work. It's even more so for people who willingly take on the extra challenge of high-needs schools," she said. "It's not just a job. It's a calling. They are tenacious and they are visionaries. They make me proud."


This story first appeared in the UT Journal. Read more stories like it in the Spring 2018 magazine.
---