Published: April 01, 2022
New Partnership Offers Preferred Admission for Select Members of CEO Into UT Master's Program
The University of Tampa announced this week that it will begin offering preferred admission to its Master of Science in Entrepreneurship program for select members of the Collegiate Entrepreneurs' Organization (CEO).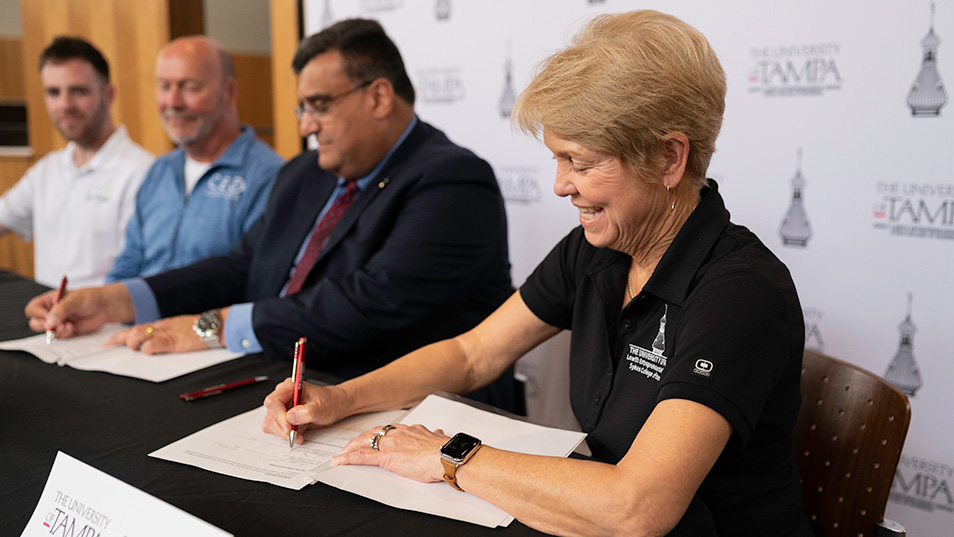 Rebecca White, James W. Walter Distinguished Chair of Entrepreneurship and director of the entrepreneurship center, with Frank Ghannadian, dean of Sykes College of Business, sign a memorandum of understanding that will grant top CEO members with preferred admission into UT's Master of Science in Entrepreneurship program. Photo by Lily Cruse '25
CEO is the largest collective of collegiate entrepreneurs spanning 250 university/college campuses globally with a mission to inform, support and inspire students to launch their own enterprises. CEO's partnership with UT's graduate admissions program provides a first-of-its-kind path to admission for student entrepreneurs who are launching new ventures. This program will allow CEO's Top 100 Student Founders committed to new venture creation the option to submit their business ideas, using the software PitchPages, in lieu of a formal admissions essay. This encourages the students to continue investing time in the formation of their business and provides them a more 'real-world' path to admission.
CEO global headquarters is located in The University of Tampa's Maureen A. Daly Innovation and Collaboration Building, which houses the Lowth Entrepreneurship Center.
"The vetting process to select the Top 100 Student Founders is intensive," said Giles Hertz, president of Collegiate Entrepreneurs' Organization and associate professor of business law and entrepreneurship at UT. "Connecting these top students with UT creates a direct path to the continuation of their education."
UT's M.S. in Entrepreneurship program equips students with the optimal resources and environment to successfully launch their ventures, guided by highly qualified and experienced faculty who have reached success in their own entrepreneurial endeavors.
Curriculum for this program includes courses that are designed to teach students how to build and scale their own business, from financing new ventures, selecting and developing business models, and communicating with partners and investors. Students will also have access to a number of unique resources, from professional office space, one-on-one coaching by UT's certified resident entrepreneurs, access to investors and UT's alumni and business professional network.
UT's M.S. in Entrepreneurship program is nationally acclaimed for building the critical business and entrepreneurial skills needed to develop and launch new enterprises. The program is led by a group of faculty with academic qualifications and personal experience in operating entrepreneurial ventures. Rebecca White, James W. Walter Distinguished Chair of Entrepreneurship, serves as program director and specializes in the theories and practices of entrepreneurship and global business.
"Our nationally ranked graduate program in entrepreneurship provides aspiring entrepreneurs with the knowledge, tools and network they need to find more opportunities, take effective action and execute past failure," said White. "We are excited to partner with CEO in creating a streamlined pathway for the top college students from chapters around the globe to enroll in the program."
For more information, contact UT graduate admissions counselor Raven King at rking@ut.edu or (813) 257-3604.
---