Published: March 29, 2017
National Geographic Photographer Jodi Cobb to Speak at UT April 5
On Wednesday, April 5, stop by The University of Tampa to hear veteran National Geographic photographer Jodi Cobb give a retrospective of her distinguished career that has spanned four decades. The event begins at 1 p.m. in Reeves Theater on the second floor of the Vaughn Center and is free and open to the public.

Cobb is a member of a group of intrepid National Geographic photographers who go to great lengths and often take serious risks to bring back the powerful stories readers expect to see in the magazine.

Known for breaking through barriers and going undercover to reveal hidden societies, Cobb has captured glimpses of worlds such as Japan's secret geisha culture and the cloistered lives of Saudi Arabian women.

In 2004, she published a landmark story on "21st Century Slaves," which exposed a wide range of human trafficking. The story generated more positive reader mail and commendations than any other story in National Geographic's history to that time.

This National Geographic Live event is sponsored by UT's Office of International Programs. For more information, contact Lisa Shemon, coordinator of international programs education and outreach, at (813) 258-7431 or lshemon@ut.edu.
---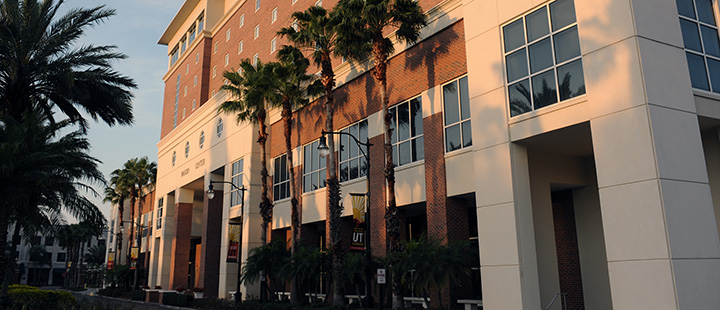 The Adam Smith Society Breakfast is geared toward local business community members operating in the global economy. The event includes breakfast as well as an update on the Tampa Bay economy by John Stinespring, UT associate professor of economics, and Vivekanand Jayakumar, UT associate professor of economics.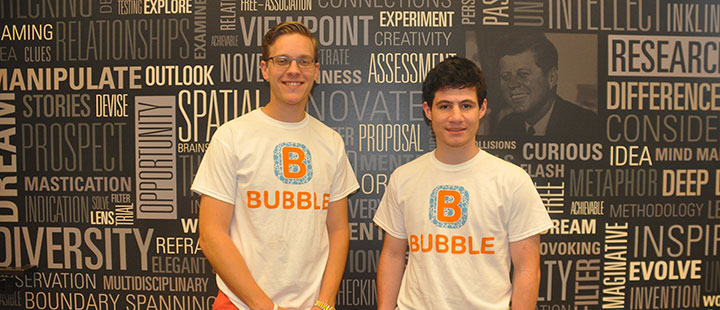 During freshmen orientation in the fall, Michael Joyce '20met a lot of new friends but found it a pain to track down each person's manysocial media handles. So Joyce, along with Andrew Bernstein '20, created amobile application they call Bubble.
Launching at UT's Party in the Park on April 7, the Bubbleapp is a tool that allows users to connect to their friends' social mediaaccounts seamlessly. In addition, users can create groups, called bubbles, andwhen those groups of people go out to a restaurant together, they can receiveup to 25 percent off their meal at places like Tampa Pizza Company and DailyEats.