Published: October 01, 2019
Mindfulness App Keeps UT Students in the Present Moment
*As of Summer 2022, UT no longer partners with Ajivar.*
Standing in the hallway in the Vaughn Center during the internship fair, students who stopped by the Ajivar table were asked to stick out their arms and legs like a starfish and sing "Twinkle Twinkle Little Star." It was awkward, but that was the intent.
"The moment you step outside your zone of comfort is when you start to evolve and develop," said Dr. Raj Goyal, a physician, engineer and co-founder of Ajivar, a mobile application being launched by UT that uses artificial intelligence to connect users to mindfulness practices. "Ajivar focuses on improving resiliency, emotional intelligence and self-awareness which result in less stress overall, better performance, better interpersonal relationships and greater satisfaction with life."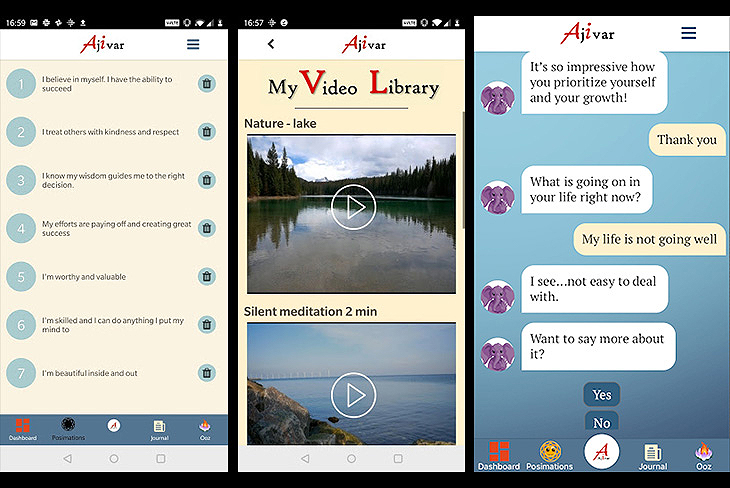 Ajivar uses artificial intelligence to connect users to mindfulness practices.
Gina Firth, UT's associate dean of wellness, said western societies, especially the U.S., are in a cultural mess by placing value and worth on the more they do and get. When people continue at this pace, they find more unhappiness, more stress and they aren't taking the time to self-calm and slow down.
"As electrical beings, we're frying our circuits," Firth said. "Faculty, staff and students, we're all part of a larger cultural problem, and I'd like for us to transcend that."
Firth was introduced to Ajivar earlier this year and immediately wanted to partner. Goyal and co-founder Trine Schmidt, a licensed therapist, are based out of downtown Tampa, and UT is the first university to embrace this new mindfulness app, which launched Oct. 1 for current faculty, staff and students. It is compliant with the federal law restricing release of medical information and completely confidential.
Using AI and natural language processing, the app acts as a life coach by offering mindfulness techniques.
"Stress happens when you're worried about the future, reminiscing about the past – I should have done this, I could have done that, if I'd only done this – we are rarely in the moment," Schmidt said. "Mindfulness is the notion of being fully present in the moment. Being present in class, listening to the teachers, being present with yourself, noticing when you accumulate stress and what to do about it. That's what we're trying to teach through the app."
The app also offers positive affirmations and Ooz (out of zone) challenges that move people out of their comfort zone to improve self-esteem.
"There's a learning curve to it. Learning to open up to an AI can be tricky, but the students need to be open minded and trust the process," said Maya Patel '20, noting that AI such as Siri and Alexa are helping normalize the technology. "This is the way of the future; artificial intelligence is coming to a lot of industries. It can really help you if you leverage it in the right way."
Patel, a molecular biology major with minors in cybersecurity, leadership studies and business administration, became involved with Ajivar in February 2019 as a liaison between the founders and the UT community, managing the company's social media, assisting with the artificial intelligence testing on campus and bringing a student perspective to the development of the app.
She was already tuned into the mindset of her fellow peers after completing an independent research project the previous year with Miloslava Plachkinova, interim director of UT's cybersecurity program. They, as well as Aman Shah '20 and Krisha Shah '19, looked at the graphic design elements and message framing of developing a mental wellness mobile application, publishing "Designing a Mobile App to Help Young Adults Develop and Maintain Mental Well-Being" at the Americas Conference on Information Systems in August 2018.
"We asked the question, 'Have you or someone you know been affected by mental illness?' and over 67 percent responded yes," said Patel, of the 169 students surveyed. "We have resources on campus, we have Live Well UT, we have therapists, we have lots of intervention programs, yet these many students are reporting not knowing about these resources."
Having self-help tools available at the genesis of a students' journey can help them find balance and long-term success, said Patel.
"Our hope is that we get them early on in the process, and they can shift their coping mechanisms to something healthier."
For current students, faculty and staff who would like to use the Ajivar app, email wellness@ut.edu to receive the access code.
---