Published: March 30, 2017
Lowth Entrepreneurship Center Hosts Inaugural New Venture Exposition April 14
The University of Tampa Lowth Entrepreneurship Center will showcase its students' startup business concepts at the inaugural New Venture Exposition on Friday, April 14.

The exposition will be held from 9 a.m. to noon in the Lowth Entrepreneurship Center, which is located in the Daly Innovation and Collaboration Building on the UT campus. It is free and open to the public.

The New Venture Exposition is the culmination of work of the Lowth Entrepreneurship Center students and program participants. Graduate students in the M.S. in Entrepreneurship program, as well as senior undergraduate students majoring in entrepreneurship, will present business concepts that were developed at the start of the academic year. Their concepts will be judged alongside Spartan Accelerator and Incubator program participants, many of whom have already committed hundreds of hours to their new ventures.

The students will compete in the following categories: 1) Tech, Online and Application; 2) Retail and Product; 3) Health Care; 4) Food and Beverages, Hospitality and Entertainment; 5) Services. Winners in each of the categories will be selected by experts in each field. Experts will include Lowth Center advisory board members, entrepreneurs- and experts-in-residence, UT faculty members and other community stakeholders in the Tampa Bay entrepreneurial ecosystem.

This annual, campus-wide event will educate students and the community about opportunities the Lowth Center provides and enhance students' ability to achieve their professional goals. It will also provide employers access to qualified candidates to meet their recruitment needs.

To register for the event, visit https://2017newventureexpo.eventbrite.com.
---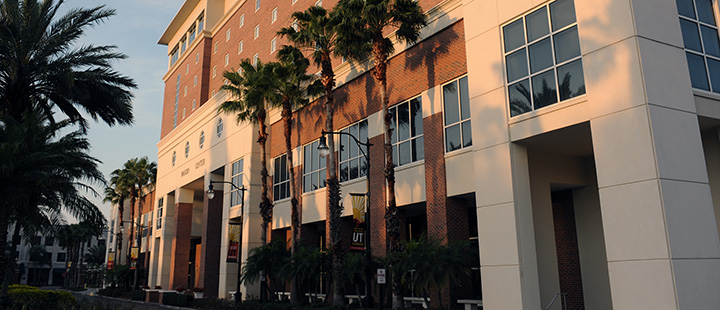 On Thursday, April 13, join The University of Tampa Sykes College of Business for the annual Adam Smith Society Breakfast. The event will run from 7:30–9:30 a.m. in the Crescent Club on the ninth floor of the Vaughn Center on campus, 401 W. Kennedy Blvd.
The Adam Smith Society Breakfast is geared toward local business community members operating in the global economy. The event includes breakfast as well as an update on the Tampa Bay economy by John Stinespring, UT associate professor of economics, and Vivekanand Jayakumar, UT associate professor of economics.
Imagine spending nearly two decades of your life on death row for a crime you didn't commit. On Thursday, April 13, The University of Tampa Honors Program symposia series will welcome Juan Roberto Melendez, who will share his experience of being wrongly convicted and spending almost 18 years on Florida's death row. His talk, titled "Presumed Guilty: Injustice, Survival and Hope on Death Row," begins at 4 p.m. in the Crescent Club on the ninth floor of the Vaughn Center and is free and open to the public.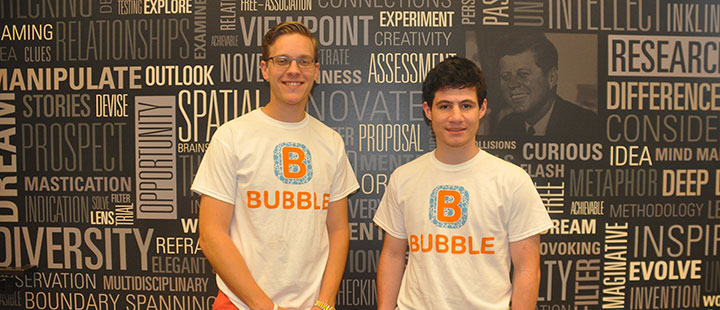 During freshmen orientation in the fall, Michael Joyce '20met a lot of new friends but found it a pain to track down each person's manysocial media handles. So Joyce, along with Andrew Bernstein '20, created amobile application they call Bubble.
Launching at UT's Party in the Park on April 7, the Bubbleapp is a tool that allows users to connect to their friends' social mediaaccounts seamlessly. In addition, users can create groups, called bubbles, andwhen those groups of people go out to a restaurant together, they can receiveup to 25 percent off their meal at places like Tampa Pizza Company and DailyEats.