Published: February 14, 2019
Juniors Research Vulnerabilities for Cyber Attacks on Critical Infrastructures like Power Plants
There is a trend for the world's critical infrastructures, such as power plants, nuclear facilities, dams and water treatment facilities, to become part of the internet of things (IoT). However, when these supervisory control and data acquisition (SCADA) systems were originally created, there was no internet and no threat of hackers, which leaves them vulnerable for malicious attackers to exploit the outdated facilities and cause serious damage.

From right, cybersecurity majors Ashley Newsome and Jenny Khanal's work on cybersecurity threats against critical infrastructure was accepted for presentation at the National Council on Undergraduate Research (NCUR), as well as the Florida Undergraduate Research Conference (FURC).
This trend caught the attention of student research assistants, juniors and cybersecurity majors Ashley Newsome and Jenny Khanal.

"They were made without security in mind," said Khanal, of Nepal. "Physical security yes, but they weren't considering cyberattacks."

Since last fall, Success Scholars Newsome and Khanal have been "investigating the myriad of vulnerabilities, possible threats, and the risks of connecting these devices to the internet or integrating them into corporate networks," and are developing a taxonomy to organize the weaknesses of SCADA systems, the repercussions of attack and possible mitigation efforts within the foundational frame of information security.

"By categorizing them, we will be able to provide more adequate measures to protect SCADA systems from the growing cyber threats," they wrote in their abstract. Newsome, who has a business analytics minor and is from Fort Lauderdale, explained that they used case studies such as the Stuxnet virus against the Iranian nuclear facility and the attack against the Ukrainian power grid to evaluate their taxonomy.

"Out of all the topics we came up with, this one we thought had the greatest impact on society and the world," said Khanal. "Something we could do research on and make a change."

Newsome and Khanal's work on cybersecurity threats against critical infrastructure was accepted for presentation at the National Council on Undergraduate Research (NCUR), which will be hosted at Kennesaw State University in Georgia on April 11–13. They also plan to submit their work, "A Taxonomy of Critical Infrastructure Vulnerabilities: Case Study Approach on SCADA Systems," to a peer-reviewed journal by the end of the semester.

Miloslava Plachkinova, assistant professor of cybersecurity, said the point of doing any research is to advance knowledge, to help others and to inspire students to think beyond the problems discussed in class.

"I push them to think big and show them that everything is possible if they work hard and are passionate about doing research and solving problems that seem impossible to solve," Plachkinova said. "Ashley and Jenny have picked a very serious topic to work on, and I am confident that they can make a difference in the future. We need people with fresh eyes like them to help us find innovative solutions and protect these critical infrastructures that are of national significance."

The topic was of such interest to Plachkinova, who is enrolled in UT's master's in criminology and criminal justice program, that she wrote a paper for class on policy analysis and evaluation related to such attacks and how we lack adequate legislation on cyber crimes and cyber terrorism. She presented it at an information technology security conference, BSides Tampa, and will expand upon it for her master's thesis.

In addition to NCUR, Newsome and Khanal, and more than 35 other UT students, will be headed to the statewide version of NCUR, the Florida Undergraduate Research Conference (FURC). It's hosted by the University of North Florida in Jacksonville on Feb. 22–23, 2019.

A variety of UT majors and research themes will be represented at FURC, including Julia Jester '19, a sociology major with a minor in sustainability, will present on her work with geographic information systems examining superfund sites and racial minority populations. Alysha Assaf '19, a double major in elementary education and Spanish with a minor in applied linguistics, will explore how using mobile learning impacts Spanish vocabulary instruction. Psychology major Adam Barrett-Clarke '19 will present on how Facebook usage affects mental health of college students. Alexandra Sullivan '19, a biology major, takes a look at Florida red tide and the organisms that are able to sustain life in such conditions.

"Often when students present at a conference for the first time, they come away from the experience feeling exhilarated by having been active contributors to their fields. Presenting is a great way to evaluate whether or not they want to pursue graduate study, allows students to connect with and receive feedback from experts in their fields and also helps students learn how to effectively communicate their findings to a broad audience," said Eric Freundt, director of UT's Office of Undergraduate Research and Inquiry. "It is amazing how preparing a presentation forces one to delve more deeply, anticipating the questions that might arise and leads the student to learn more about their research."


Have a story idea? Contact Jamie Pilarczyk, Web Writer 
Subscribe to News and UT Life stories 
Read more UT Life stories 


---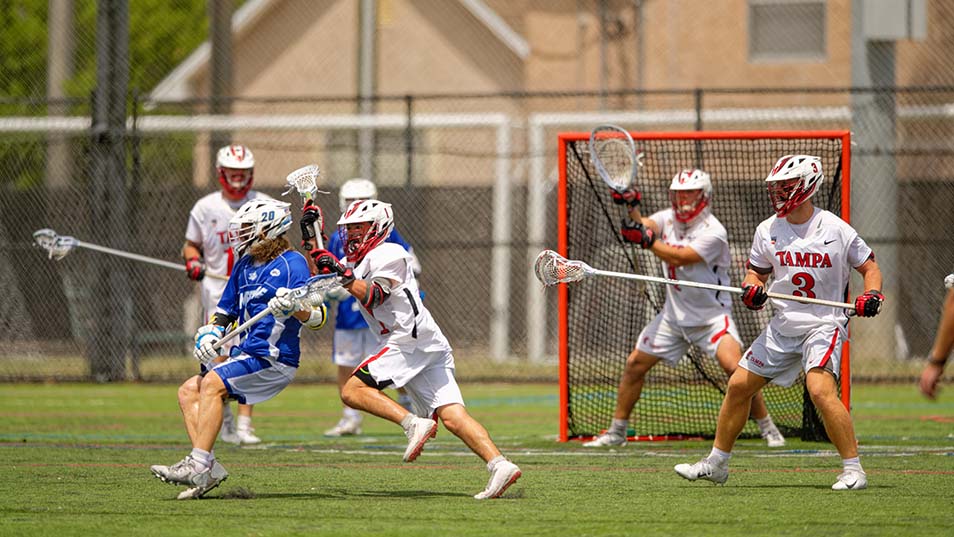 The University of Tampa Spartan's men's lacrosse team defeated Limestone University Sunday to advance to the NCAA Championship for the first time in the program's history.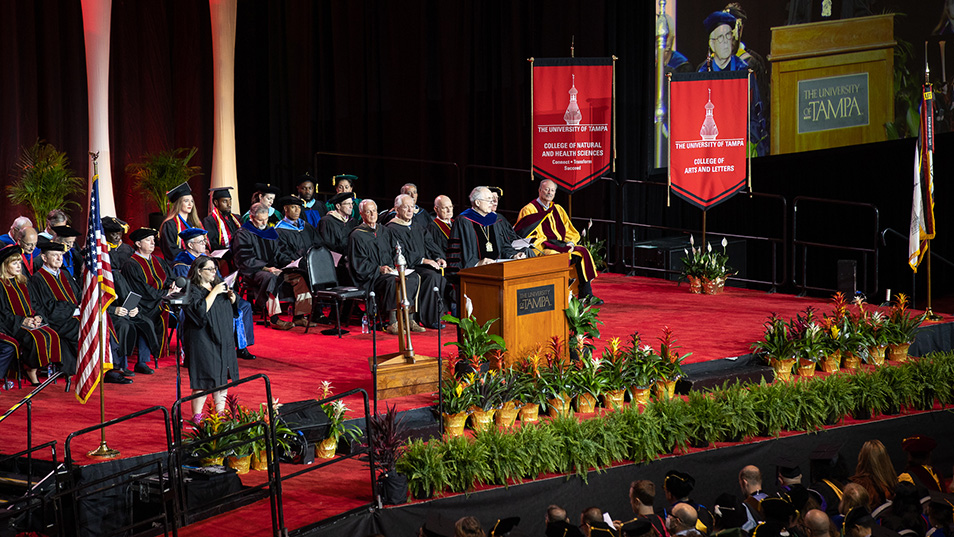 Carlos Baldor Jr. '87 and Javier Baldor '89 gave the addresses at the two ceremonies of UT's 154th commencement.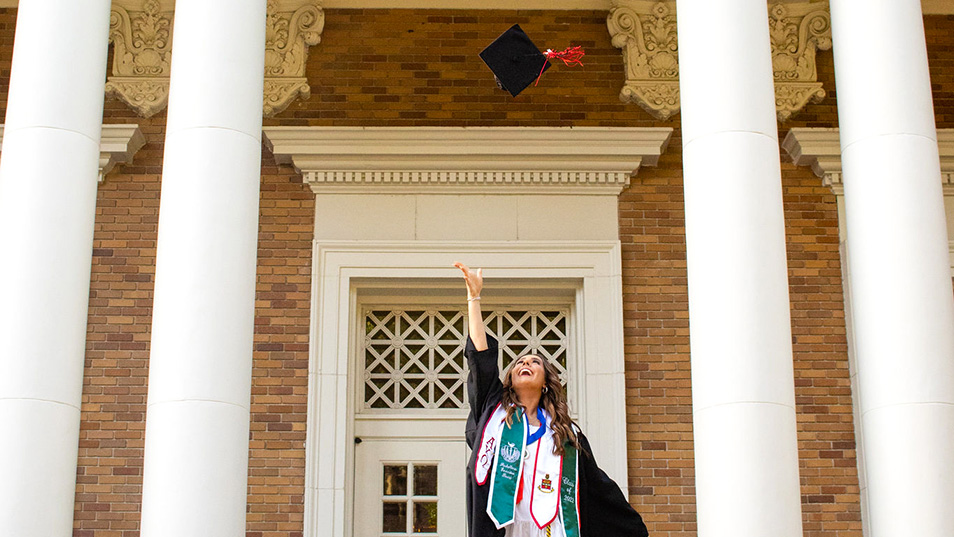 There are 1,713 degree-seeking candidates participating in UT's 154th commencement on May 7 at the Expo Hall of the Florida State Fairgrounds.