Published: January 23, 2017
John B. West and Dan Ciprari to Discuss "Entrepreneurial Alchemy" Feb. 2
On Thursday, Feb. 2, The University of Tampa will welcome John B. West, chairman of Hire Velocity, and Dan Ciprari, CEO and co-founder of Pointivo, as part of the Sykes Hall of Fame Business Speaker Series. This event is free and open to the public, but seating is limited and registration is required.

The event begins at 5:30 p.m. in Falk Theatre, 428 W. Kennedy Blvd., with networking and refreshments. The presentation, Entrepreneurial Alchemy: Transforming Ideas into Business Success, begins at 6 p.m.

West and Ciprari have an impressive track record of transforming innovative ideas into successful businesses. At the presentation, they will speak about how creating the right entrepreneurial ecosystem makes all the difference between success and failure and share their winning formula for "Entrepreneurial Alchemy."

West draws upon a distinguished career as an entrepreneur, business executive and investor to provide board-level oversight and input into Hire Velocity's intelligent Recruitment Process Outsourcing model. For the last 15 years, he has focused on providing capital and performance mentoring to high-growth businesses. West has played an integral role in supporting Hire Velocity and offering insight into its recruiting model since its inception.

Ciprari is a serial entrepreneur with more than 25 years of experience founding, leading and successfully exiting technology companies. While serving as entrepreneur-in-residence at the Advanced Development Technology Center at Georgia Tech, he advised Habib Fathi and together they co-founded Pointivo — the only technology that captures dimensionally accurate 3-D models and measurements of any scene or structure using just a smartphone video camera.

Register for this event by Tuesday, Jan. 31, at sykeshalloffame2017.eventbrite.com. For more information, contact Whitney Vance, coordinator, Sykes College of Business operations, at wvance@ut.edu or (813) 257-3782.
---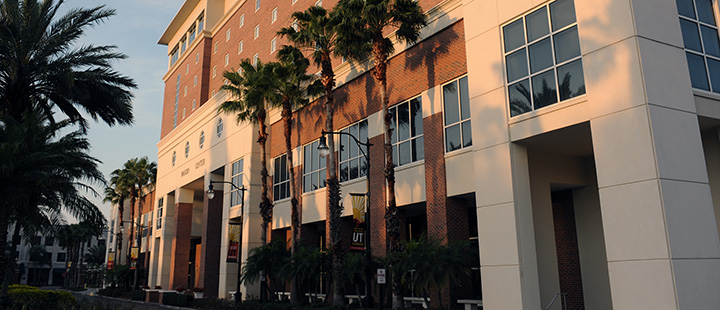 The Adam Smith Society Breakfast is geared toward local business community members operating in the global economy. The event includes breakfast as well as an update on the Tampa Bay economy by John Stinespring, UT associate professor of economics, and Vivekanand Jayakumar, UT associate professor of economics.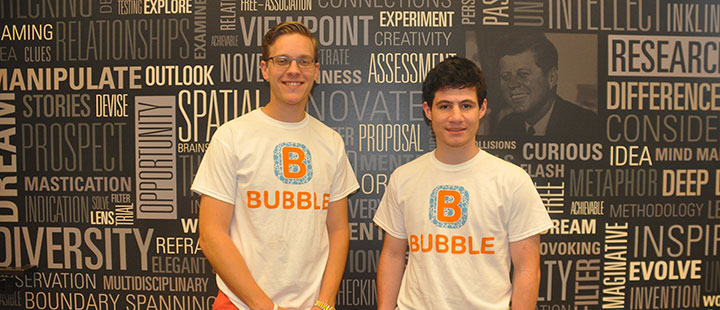 During freshmen orientation in the fall, Michael Joyce '20met a lot of new friends but found it a pain to track down each person's manysocial media handles. So Joyce, along with Andrew Bernstein '20, created amobile application they call Bubble.
Launching at UT's Party in the Park on April 7, the Bubbleapp is a tool that allows users to connect to their friends' social mediaaccounts seamlessly. In addition, users can create groups, called bubbles, andwhen those groups of people go out to a restaurant together, they can receiveup to 25 percent off their meal at places like Tampa Pizza Company and DailyEats.