Published: March 06, 2018
Five University of Tampa Press Poets to Give Reading and Book Arts Studio to Host Open House March 9
On Friday, March 9, The University of Tampa will host a reading by five University of Tampa Press poets beginning at 6 p.m. in the Scarfone/Hartley Gallery, 310 North Blvd. All five writers will be available to sign books following the reading, which is free and open to the public.

At the event, writers with books in The University of Tampa Press' poetry series will read from their works, including Florida's Poet Laureate, Peter Meinke, who lives in St. Petersburg and American Book Award winner Ira Sukrungruang, who lives in Tampa and teaches at the University of South Florida.

Also reading are Minnesota Book Award winner Richard Terrill, Allen Tate Award winner Bruce Bond and David Martinson-Meadowhawk Prize winner Michael Hettich.

Visitors are also invited to stop in at the Tampa Book Arts Studio, 202 North Blvd., which will host an open house from 5:30-8 p.m. The studio's antique printing equipment, handset type and a sampling of work printed on site will be on view, and publications from The University of Tampa Press will be available for sale.

For more information about the event, contact Richard Mathews, director of the University of Tampa Press, at (813) 253-6266 or rmathews@ut.edu.
---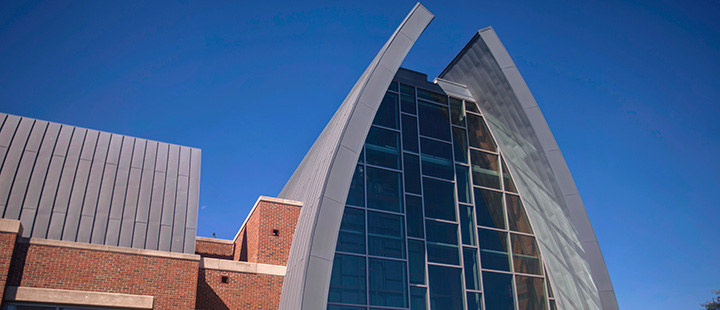 On Sunday, April 8, The University of Tampa's 2017-2018 Sykes Chapel Concert Artist Series will conclude with a performance by the Philadelphia Brass, called "one of the gems of Philadelphia's cultural life" by NPR's Martin Goldsmith. The concert begins at 2 p.m. in the Sykes Chapel and Center for Faith and Values and is free and open to the public.
The concert will have a special emphasis on American music, featuring works by Jennifer Higdon, Aaron Copland, Duke Ellington and Frank Loesser, among others.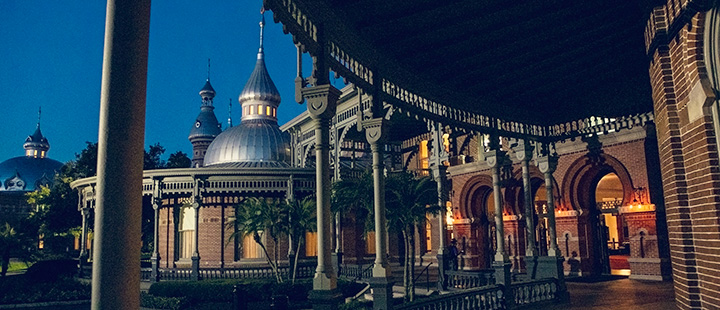 On Friday, March 30, The University of Tampa will welcome pianist Frederick Moyer — hailed by The New York Times as "first-class" and The Milwaukee Journal as "a superstar pianist" — for a guest recital. The concert, which is free and open to the public, begins at 7:30 p.m. in the Plant Hall Grand Salon.
The program for the performance will include works by Franz Joseph Haydn, Ludwig van Beethoven, Felix Mendelssohn, Sergei Rachmaninoff and Oscar Peterson.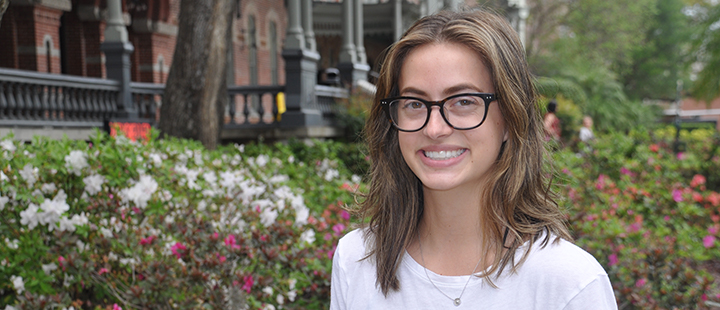 While Mackenzie Harrington '19 is in the female minority in her calculus class, it's the complete opposite situation in her language and linguistics courses for her Spanish major.
"There are a lot of stereotypes and studies that say boys aren't as good in second language acquisition as females," said Harrington, who worked with Assistant Professor Andrew DeMil on the research project, "Gender differences in Spanish Language Learning: Speaking Exams," which they presented at the Florida Undergraduate Research Conference in February and to the UT Board of Trustees March 22.
"We wanted to do a study of our own here at UT. In the previous year (DeMil) had studied reading comprehension of girls versus boys, so we wanted to study speaking this year," said Harrington, of Maple Grove, MN. "The results were the same though. The boys aren't any worse, if not the same, as females. They are just extremely underrepresented."