Published: July 29, 2019
Driven UT Senior Sets Sights on a Career in Golf
Lauren Fantaroni '20 never really remembers a time when golf wasn't a part of her life.

"I've been golfing since I was four years old," said the sport management major. "I was born into a golfing family — my parents, my grandparents, my uncles, my aunts, my cousins, everyone plays."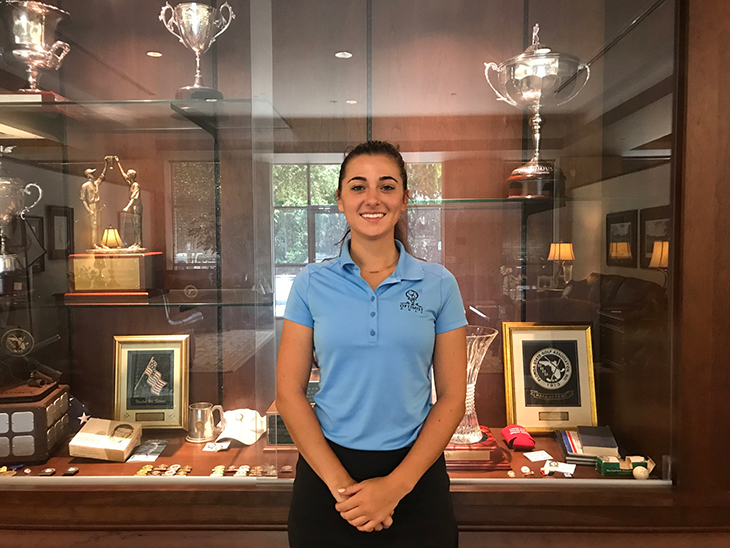 Lauren Fantaroni's summer internship with the Florida State Golf Association has seen her travel all over Florida helping with tournaments for men, women and juniors.
While golf is a weekend exercise for most, it has always been something more for Fantaroni, who is spending her summer working as an intern with the Florida State Golf Association (FSGA).

"Ever since the beginning of high school I knew I wanted to play golf in college, so starting as a sophomore, I started researching different coaches, talking to coaches, looking at different schools."

She found UT women's golf Coach Missey Jones in her junior year of high school. "I just clicked with her right away," said Fantaroni.

"She's the most hard-working woman I've ever met in my life, and she's so dedicated to (the golf team). She has so many other jobs outside of it, but she acts like this is literally her entire life," Fantaroni said. "It's motivating for us that she's so motivated."

Driven to make a career in the highly competitive sport, Fantaroni is spending her summer learning the nuts and bolts of golf tournaments as an intern at the FSGA in Temple Terrace, Fla., a short drive from UT's campus.

She works in the association office during the week helping set up golf tournaments, "then weekends we travel to different parts of Florida putting these tournaments on. It's dusk until dawn work just putting everything together and taking everything down. It's been a crazy busy summer," said Fantaroni, who usually works 60 to 70 hours a week in this paid internship.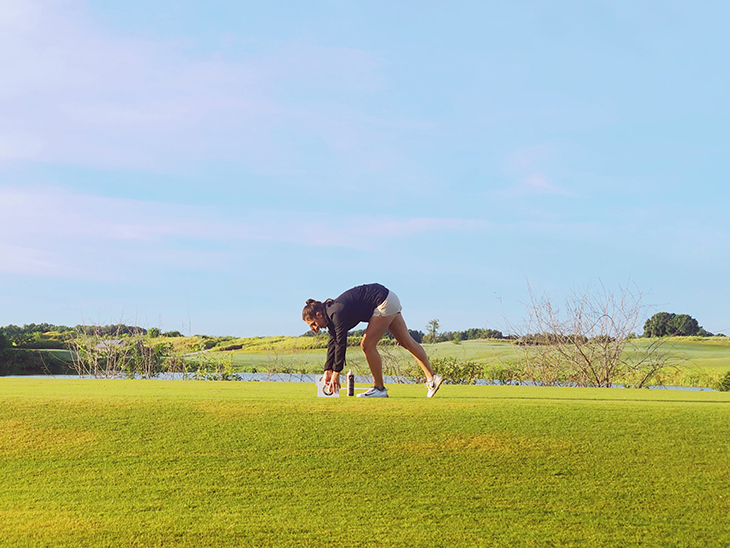 Working 60-70 hours a week during her summer internship with the Florida State Golf Association has made Fantaroni "more aware and thoughtful of my priorities throughout the day. I have become more responsible and organized in my daily life because of my internship."
While she expected to learn a lot going into the internship, the experience has surpassed her expectations.

"I have gained more knowledge than I ever thought possible. I have been trained by such experienced and hardworking individuals that have made me a more determined and hardworking person," she said. "Not only have I learned how to plan golf tournaments and host them, I have learned great communication skills and experienced a different type of teamwork within a company atmosphere that I will carry with me into my future endeavors."

Among her highlights so far are the Futures Championship at Lemon Bay Golf Club in Englewood, the Girl's Junior Championship at Streamsong Resort in Bowling Green and the Parent-Child Championship at the Celebration Golf Club in Orlando. The Futures Championship, featuring young male golfers aged 9-12 and young female golfers aged 11-12, was especially meaningful for Fantaroni.

"It was really great watching these kids play such good golf at such a young age. It brought me back to when I fell in love with competitive golf playing in junior events," said Fantaroni, who has been playing competitively since she was 8.

Working behind the desk at a pro shop and teaching youngsters how to play golf for the last two years in her hometown in Massachusetts, Fantaroni is hoping the internship and her hard work at UT will help open the door to a career in golf.

"I'm trying to take it to the next level," she says. "I could have gone home and done (the pro shop and teaching) again, but I wanted to learn other things besides what I've been doing for the last two years. I'm hoping after this internship (I have more of) a clear mind of what I want to do or don't want to do, even if it's just meeting more people within the industry and FSGA."

The community of golf is something Fantaroni grew up with. "Being part of golf and golf clubs, I learned at a very young age how to interact with adults and to be respectful of my elders. That was a very important part of my upbringing, and this is a quality that has helped me so much socially and career wise," she said.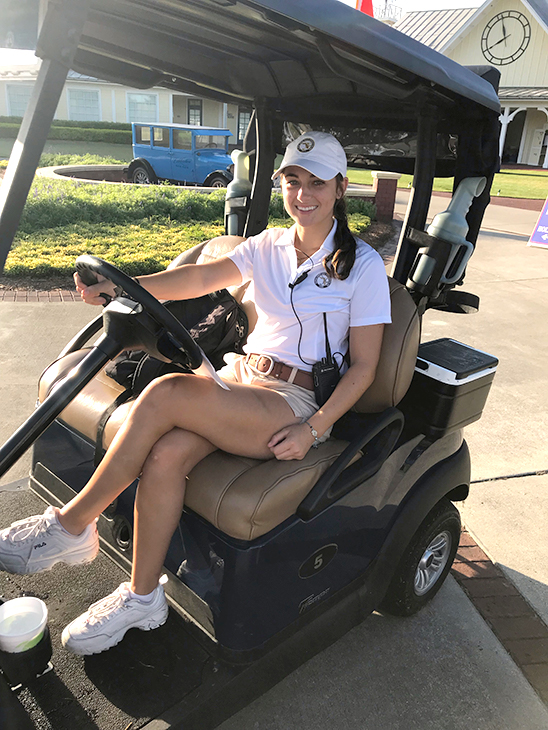 "It's always been more than just a game to me," Fantaroni said. "I have experienced feelings of stress, exhaustion and defeat, yet I have felt the same amount of feelings of excitement, pride and accomplishment. It's a rollercoaster of emotions."
Playing golf with someone for four-plus hours also helps develop relationships, she believes. "It's another major characteristic within the golf community which I love so much … I have met so many amazing people and have created bonds just from playing golf."

While golf is a frustrating game even for professionals, the game is in Fantaroni's blood, and she can't picture a life without it.

"It's always been more than just a game to me," she says. "I have experienced feelings of stress, exhaustion and defeat, yet I have felt the same amount of feelings of excitement, pride and accomplishment. It's a rollercoaster of emotions."

A rollercoaster she never wants to get off.

"It is really hard to imagine life without it," she says. "It would be like losing someone close to me if I were to stop golfing."
---