Published: August 08, 2019
In a few short weeks Dakota Kuharich '19 will realize a dream when she premieres her own professional dance performance on stage in St. Petersburg.

UT's 2019 Dance Student of the Year, Kuharich won a Momentum Choreographic Mentorship earlier this year. The five-month mentorship offers three budding artists, within and outside academia, support toward a professionally produced weekend of performances with projectALCHEMY dance company members.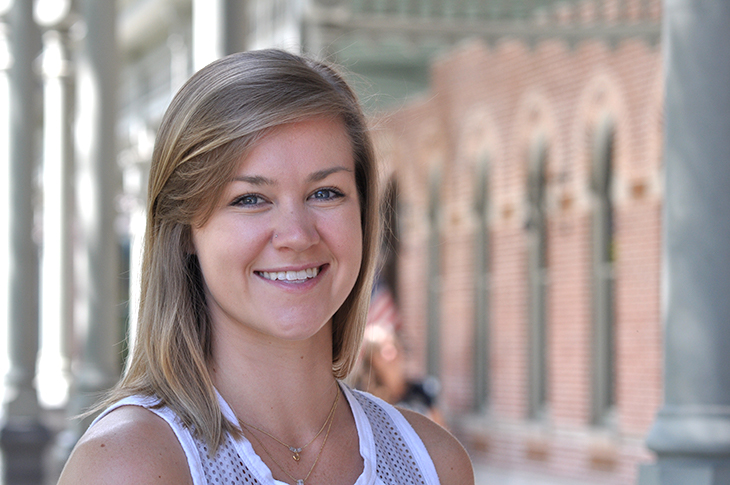 Dakota Kuharich says the UT dance program, which has grown steadily during her time at the University, is "not competitive; everyone supports each other. Everyone is willing to help you. Having a community of people who understand how important art is to life is great."
Kuharich's piece will be part of the Momentum Choreographers Showcase Sept. 28-29 at The Studio@620 in St. Petersburg, featuring six new works by emerging Bay area choreographers.

Founded in 2018 by Alex Jones, an adjunct professor of dance at UT, projectALCHEMY is a downtown St. Petersburg dance company that aspires to "create opportunities to propel dance artists, collaborate with artists outside of our discipline to expand artistic possibilities, and transform spaces making dance more accessible to our community at large," according to the group's website.

Submitting videos of her previous work, an artist statement and a concept for a performance piece, Kuharich was one of three local artists — including a University of South Florida graduate and a high school graduate — selected for the mentorship.

While each day of her mentorship is different, a typical day includes rehearsing for two to hours with her dancers. Kuharich then has the dancers review their journals, where they relate the concepts of parasite and host — the theme of Kuharich's piece — in the upcoming performance to their own lives.

"For example, a few prompts have been 'define parasitism in your own words' or 'list three examples in which you have been a parasite in your life and three examples of when you have been a host,'" Kuharich said.

Having made the material relevant to the lives of each dancer with her insightful use of journaling, Kuharich then leads the class through a process of exploration and improvisation in dance, with each individual creating her or his own movements.

After providing feedback, Kuharich groups the dancers to create duets, trios or small group pieces.

While each day of her mentorship is different, a typical day includes rehearsing for two to hours with her dancers, who are all UT students. They include Caleb Bearse'19, Angelina Graves'21 and Brandon Rodriguez'19.
"To finish up, we begin to put the movement created by the dancers in sequences with the movement I have also provided in order to (eventually) create the full-length piece for the show," said Kuharich, who enjoys the collaborative creative process.

Kuharich and the other two Momentum scholarship winners also meet regularly with Jones, projectALCHEMY's artistic director, where they continue to "expand knowledge of promoting ourselves, running a company, creating work and collaboration," she said.

The mentorship has far exceeded Kuharich's expectations.

"It's been extremely rewarding. My expectations were that I was getting the opportunity to show a new work I was passionate about in a professional setting. However, I've gotten direct guidance in aspects I hadn't even thought about. For example, we learned about marketing, networking, self-promotion, dance research and fees."

Among the highlights of the mentorship so far for Kuharich are "being able to work with the UT dance program (dancers and faculty) post-graduation, expanding my artistic network and being able to work in a professional dance setting while being seen as an equal and fellow collaborator."

The program has also not only given her a stellar talking point for her résumé but has also "brought me to a realization that I want to focus the next part of my life on company work as a dancer and then as a professional choreographer. Creating and sharing my experiences through my own movement is definitely my passion," said Kuharich, who already has landed several teaching jobs, including one at the Patel Conservatory.

"(Dakota) is not only a talented dancer, but a thoughtful choreographer, a supportive peer mentor, a natural leader and one of our most intelligent students," says Susannah LeMarquand, dance program director and assistant professor of dance at UT.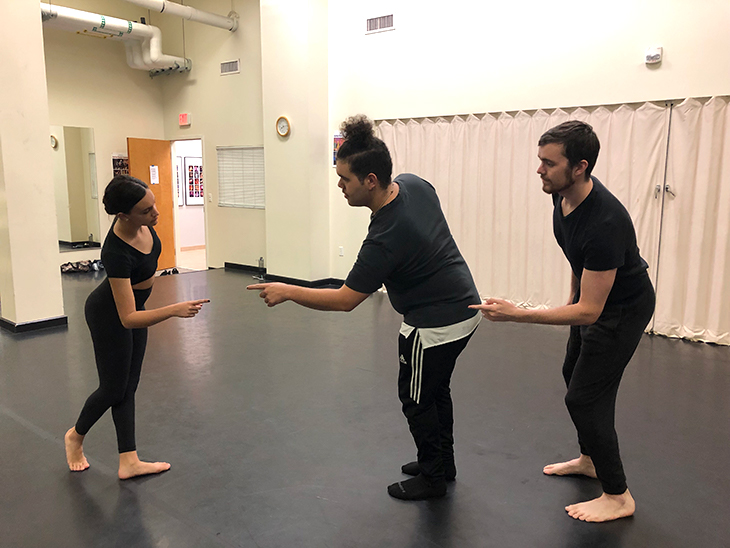 Kuharich will be one of six talented emerging artists to perform at the Momentum Choreographers Showcase Sept. 28-29 at The Studio@620 in St. Petersburg.
"The growth we have seen in her over her four years is remarkable, and she has really come into her own, finding a very powerful voice. Not only has she grown in technique and artistic expression, but she fully embraced our unique curriculum and now has the confidence to teach in any setting to any population."

The projectALCHEMY mentorship will not only help Kuharich's choreographic skills but enhance her understanding of "what it's like to be an upcoming choreographer in her community — how to get the dancers she needs, how to advertise for her performances, how to fund her projects. In today's world of dance, you have to learn how to do things independently to get your name out there," LeMarquand said.

Kuharich believes the classroom and stage are part of her future.

"I definitely want to try to perform with a dance company at first. Eventually, I want to settle into just choreography, because that's my biggest passion. I like to set my vision on people and then see it on stage," Kuharich said. "The big end goal is to get a master's and then come back to higher education to teach. If I wasn't involved with the dance program at UT, I don't think it would have been the same."
---
---
Related Stories: College of Arts and Letters , Inquiry , 2019 , Internships , UT Life
---
Related Story