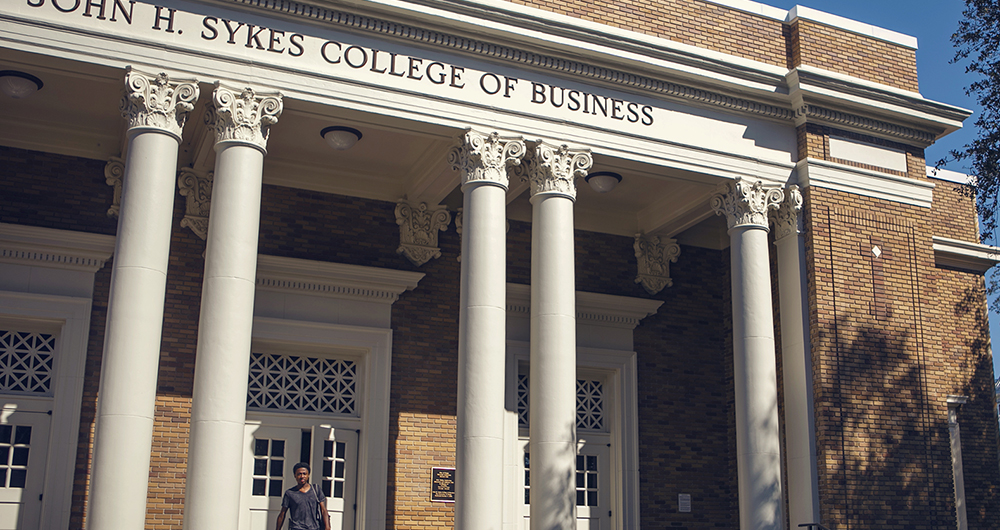 The University of Tampa's Professional Master of Business Administration (PMBA) is a part-time program designed to help professionals with at least five years of work experience take their career to the next level. Classes are offered in a flexible, evening format. The program features a leadership development course and a capstone strategic management project based on students' real-world jobs. The rest of the curriculum is similar to the traditional MBA program, including the option to take courses in an area of concentration.
FAQ's
Benefits
Flexibility: Courses are offered in the evening, allowing you to plan them around your work schedule. As a part-time student, you'll take no more than 8 credit hours per semester. Most students will complete the program within 24 to 30 months.
Peer Connections: You'll attend PMBA classes with other working professionals, creating valuable connections and a sense of camaraderie.
Real-World Applications: Students are encouraged to draw upon their own professional experiences and to apply new lessons directly back into the workplace. You'll gain a better understanding of your current industry and the steps necessary for career advancement.
Possible GMAT Waiver: Students with at least five years of full-time work experience and a 3.0 GPA may be eligible for a GMAT waiver, pending committee review.
Concentrations
PMBA students may choose from among the following concentrations:
Studying at UT

The Sykes College of Business is an integral part of a 110-acre university campus nestled in the heart of Tampa. As a comprehensive institution, UT provides a full spectrum of resources, qualified faculty, and modern facilities.
The Sykes College of Business is one of the elite private schools in the Southeast accredited at both the graduate and undergraduate levels by AACSB International (the Association to Advance Collegiate Schools of Business). AACSB International is the premier business accrediting organization, promoting excellence and continuous improvement in undergraduate and graduate education.
---
---
Start the admissions process today!
Contact the Office of
Graduate and Continuing Studies
Phone: (813) 253-6249
grad@ut.edu