Published: April 14, 2022
The Spartan Shark Tank
SPARTAN READY PHILANTHROPY
Welcome to the C.R.E.A.T.E. competition
By Janet Siroto
Illustrations by Frank Stockton
Creativity is everywhere on UT's campus. One hot spot can be found at the John P. Lowth Entrepreneurship Center, which is part of the Sykes College of Business. There, a certain breed of innovation is nurtured, celebrated and accelerated. Students with an "I have a great idea!" streak learn – and learn a lot – from accomplished faculty, alumni and professionals.
A signature event of the center is the annual C.R.E.A.T.E. competition (Creating Real Entrepreneurial Actions Through Education). The competition, which is open to any UT student with a dream, has three parts. There's an initial pitch followed by an entrepreneurship boot camp stretching over several sessions (taught by the center's faculty) and then – ta da! – the grand finale, a Shark Tank-style pitch-a-thon.
The competition's judges know a thing or two about entrepreneurship: The panel is comprised of alumni and local business leaders who have soared as self-starters. Donating their time and talent, they share their wisdom and award cash prizes (this year: $3,000 for each of the two winners and $1,500 for the runner-up) to push the students' ideas to the next level.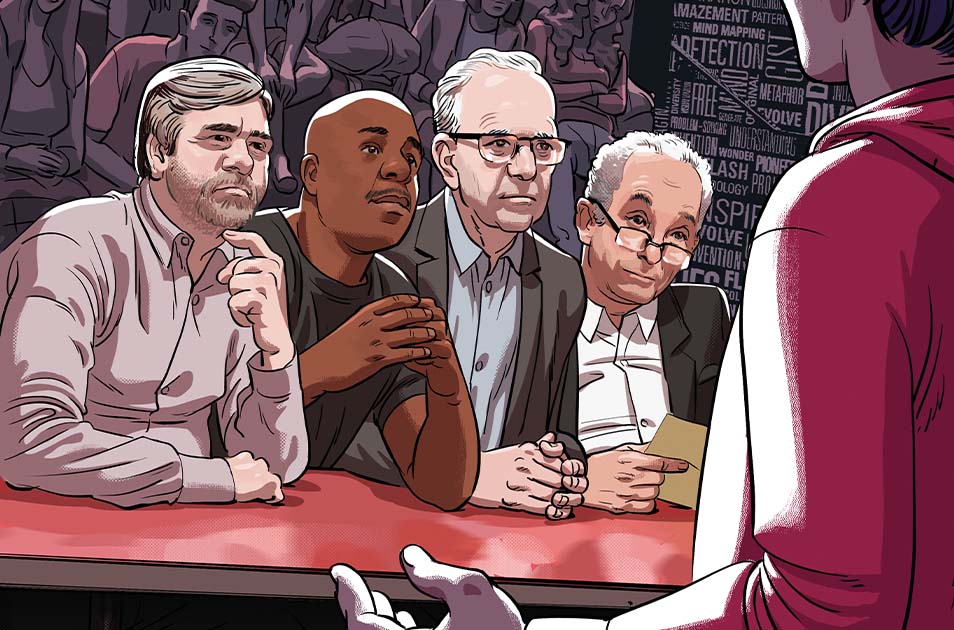 C.R.E.A.T.E., which has been up and running for about a decade, teaches all aspects of entrepreneurship, not just pitching. "By the end, students have been immersed in operations, legal and finance issues, marketing and more," says Rebecca White, the James W. Walter Distinguished Chair of Entrepreneurship, director of the center and a professor of entrepreneurship.
The C.R.E.A.T.E. competition also weaves together different generations of thinkers who love to hatch bold new ideas. "It's an opportunity for students to interact with our amazing alumni and mentors from the community and beyond," says White. "One of the greatest assets we offer students is this network of connections." Held last November, the final round of this year's competition was a singular one: The ideas were so strong that the judges declared a tie for first place — and dipped into their own pockets to come up with the additional prize money.
THE NEXT BIG IDEA
The top three students in the competition were (left to right): Branden Weber '21, M.S. '22, Rin Akimoto '25 and Callahan Reynolds '23.
The concepts that won the highest honors were all born out of personal experience and passion. Brandon Weber '21, M.S. '22, who earned a bachelor's degree in marketing and is currently earning a master's in entrepreneurship at UT, won for his Dive Buddies business. This idea builds upon his love of scuba diving – something he learned on family vacations in the Caribbean. Dive Buddies connects Florida college students and young adults who are interested in learning scuba diving and taking trips together.
For Weber, the competition offered an incredible opportunity to benefit from the real-world knowledge of UT faculty during the boot camp. "I realized how successful many of the professors at UT have been as entrepreneurs, which makes this program so inspiring. There's not a single one who hasn't run their own business and scaled it. This made me think, 'Hey, this might be possible for me. This might be something I could actually do for the rest of my life,'" says Weber.
The co-winner, Rin Akimoto '25, a first-year in the entrepreneurship program, channeled his love of soccer into his FootHub concept. It's a mobile application that makes the process of betting on any soccer game as simple as possible. The competition didn't just hone his tech smarts but also his presentation skills. "I'm from Japan and was nervous about pitching in English, but the judges gave me really good feedback," says Akimoto. "They were so encouraging about my idea, which has helped push me onward and find more confidence."
Runner-up Callahan Reynolds '23, who's majoring in entrepreneurship, also drew on personal experience to formulate his business. "I always worked at my father's painting company, estimating how much paint was needed for a job and the cost. I thought it would be great to use the measurement tool on an iPhone to figure out how much paint you need for a project and then get the materials delivered. So I created an app called iPaint. The fact that the judges thought my idea was worthy of a reward was a huge confidence boost," he says.
As for the judges: They are an esteemed group of accomplished entrepreneurs. Some are alumni; others are local start-up stars – but all have hands-on experience building a business from the kernel of an idea through a high-powered growth stage. This year's panel included the following big names.
THE HIGH-TECH TITAN
Peter Cammick '79, MBA '89, who majored in economics and finance as an undergraduate, has several connections to UT. His brother, Michael Cammick '81, MBA '88, and daughter, Alison Cammick '02, M.S. '17, MBA '17, are also Spartans. He worked in Admissions at UT as a student and as a volunteer for years afterward. And it doesn't end there.
Cammick coordinated with UT to set up the Bob Cook Memorial Endowed Scholarship to help future students. He even played a role in bringing wireless connectivity to campus. "In about 2000, when Wi-Fi was in its infancy, I started my technology company, Network Dynamics. I thought it would be a cool thing for UT to have and donated the access points and installation of wireless into the Macdonald-Kelce Library. It all just exploded from there, and we wound up implementing the campus-wide Wi-Fi in the years that followed."
After launching his career at GTE Data Services, Cammick pursued starting and selling high-tech companies. Most recently, as president and COO, he grew another tech-solutions company, Global Convergence, from a few million to $80 million in value until it was sold last year.
No matter how intense the pace of his career, he always stayed in touch with UT, visiting the center and keeping tabs on the hockey team (a personal passion). For Cammick, volunteering as a judge was a terrific way to give back to a school that helped steer him toward success.
"For me, the point isn't about which ideas will be successful," he says. "It's about this incredible environment for students to be creative, explore the process and have the community recognize what they are doing. Will one of these ideas be the next FedEx or Google? Who knows? But the students will learn so much just by being a part of this experience."
THE REAL ESTATE MAGNATE
John Jassy found his niche as a real estate developer, first in Naples, FL, and Fort Myers, FL, and now in the Tampa area. He entered UT's orbit via joining the Board of Fellows, a network of community and business leaders committed to enhancing UT's success. As he spent more time on campus, he was especially impressed with what was going on at the center.
Jassy says his career has taught him— the hard way — lessons he wanted to share with Spartans. "If you've got an idea, you've got to try it out. The most challenging decision is how long you stay with it till you say, 'This isn't going to work,'" he says. "You will, of course, get knocked down a couple of times, but you've got to keep trying." That entrepreneurial passion was evident among the C.R.E.A.T.E. competitors, and their energy was contagious. "I saw the willpower and personal drive among the contestants that tells me they may well push their ideas through," says Jassy. "I also appreciate the great job the University is doing in preparing students for what they will really find when they get out there in this area of the working world."
THE DATA PIONEER
Jeff Wells '84, who was a computer information systems major, knows firsthand the difference a Spartan education can make. He began his career at Shop and Go (sold to Circle K) and later started Metrc LLC, where he serves as CEO. "We're a tech company that provides track and trace to government and regulatory bodies, especially solutions in the cannabis industry," he says of his Lakeland, FL-based business.
Wells became involved in the C.R.E.A.T.E. competition after hiring a UT graduate, Shay Romine '11, recently. "She said keeping up with UT would be a good source of talent for us and set up a meeting for me on campus," says Wells. Returning to UT, he says, "I was very intrigued by how much had changed and was most interested in the center. It was so refreshing to see that higher ed is recognizing and guiding the entrepreneurial spirit. Now, having served as a judge, I have seen that the students are very well-prepared — every last one of them."
THE LOCAL HERO
Daryl Hych, president/CEO of the Switzer Hych Group, a Tampa-based consulting and publishing business, synced up with UT through his laser focus on uplifting entrepreneurs. For his magazine, Tampa Bay Pioneer, he interviewed Rebecca White and the two of them clicked immediately. When serving as a judge, he was wowed by the program, he says, both by "the creativity and the diversity of the students who participated."
"Also, to be in the room and see the support the students had from friends and family meant so much," he says. "Clearly, the program gets people to understand the drive these young entrepreneurs have. To participate in that was really what I call a 'warm fuzzy' for me."
ROOM TO DREAM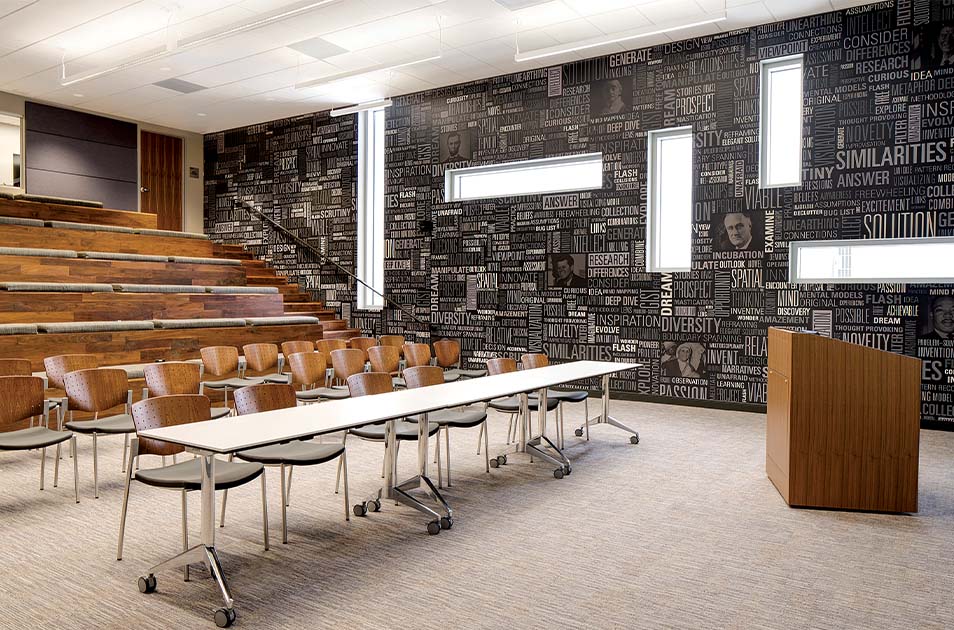 One of the facets of the C.R.E.A.T.E. competition that made an impression on the judges was the room in which the students pitched their projects. "The wallpaper was designed with a local graphic designer to showcase words and photos that were related to developing and pitching concepts," says Rebecca White, the James W. Walter Distinguished Chair of Entrepreneurship, director of the center and a professor of entrepreneurship. Words like dream, diversity, difference, incubation and inspiration run from floor to ceiling, and great inventors, from 18th-century engineer James Watt to Microsoft's Bill Gates, are depicted.
---