December 2019 Spartan Spotlight
Nick Galvez MBA '04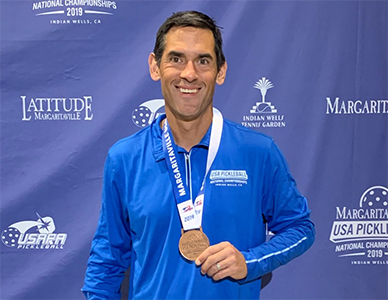 Nick Galvez MBA '04 graduated with a Bachelor of Science in physical therapy from the University of Florida and an MBA from UT, which he's applied to a successful career in the healthcare industry. Earlier in his career, he gained experience as a physical therapist and directed rehabilitation programs. He currently serves as a program manager for the North Carolina Department of Health and Human Services in order to provide healthcare and support for rural and underserved counties within the state.
Although he is passionate about his career, there is another part of his life that he actively pursues and enjoys sharing with others. Since 2012, practicing and playing pickleball has had a standing reservation on his weekly agenda, and his hobby has even led him to place in several tournaments. Pickleball is a paddleball sport that combines elements of tennis, badminton and table tennis. He won a gold medal for his age division in the 2018 US Open after competing against 12 other players. Later in October 2018, he won a silver medal in his division competing in the USAPA Regional tournament located in Griffin, GA. This finish qualified him to play and win third place in the 2019 USAPA Nationals tournament, USAPA being the nonprofit that oversees and regulates the sport. Galvez says, "My goal is to move from my current rating of 4.0 to the pro level rating which is 5.0." Players earn a number rating in order to compare skill levels.
His commitment to pickleball allows him to travel the US and the world while still being active with his wife and two kids at home. During a typical week, Galvez will practice two or three times a week and also coordinates a singles league in the Chapel Hill area as a volunteer. He even acts as a representative for a paddle company in the area, selling paddles and promoting the sport.
Galvez chose UT for his master degree after hearing other students in the area speak highly of the campus and programs. "I loved the fact that it was in downtown Tampa and close to the business community." He also liked being in a setting with other working professionals like himself. One professor that stood out to him was Erika Matulich, who taught his marketing research class. Even now, Galvez says he uses his classroom knowledge when it comes to forecasting and financial analysis. He still keeps in touch with his UT friend, Dave Armstrong, on a regular basis.
His advice to the UT community is to "focus on finding something you're passionate about. Hopefully, it's with work, but if not, then keep pursuing your hobbies. I have a passion for healthcare, because I get to help people but I also have a passion for competitive sports so I make that a priority too."