February 2020 Spartan Spotlight
Francisco Garcia MBA '18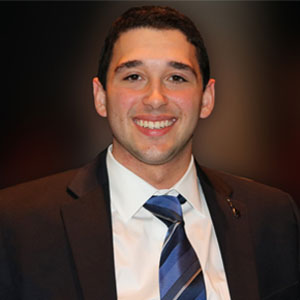 Francisco Garcia MBA '18 currently serves as the digital operations and marketing specialist for BeniComp Health Solution, a company that uses prediction, prevention and technology to transform healthcare for employers and employees. In his role, Garcia works to uniquely structure group health plans and provide an ROI to employers while measurably improving employee health. He also helps employers provide employees with preventive health technology, which allows them to gain insight into what is actually going on within their bodies, right beneath the surface. This high-touch, self-serve technology allows people to hone in on their health risks. For this reason, he believes that the opportunities in healthcare lie in using technology to empower people to influence their health through decision-making resources. With tools like these, people will be able to predict and prevent their own health risks while also alleviating their financial strain. Garcia was recently recognized as a 2020 Rising Star in Advising by Employee Benefit Adviser.
Before he stepped into his role at BeniComp, Garcia said that UT gave him the avenues to develop his professional toolset. Outside of class, he worked as a graduate assistant in the First-Year Experience office and was the coordinator for the financial literacy program. He also actively pursued public speaking opportunities not just at UT, but at Providence College, Duke University, the University of Rhode Island and others.
Garcia said it all begins with a growth-mindset, which is what enables anyone to effectively and efficiently use any toolset. His advice is to align your personal and professional goals to create purposeful work and strive for excellence every day by seeing challenges as opportunities to thrive. Ultimately, he said this is how he found his passions and empowerment for optimizing his own personal success. Garcia also said that it's important to develop your personal brand. "We all have different life experiences. People connect with people. That's who people want to work with. If people can see your values, passions and your commitment, that's what makes a difference!"