October 2019 Spartan Spotlight
Jessica Killin '95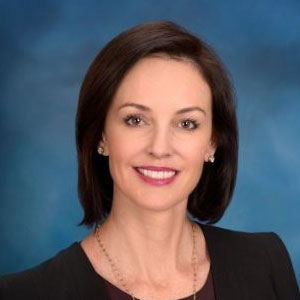 Jessica Killin '95 said, "The longer I live, the more I realize the impact of attitude on life. It is more important than the past, the education, the money, than circumstances, than failure, than successes, than what other people think or say or do. It is more important than appearance, giftedness or skill. It will make or break a company...a church...a home. The remarkable thing is we have a choice every day regarding the attitude we will embrace for that day. We cannot change our past...we cannot change the fact that people will act in a certain way. We cannot change the inevitable. The only thing we can do is play on the one string we have, and that is our attitude. I am convinced that life is 10% what happens to me and 90% of how I react to it. And so it is with you. We are in charge of our attitudes. "
While at UT, Killin earned her degree in criminology and was involved in organizations such as the UT Year Book, Alpha Chi Omega sorority and ROTC. She was also a resident assistant in ResCom and Delo Hall.
Killin graduated and was commissioned as a second lieutenant in the Military Police Corps of the US Army. She started her military career as a Platoon Leader in Germany, which she views now as one of her most life-changing opportunities. She spent most of her five years of regular Army service overseas in Europe before transitioning to the Inactive Ready Reserve for another three years.
Killin continued her public service work as a legislative staffer for former Sen. Bill Nelson (D-FL) and Sen. Tom Carper (D-DE) while attending Georgetown University Law Center in Washington D.C. She earned her J.D. degree and went on to practice law at Latham & Watkins, LLP, specializing in private equity mergers and acquisitions for three and a half years. Killin then returned to her passion—public policy—as a federal government relations assistant vice president at USAA.
Recently, Killin took a year off politics to travel and evolve, during which she further pursued her passion for wine and obtained two different sommelier certifications. She came to realize she missed public policy and headed "back to the Hill" in 2018 hoping to fight the good fight. Killin was soon selected to serve as Congresswoman Donna Shalala's chief of staff and believes her education and many years of experience helped her achieve that goal.
With influences from UT professors, such as Jan Dargel and Richard Piper, she was introduced to the world of law and new levels of thinking. With the guidance of leaders in the military, senators she worked under and even her husband, Killin has been able to meaningfully interact with the community and give back to her country.
Killin shares her perspective for current UT students: along the path of life, you will always meet people who influence you and help you to grow, and it is up to you to evolve into the best person you can be.