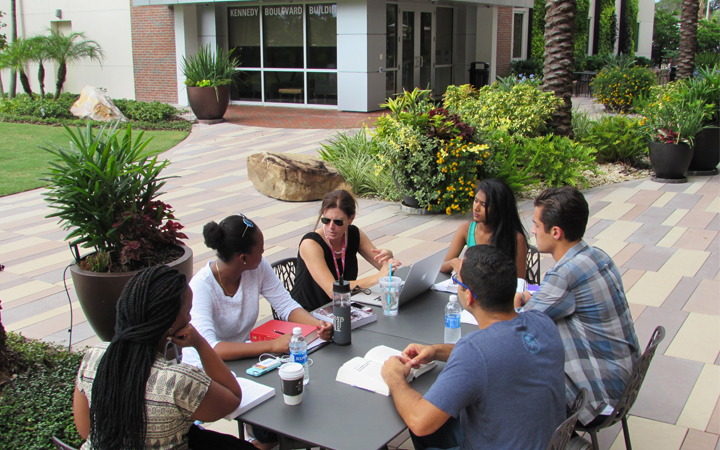 The Bachelor of Arts in Political Science gives students the knowledge and skills necessary to succeed in today's world. Offering a diversity of courses in American politics, international relations, comparative politics, law, local government, political philosophy and more, the program challenges students to understand local, national and international problems, analyze cross-cultural issues and anticipate emerging trends in governance. The degree prepares students for rigorous graduate coursework, top-rated law schools and exciting careers in both public and private organizations. Particular attention is paid to developing students' critical thinking and research skills, so they may develop political awareness and participate effectively in domestic and international affairs.
The political science major offers a choice of four concentrations: 
American Government - Prepares students to understand politics in the United States at the local, state and national levels. Courses in this concentration consider such topics as campaigns and elections, public opinion, institutions (executive power, legislative and judicial politics) and public policy.
Law and Government - Focuses on issues in both U.S. and global legal systems, including legal theory, the First Amendment and comparative legal analysis. Students engage in a range of topics including the meaning and interpretations of constitutions, judicial decision-making, rules for state interaction, social change and how rules inform the behavior of governments, organized interests and individuals.
World Affairs - Leads students to an understanding of the global political landscape through study of international organizations, political economy, global security and domestic politics in selected regions including Africa, Asia, Latin America, Western Europe and the Middle East. Students who specialize in world affairs are well suited for careers in diplomacy, foreign development work, non-governmental organizations focusing on human rights in the international environment and positions in multi-national corporations that work around the globe.  
General Political Science - Gives students the broadest possible understanding of political science. Majors who choose the general concentration are well suited for careers in law, diplomacy and politics, and they regularly complement their Bachelor of Arts degree with graduate school in law or political science.
In addition, majors in the program may choose to complete a minor in Asian studies or  Latin American studies or a certificate in European studies. The certificate programs offer students the opportunity to strengthen and supplement their major with a multi-disciplinary focus on either Europe or Latin America.

Students can earn a minor in political science with 16 additional credit hours in political science courses.
Topics of Study
American government
Political parties and interest groups
Media and public opinion
Public policy
Political thought
U.S. national security
International political economy
International organizations
Regional studies, including Western Europe, Latin America, East Asia, Africa and the Middle East
International law
Comparative legal systems
Constitutional law
Career and Graduate School Opportunities
Political science majors have begun careers upon graduation in organizations ranging from the Florida Public Interest Research Group, the Democratic Leadership Council and the Heritage Foundation to the City of St. Petersburg and Hillsborough County government. Others have been accepted to excellent graduate programs such as those at the University of North Carolina, Colorado State University, Rochester, Florida State University and Columbia University, as well as law schools including Northwestern, Georgetown, the University of Florida, Wake Forest, Harvard, Cornell, Ohio State University, University of Texas, Stanford, University of California–Berkeley and Notre Dame. 
Experiential Learning Opportunities
The Department of Political Science and International Studies provides numerous opportunities for students to get hands-on, real-world learning experiences. Internships in varied fields such as politics, law, city planning and marketing research are available. Using both direct placement and the Washington Center program, the department has had great success placing students into internships with local, state and federal employers.
In addition to internships, students are encouraged to participate in numerous other opportunities such as:
Study abroad trips – led by faculty members – to locations such as Europe, Africa, Asia and Latin America
Presentations at local, state and national conferences on political science
Independent studies
Interaction with guest speakers, including ambassadors, high-level U.S. government officials and global activists
Field experiences
Service learning
---