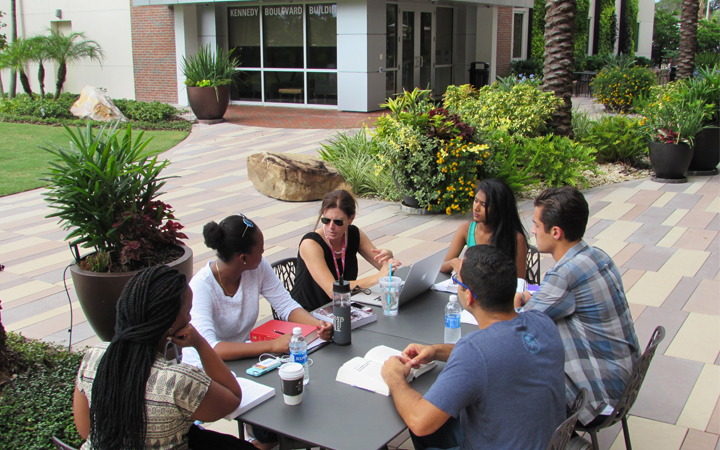 The Bachelor of Arts in Political Science offers a diverse array of courses in American politics, international relations, comparative politics, law, public policy and more. The degree program challenges students to understand local, national and international problems, analyze cross-cultural issues, and anticipate emerging trends in politics and governance. Majors develop critical thinking and research skills to analyze and participate in politics both as scholars and as citizens.
Political science majors are required to take five core courses designed to introduce them to different theories and approaches to studying politics, as well as the ability to answer their own questions about politics and government through research. Students apply their knowledge and skills through their electives. Majors are required to take one 400-level research-intensive course.
Outside of the core requirements, students have the flexibility to design their own plan of study based on course availability. The following plans are just a few examples; majors should be creative in tailoring their courses to their interests and needs in consultation with their faculty advisor.
Example course plans; subject to availability
Law and Policy
PSC 285 Environmental Politics and the Developing World
PSC 307 Law and Society
PSC 321 The Presidency and Executive Power
PSC 375 Constitutional Law I (1): Institutional Powers
PSC 376 Constitutional Law II (2): Civil Rights and Liberties
PSC 401 Public Policy Analysis
PSC 410 International Law
Institutions
PSC 202 International Political Economy
PSC 306 Politics of the Family
PSC 309 State Politics
PSC 340 The European Union
PSC 342 Political Economy of Latin America
PSC 405 Congress and Legislative Politics
Decisionmaking in Politics
PSC 215 Introduction to Public Policy
PSC 312 The Politics of Money
PSC 326 Political Campaigns and Electoral Politics
PSC 370 American Judicial Politics
PSC 380 Political Psychology
PSC 426 Public Opinion
Peace and Conflict
PSC 280 Introduction to Peace Studies
PSC 225 International Human Rights
PSC 302 U.S. National Security Policy
PSC 305 Nuclear Proliferation and Nonproliferation
PSC 341 International Relations of East Asia
PSC 345 Politics of the Middle East and North Africa
PSC 446 International Organization
Politics in a Changing World
PSC 206 Contemporary Latin America
PSC 318 Science, Technology and Public Policy
PSC 343 The Politics of Development
PSC 365 Politics of East Asia
PSC 412 Comparative Judicial Politics
PSC 444 The Political Economy of Africa
---