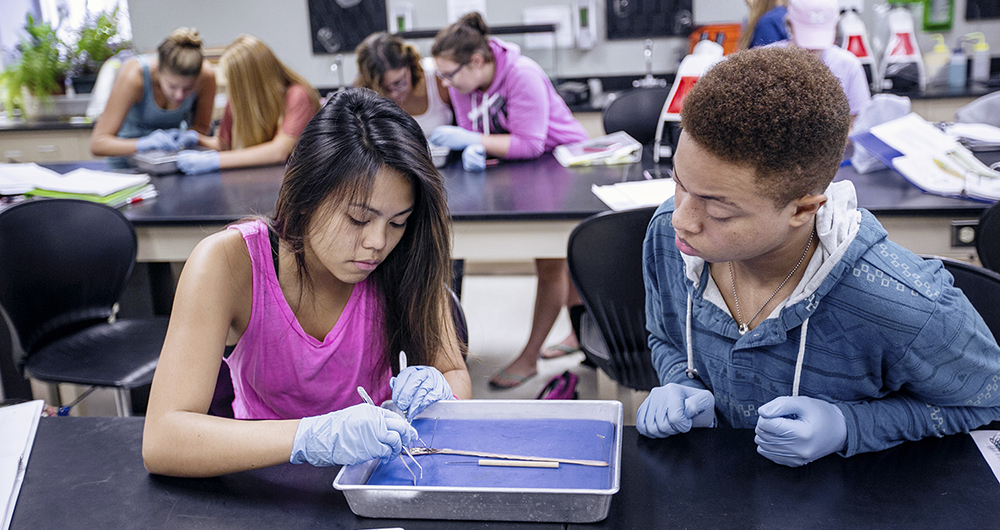 The Department of Biology offers five majors and three minors, in which multiple tracks or "concentrations" are available, and some of which are closely linked to other degree programs or departments.
Majors
Bachelor of Science in Biology: This broad but intensive program can be tailored to fit nearly any career path, including preparation for governmental or private sector employment in the field or in the lab, as well as preparation for graduate studies and acceptance to degree programs in health-related fields. Four concentrations are available in this degree program: general biology, molecular biology, pre-professional biology and biology-business.
Bachelor of Arts in Biology: Recently added to the list of degrees offered at UT, the Bachelor of Arts in biology is similar to the Bachelor of Science in biology, but allows additional flexibility for students preparing for a career or graduate program that relies less on courses in chemistry and physics. Two concentrations are available in this degree program: general biology and organismal and evolutionary biology.
Bachelor of Science in Marine Science-Biology: This rigorous major combines the specialization of a marine science curriculum with the conceptual and taxonomic breadth of a general biology curriculum. Numerous experiential learning, internship, and faculty-led research opportunities are available through the UT Marine Science Field Station and elsewhere.
Minors
Minor in Biology: A valuable addition to the degree programs of students pursuing degrees that require a basic knowledge of the natural world, such as chemistry, physics, psychology, exercise science, and any other degree that might be strengthened by a general knowledge of biological principles.
Minor in Marine Biology: With the increasing number of marine-related issues in the world today, such as declining commercial fisheries and the potential effects of global warming, this is a valuable addition to degrees in chemistry, business, political science, and any other major that requires, or would be augmented by a specific knowledge of marine organisms, systems, impacts and conservation.
Pre-Health Professions
Pre-Health Professions Biology Concentration: Students majoring in biology who are interested in the health professions (medicine, dentistry, optometry, pharmacy, podiatry and veterinary medicine) typically will follow the pre-health professions concentration. By majoring in biology students take most or all of the required pre-requisite courses as part of their degree program.
Biology Education Degrees
Students interested in pursuing a career in biology secondary education also have the option to pursue the Biology Education Major. University of Tampa biology graduates will have a solid foundation for pursuing graduate programs in biology education programs, such as UT's Masters in Education degree. These programs combine contemporary scientific knowledge with rigorous teaching skills to prepare graduates for careers in public and private education systems, which now require advanced degrees in nearly all 50 states. Both of these programs are offered through the Department of Education.
---