Published: November 18, 2022
UT Club Golf Headed to National Championships
In just five years, The University of Tampa's Club Golf team has grown from a group of seven to over 70 members. In December, the club will make its fourth appearance at the National Collegiate Club Golf Association (NCCGA) National Championship.
"I think this is the year it gets done," said president Carson Yonker '24, who said the club has previously come in second, third and fourth place in nationals. This year, the two-day tournament will take place at Palute Golf Club in Las Vegas on Dec. 3 and 4.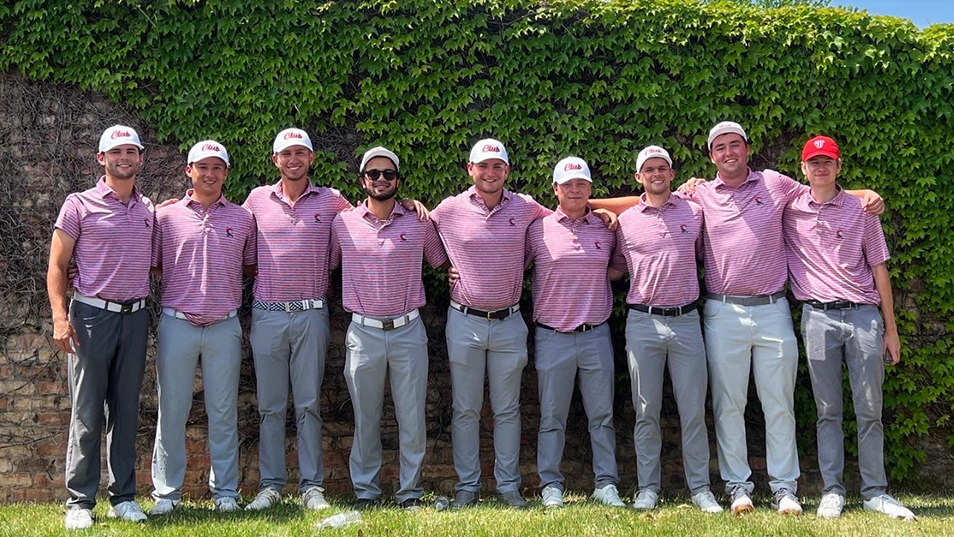 In December, the club will make its fourth appearance at the National Collegiate Club Golf Association National Championship. Photo courtesy of Carson Yonker
The journey to the championships hasn't been easy, Yonker said, as the club is primarily playing against division 1 schools. In order to qualify for the national championship, the group had to place in the top two schools. The team tied with the University of Florida for first place.
Yonker said the team felt like new kids at the bottom.
"That's what makes this team so special," he said. "No one expects us to be at the level we're at. No one expects us to shoot under par or win championships."
This year, the team broke the club's scoring record as a team for a two-day tournament at nine under par at Royal St. Cloud Golf Links in St. Cloud, FL.
Two students, George Eubank Jr. and Nolan Nicklas, won individually during regular-season tournaments. Eubank's was at Royal St. Cloud Golf Links while Nolan's win came just two weeks later at Bent Tree Country Club.
A Big Family
Yonker played club golf at an NCAA school up north before transferring to UT as a second semester freshman because the school wasn't the right fit. He wanted to be in a bigger city and closer to his home in Lutz, FL. Plus, his father and his sister are both University of Tampa alumni.
Once at UT though, Yonker was unsure if he wanted to continue to commit to the sport full-time. However, after a student in one of his classes suggested the club team and knowing that it'd be a great way to make friends as a transfer student, he was all in.
"Everyone there cares — everyone's always willing to help," said Yonker. "Everyone likes each other. We all hangout with each other like a big family."
As there is no coach for the club team, the group decides together when and where they want to practice. The team plays at Rogers Park Golf Course in Tampa every Friday for practice.
If you're interested in joining club golf, Yonker said the best time to join would be between semesters, such as winter break or summer. Students can find the group on InvolveUT or their Instagram, @tampaclubgolf.
To follow the team's progress at nationals, follow NCCGA on Instagram @NCCGA.
Have a story idea? Contact Brianna Kwasnik, Digital Content Editor/Writer
Read more UT Life stories.
Subscribe to News and UT Life.
---