Published: February 21, 2023
Narrow Down Your Career Choices, Widen Your Horizons in Collegiate Leadership Program
When it comes to choosing a career path, it helps to get a sense of what certain jobs look like in real life.
Thanks to a program from the Tampa Bay Chamber, a select group of students is getting such an opportunity, including UT's Michelle Figura '24.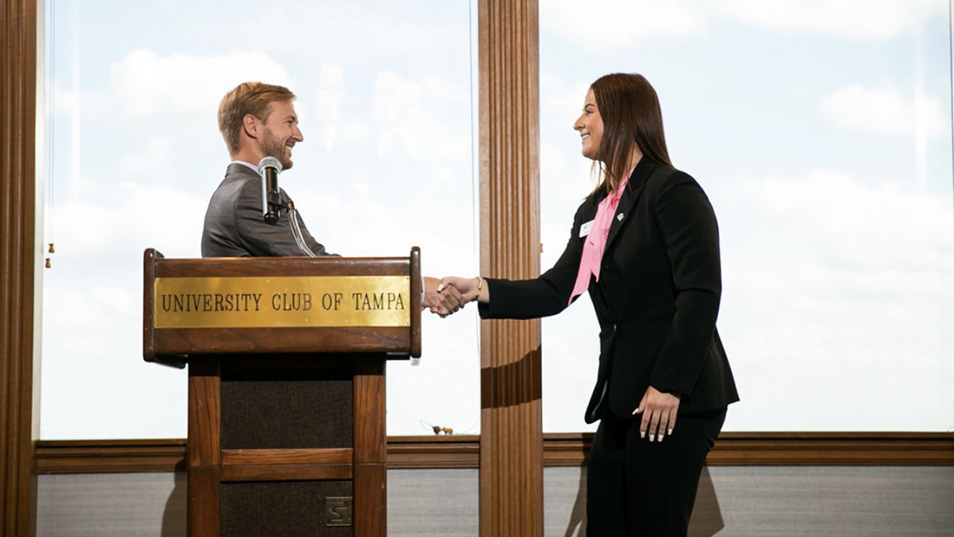 Michelle Figura being introduced by Wyatt Krapf (Collegiate Leadership 2022 Chair), to give her Collegiate Leadership Class of '22 Speech at the Graduation Ceremony as the representative of The University of Tampa. Photo Courtesy of Michelle Figura

Figura was a part of the 2022 Collegiate Leadership Tampa Bay cohort, a group of students from local colleges that meets once a month to tour businesses in a variety of sectors including sports, financial, nonprofit and the military.
The idea is to provide opportunities for students to see and experience different career options within each sector. According to the Collegiate Tampa Bay website, graduates of the program are able to identify and build upon their leadership style, develop professional skills to secure meaningful employment, explore career pathways, access peer-support and professional networks, and become active members of the community.
For Figura, the decision to apply for the program came out of a "Why not?" moment. She says she saw an email from UT about the program, and since she was not involved in much on campus at the time, she decided to apply.
Her initial casual interest has paid off.
Figura was one of only 24 students from UT, the University of South Florida and Saint Leo University who were selected for the two-semester-long program, and she says it's helped her solidify her desire to pursue a career in finance.
"I learned about careers I had no idea were within finance," she said. "My options weren't limited to working at a bank or as a financial advisor, which was all I really knew coming into the program."
Figura also had opportunities she never thought she'd have, like going on a ride along with a police officer.
Figura couldn't help but pick up some real-world skills along the way, too.
"It helped me with school, but also with leadership and communication skills," Figura said. "You learn how to better market yourself because you're put in front of individuals who want to know more about you."
Collegiate Leadership Tampa Bay runs from October to April each school year, and students who will be sophomores, juniors or seniors within the program timeframe can apply. Interested students must be in good academic standing and have demonstrated leadership within their community.
Applications open in October the year before the program starts to allow students who are accepted to plan their class schedules around the program. The application period for the class starting in October 2023 has already closed, but there are ways interested students can get ready to apply next time.
To anyone thinking about being a part of the program, Figura recommends asking a lot of questions.
"I got so much information, and I figured out more about my career," she said. "I think everyone here should apply. It's an extensive application process, but it's definitely worth it."
For more information on the Collegiate Leadership Program, visit TampaBayChamber.com/CLTB.
Have a story idea? Contact Brianna Kwasnik, Digital Content Editor/Writer
Read more UT Life stories.
Subscribe to News and UT Life.
---