Published: January 20, 2023
Lace Up Your Skates: Women's Club Hockey Wants You
When Reilly Sargolini '24 gets worried about classes, she knows the best way to chill out — on the ice.
The education major from Hamden, CT, is the president of UT's women's club hockey team, which will head to Fort Myers Feb. 10-12 to compete in its next tournament.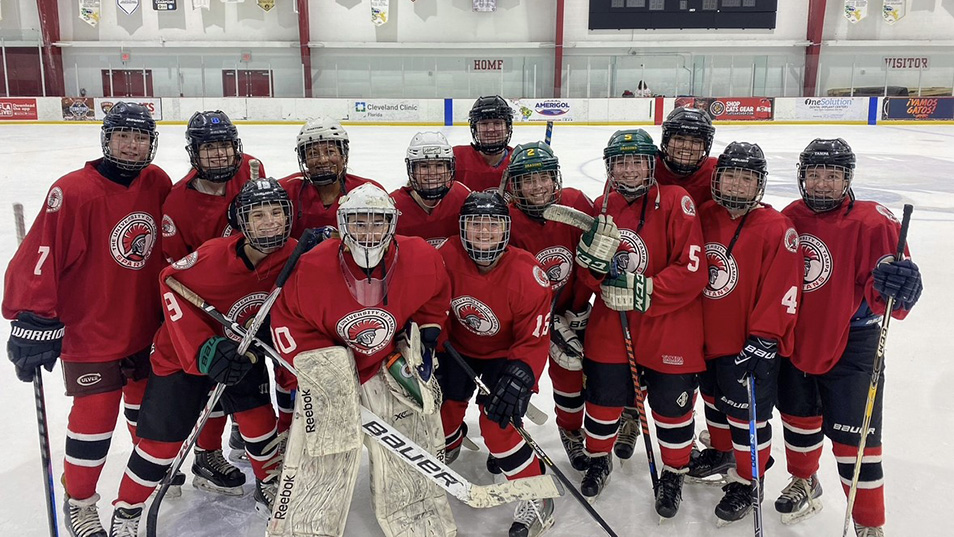 The UT women's hockey club will head to Fort Myers Feb. 10-12 to compete in its next tournament. Photo courtesy of the UT Women's Hockey Club

Sargolini has been playing hockey all her life, but she says the UT team is different. "It's more laidback than other teams," she said. "I like the energy. Everyone gets along."
Being on the team has been stress-relieving, Sargolini said, often getting her through tough times during the semester.
"Being on the team helps me with school stuff," she said, adding that the women will all bring their homework to work on in between games.
The team joined the College Hockey South (CHS) league for the 2023-2024 season. They join other college club hockey teams like Auburn University, University of Miami and University of South Florida. They compete in a season that lasts from August to March. Their current record is 7-4-0.
The team typically competes in one tournament per month, which is comprised of three to four games in a weekend.
This season, the women are hoping to recruit more players and attend more competitions, Sargolini said.
Sargolini said she wanted to be president of the club because she wants to help the program, which is only about six years old, grow. That desire runs in the family: Sargolini's sister, who graduated in 2021, played hockey for UT.
The women practice every Thursday from 9:45 to 10:45 p.m. at the Clearwater Ice Arena, which is about 20 to 25 minutes away from UT's campus. Anyone interested in playing is welcome to join.
"Show up to a practice and see how it goes!" Sargolini said.
You can follow the team on Instagram @utampawhockey.
Have a story idea? Contact Brianna Kwasnik, Digital Content Editor/Writer
Read more UT Life stories.
Subscribe to News and UT Life.
---