Published: November 19, 2020
Budding Entrepreneur "Keyp"s Keys Secure
The lemonade stand is a childhood staple for many. A small table set up by mom or dad fit with a sign reading some variation of "fresh lemonade" or "$1 a cup," with an ice-cold pitcher filled to the top sitting at the edge of the table just waiting for some customers. Entrepreneurship major Austin Gappelberg '22 started his first lemonade stand at the age of 10.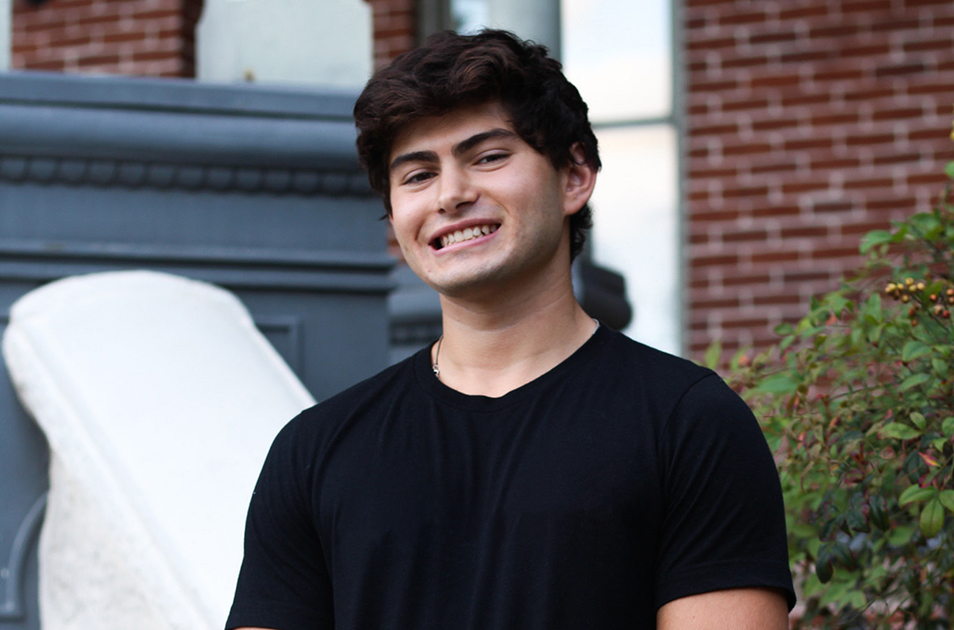 In September, Austin Gappelberg '22 launched Keyp, a company that manufactures a small pouch that sticks to the back of a mobile phone and has enough slots to hold several cards, cash, as well as keys. Photo by Madison Schorle '22
"I came up with this idea of 'tips only'," said Gappelberg. "If you charge 50 cents or a dollar for lemonade, they're only going to pay you that. If you do tips only and you're a cute little 10 year old, you can get like $5 for a glass of lemonade."
This was the first of many small projects Gappelberg took on as an eager, young entrepreneur, who originally got the spirit from seeing his father take on his own ventures.
"My dad has been my inspiration; he kind of put me on that path, and I've just always had entrepreneurship in my blood," said Gappelberg.
Prior to transferring to UT in 2020, Gappelberg was a first-year student at the University of Delaware, where he did what many have done before him — he lost his dorm room key. After paying the hefty key replacement fee and seeing others experience the same thing, Gappelberg thought that there must be a product that can help people keep their keys in sight. After searching for something other than a lanyard, Gappelberg came up empty.
That was the beginning of Keyp: Gappelberg's first official business that formally launched on Sept. 20. With the money he's earned from summer jobs over the years overseeing his dad's chocolate factory on Long Island, Gappelberg was able to pursue Keyp to deliver a high-quality, problem-solving product similar to a phone wallet.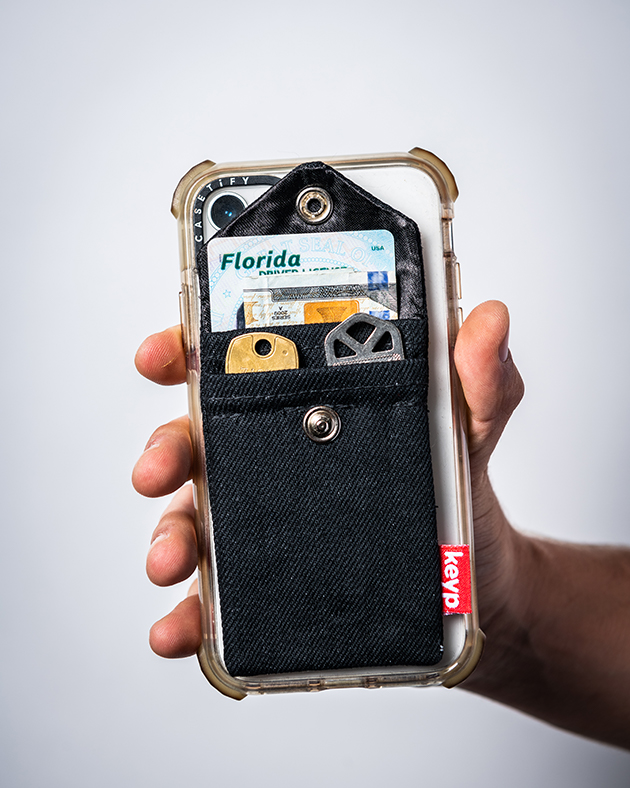 Keyp delivers a high-quality, problem-solving product similar to a phone wallet. Photo courtesy of Austin Gappelberg '22
Keyp is a small pouch that sticks to the back of a mobile phone and has enough slots to hold several cards, cash, as well as keys, which makes it unique. The product is made out of denim material and has a flap that snaps closed to secure all belongings.
It's been a long process for Gappelberg and Keyp to get to where they are now. In the beginning, he wasn't even sure how he was going to create the first prototypes to test the product.
"I didn't know how to sew; I still barely do," said Gappelberg. "I've learned that using your resources and your network is important."
Gappelberg reached out to the fashion department at his previous university and found two students who helped create a prototype. He then had students test the product and provide feedback on the material, design and overall desirability. At UT, Gappelberg is part of the Spartan Accelerator program, which pairs students with a team of experts to assist in business plans and development. Through this, he's been surrounded by other UT students building their own businesses, which has helped him in his own success.
"It's rare to find such motivated students on a college campus, and the accelerator program brings us all together," said Gappelberg, adding that the program has connected him with several successful entrepreneurs who have given him advice over the last few months.
To Gappelberg, having the product work for the customer was his top priority. He specifically wanted a high-quality product, rather than the million rubber phone wallets that are seen on almost all student phones. Gappelberg chose to work with denim to make his product more durable and stand out from others in the market.
Gappelberg struggled to find a manufacturer in the U.S. but landed on one in Los Angeles, CA. After months of product testing and customer feedback, setting up a manufacturer and figuring out logistics, Gappelberg was finally ready to get the final product and launch. But, like so many things, it was delayed due to the pandemic.
"I was expecting to get units in March, but thanks to COVID, six months later we have inventory," said Gappelberg. "There were lots of issues with my manufacturer and I had a buyout with my business partner, so there's been a lot going on in the last six to 12 months, even with a small product like Keyp."
Despite the challenges, Gappelberg was able to launch Keyp this September utilizing TikTok and was surprised to find his video going viral with over 150,000 views. Since the launch of Keyp, Gappelberg has sold about 65 units, both online and on-campus at UT. It's currently selling for $24.95 and comes in a dark wash blue or black color.
Going forward Gappelberg plans to build up Keyp's brand and get it into as many hands as possible to help people not lose their keys. He's also starting to work with Fraternity and Sorority Life on campus to do some collaborations and can see Keyp possibly going into retail locations such as American Eagle, Levi's and other denim brands down the road.
"Keyp is just the first product of many," said Gappelberg. "I have goals to create a product line of problem-solving products made from denim."
Story by Mallory Culhane '21, journalism major
---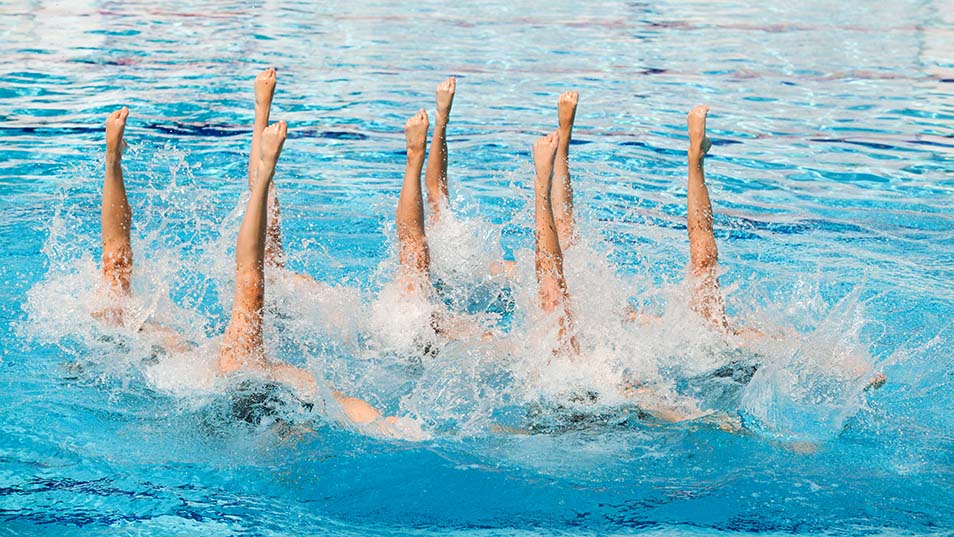 Synchronized swimmers are choreographing a production to a soundtrack of experimental music by UT students.
Michael Hurwitz, restauranteur and franchisee of the well-known Uno Pizzeria & Grill, will be on the hot seat at The University of Tampa's Ethics Hot Seat Speaker Series.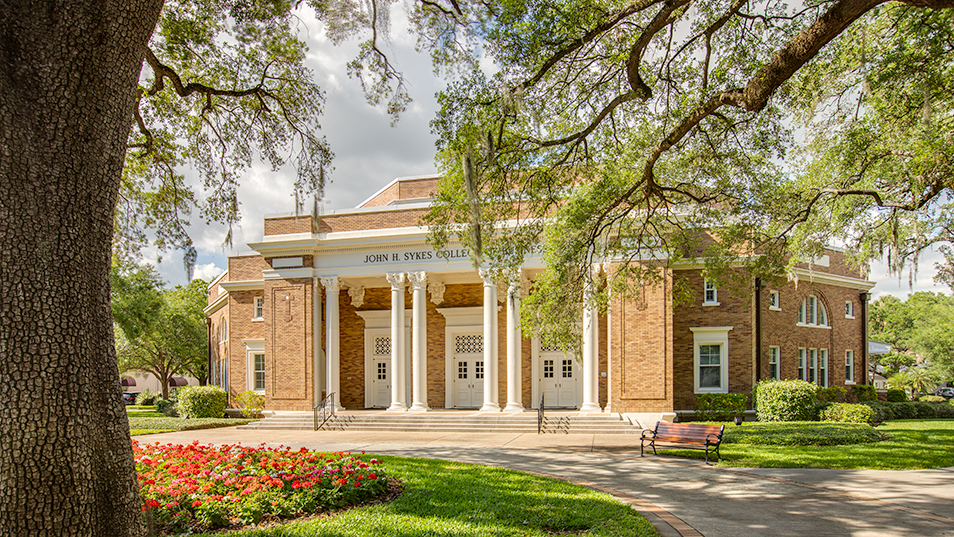 The speaker is Bob Johnston, chairman of the board and CEO of Front Burner, a restaurant management company headquartered in Tampa.