Published: January 05, 2017
Arts Integration in Education Book Launch, Discussion at UT Jan. 29
On Sunday, Jan. 29, The University of Tampa will host a book launch and signing event for Arts Integration in Education: Teachers and Teaching Artists as Agents of Change, a book featuring multiple perspectives on how arts-based training and arts-integrated pedagogy can affect changes in the educational system. The event begins at 3 p.m. in the Scarfone/Hartley Gallery, 310 N. Boulevard.

The keynote speaker for the event will be Darrell Ayers, former vice president of education at the Kennedy Center for the Performing Arts in Washington, D.C. The book's editors, Gail Humphries Mardirosian and Yvonne Pelletier Lewis, will serve as moderators for a panel discussion with UT dance professor Susan Taylor Lennon, former UT education professor Martha Harrison, Lynn Fox, Willa Taylor, Kathi Levin and UT alumna Tanya Thomas. Entertainment will be provided by UT dancers and musicians, as well as students from the Patel Conservatory.

With more than 30 contributing authors, Arts Integration in Education includes passages from diverse constituents — theorists, psychologists, education professors, teaching artists, classroom instructors — who offer their practiced and practical perspectives on the power and possibilities of creatively charged learning communities.

"Arts integration levels the playing field so that all children have the possibility to succeed socially and academically," said co-author Gail Humphries Mardirosian. "This book is strong testimony to the power of the arts."

Co-author Yvonne Pelletier Lewis adds, "The book demonstrates why and how arts-integrated teaching and learning will enable today's students to reach their potential and lead us into our changed and changing world."

Copies of Arts Integration in Education will be available for purchase at half price at the event and refreshments will be served. The event is co-sponsored by the UT Office of the Provost, the College of Arts and Letters, and the College of Social Sciences, Mathematics and Education. RSVP to Susan Taylor Lennon at staylor.lennon@ut.edu.
---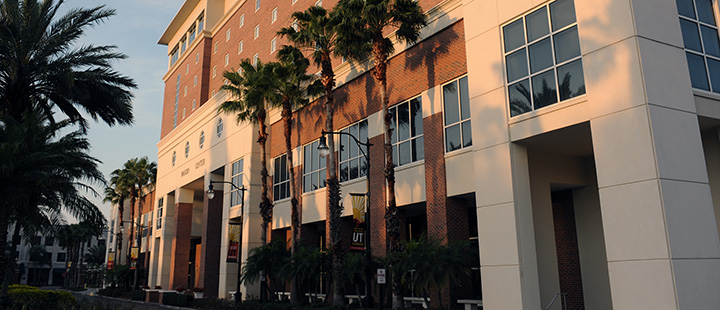 The Adam Smith Society Breakfast is geared toward local business community members operating in the global economy. The event includes breakfast as well as an update on the Tampa Bay economy by John Stinespring, UT associate professor of economics, and Vivekanand Jayakumar, UT associate professor of economics.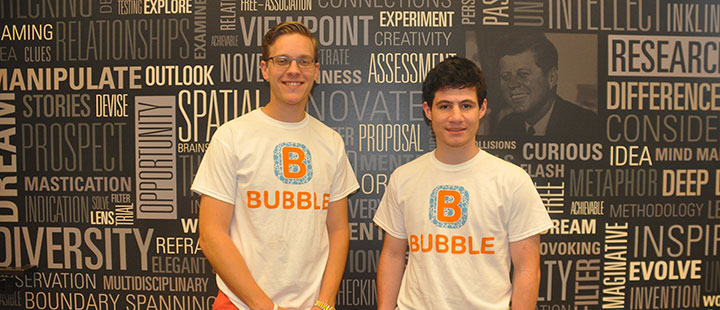 During freshmen orientation in the fall, Michael Joyce '20met a lot of new friends but found it a pain to track down each person's manysocial media handles. So Joyce, along with Andrew Bernstein '20, created amobile application they call Bubble.
Launching at UT's Party in the Park on April 7, the Bubbleapp is a tool that allows users to connect to their friends' social mediaaccounts seamlessly. In addition, users can create groups, called bubbles, andwhen those groups of people go out to a restaurant together, they can receiveup to 25 percent off their meal at places like Tampa Pizza Company and DailyEats.