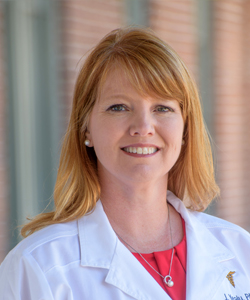 Passion, Service, Respect
The faculty in The University of Tampa's Department of Physician Assistant Medicine are committed to teaching the science and the art of medicine.
We are guided by a passion for student success, service to the community and respect for the medical profession.
Physician Assistant Medicine Program
On behalf of the dean, faculty and staff of UT's College of Natural and Health Sciences and department of physician assistant medicine, I want to welcome you to our website. Our 27-month, 112-credit program is designed to prepare graduates to provide medical care as part of an interprofessional healthcare team. Upon successful completion, graduates will receive a Master of Physician Assistant Medicine (MPAM) degree.
The medical faculty, including physicians, physician assistants (PAs), pharmacologists, anatomists, physiologists, molecular biologists, and other health scientists have worked diligently to develop an outstanding curriculum. During the development of the program we have been guided by four principals: critical thinking, experiential learning, collaboration and communication.
Critical Thinking
"Education is not the learning of facts, but training the mind to think." —Albert Einstein
The physician assistant medicine program will provide our students instruction, preparation and participation in the critical application of medical facts to their practice as a health professional. We strive to train the mind to think as a medical provider. We have purposefully included multiple training opportunities that allow students to apply medical knowledge to patient cases.
Experiential Learning
"We are what we repeatedly do. Excellence, then, is not an act, but a habit." —Aristotle
The program will provide students multiple opportunities to practice procedures, skills and decision-making processes to become excellent providers. Every week, students will spend several days in the simulation lab practicing skills and procedures — before they start clinical rotations. In the clinical setting, they will be perfecting their history and physical examination skills, progressing their diagnosis skills and making treatment decisions.
Collaboration
"Medicine at its best is a team sport." —John Mandrola, M.D.
Students will have multiple opportunities to collaborate with other health care professionals, patients, family caregivers and community service providers to deliver health care that is safe, effective, patient-centered, timely, efficient and equitable.
Communication
"To effectively communicate, we must realize that we are all different in the way we perceive the world and use this to understanding as a guide to our communication with others." —Tony Robbins
Excellent patient care begins with communication. We provide our students opportunities to practice successful communication with patients early in the training process with feedback to guide and direct learning. Students will become competent in the essential skills of motivational interviews, patient education and patient-driven medical decisions.
Didactic Interprofessional Seminar

One of the ways in which the program is committed to our educational philosophy is through the inclusion of a unique learning experience known as Didactic Interprofessional Seminar (DIPS). These experiential learning events allow students to participate on interprofessional health care teams within the community to expand their knowledge and understanding of core curricular topics and the roles of various health care team members. DIPS initiatives include required topics as well as student-directed learning experiences. Based on student preference, the student will choose experiences within the same or multiple health-related topics to explore. The goal of DIPS events is to allow students to gain an appreciation of the roles of various health care providers and expand their cultural competency when providing health care and patient education.
Our faculty firmly believe that your success is our success. Our pledge to you as a graduate of our physician assistant medicine program is that you will be skilled in both the science and the art of medicine. We wish you the best in your journey to becoming a PA.
Johnna K. Yealy, Ph.D., PA-C
Program Director/Associate Professor
The faculty of the department of physician assistant medicine view the sentiment expressed in "The Bridge Builder" by Will Allen Dromgoole to be our guiding principle in our interactions with future PAs.
We aim to create a bridge for our students during this journey.
An old man going a lone highway,
Came, at the evening cold and gray,
To a chasm vast and deep and wide.
Through which was flowing a sullen tide
The old man crossed in the twilight dim,
The sullen stream had no fear for him;
But he turned when safe on the other side
And built a bridge to span the tide.
"Old man," said a fellow pilgrim near,
"You are wasting your strength with building here;
Your journey will end with the ending day,
You never again will pass this way;
You've crossed the chasm, deep and wide,
Why build this bridge at evening tide?"
The builder lifted his old gray head;
"Good friend, in the path I have come," he said,
"There followed after me to-day
A youth whose feet must pass this way.
This chasm that has been as naught to me
To that fair-haired youth may a pitfall be;
He, too, must cross in the twilight dim;
Good friend, I am building this bridge for him!"
---