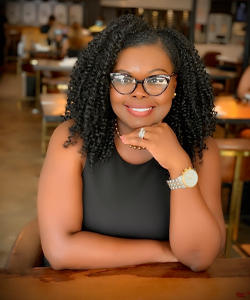 Meet Adrianne G Wilson
Coordinator of Graduate and Undergraduate Internships, Education
Phone: (813) 257-3460
Email: awilson@ut.edu
Address: 401 W. Kennedy Blvd. Tampa, FL 33606
Mailbox: S
Building: PH Room: 404

---
Education
2002 University of South Florida, B.S
2005 University of South Florida, M.Ed.
2011 University of South Florida, Ed.D.
Courses Taught
Problem Solving and Visionary Leadership
Curriculum and Achievement
Human Resources, Retention, and Recruitment
Instructional Leadership
Organizational Leadership, Safety, and Decision Making
Educational Leadership Administrative Internship
Diversity and Ethics
Career Specialties
Educational Leadership Preparation
Classroom Teacher Preparation
Secondary Education, Social Science
Teacher Evaluation
Diversity Coaching
Professional and Community Activities
Adrianne Wilson is the coordinator of the master's in educational leadership program, where she prepares candidates for leadership in various K-12 educational settings. Wilson was instrumental in developing the master's program in 2017 and has continuously worked to build the program by establishing strong partnerships with Hillsborough County Public School District. Wilson's most notable partnership was the Turnaround School Leadership collaboration with Hillsborough, which has resulted in numerous candidates becoming school leaders throughout local school districts.
Wilson is also the lead instructor for the Diversity and Ethics course within the undergraduate program in her department, and she also provides diversity consultation and workshops for public and private schools in the Tampa Bay area.
Wilson serves on the board of the Florida Association of Professors of Educational Leadership. She also serves on the board of directors and is the education chair for the National Coalition of 100 Black Women, Tampa Bay Chapter. Lastly, she is an active member of the Diversity Taskforce for Hillsborough County Public School District.

Wilson's research and publications include:
Wilson, A, Erben, T., Almerico, G. (2020). Distributed Articulation: blurring the line between district and higher education to grow school leadership. In School Administrator Succession Planning: Identifying High-Impact Practices, Programs, and Frameworks in P-12 Schools. (Book Chapter)

Wilson, A. Ensmann, S., Almerico, G., Johnston, P. (2020). Examining Educational Leadership Dispositions: A Valid and Reliable Assessment of Leadership Dispositions. International Journal of Educational Leadership Preparation. (15)1.

Wilson, A. & Wilson, O. (2020). The Ten Laws of Winning. Olive Branch, MS. Watersprings Publishing.
Honors and Awards
Wilson is a co-recipient of the 2020—2021 Research Innovation and Scholarly Excellence (RISE) grant where she is the co-investigator for the project entitled, Building Teaching Capacity in an Under-Resourced African University