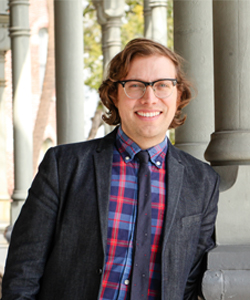 Meet Edward Pompeian
Assistant Professor, History
Phone: (813) 257-3304
Email: epompeian@ut.edu
Address: 401 W. Kennedy Blvd. Tampa, FL 33606
Mailbox: Q
Building: SC Room: 201

---
Education
2005 St. Olaf College, B.A.
2007 College of William and Mary, M.A.
2014 College of William and Mary, Ph.D.
Courses Taught
Latin American History
US History to 1877
US History since 1877
Native American Histories: Colonialism and Resistance
Witchcraft and Magic in the Early Modern Atlantic World
Slavery and Racism in the Early Americas: A Comparative Perspective
Age of Revolutions in the Americas
The Spanish Caribbean and its Diasporas
The Historian's Craft
Career Specialties
Edward P. Pompeian is a historian of the Atlantic World, colonial Latin America and the Caribbean and vast early America. His research and teaching focus on the period when imperial conflict, emancipation and slave abolition transformed former colonies into nation-states during the Age of Revolutions in the Americas, 1750-1830. His scholarly and teaching interests are colonialism in the Americas, Atlantic trade and commerce, slavery and emancipation, translocal history, imperial margins and frontiers, environmental history, migration and globalization and cross-cultural relations broadly defined.
Professional and Community Activities
Pompeian is the author of Sustaining Empire: Venezuela's Trade with the United States during the Age of Revolutions, 1797-1828, published by the Johns Hopkins University Press in 2022.
His essay, "The Colossus of the North: The Iberian Empires and the United States, 1776-1823" appears in the The Routledge History of U.S. Foreign Relations (2022) and "Mind the Global U-Turn: Reorienting Early American History in a Global and Commercial Context," is found in the Winter 2016 special issue of the Journal of the Early Republic.
He has presented research papers at the annual meetings of the American Historical Association, the Conference on Latin American History, the Omohundro Institute of Early American History and Culture, the Rocky Mountain Council for Latin American Studies, and the Society for Historians of the Early American Republic. Pompeian has reviewed books for the Bulletin of Latin American Research, Hispanic American Historical Review, Journal of the Early Republic, Journal of Social History, Journal of American Studies, Labor: Studies in Working-Class History of the Americas, and the William and Mary Quarterly.

Pompeian is the faculty adviser for The University of Tampa's Theta Gamma Chapter of Phi Alpha Theta, the national history honors society. His past service includes supervising writing tutors working with students enrolled in history courses, serving on scholarship and honors theses committees, and advising Fulbright Scholarship applicants.
Honors and Awards
Excellence in Scholarship and Research Award, College of Social Sciences, Mathematics, and Education, 2021-2022, University of Tampa
Research and Scholarly Excellence Grant, 2022-2023, University of Tampa
Research and Scholarly Excellence Grant, 2020-2021, University of Tampa
Research and Scholarly Excellence Grant, 2019-2020, University of Tampa
Fulbright Fellowship (Venezuela), 2010-2011